Written by Caitlin Salovich and Azmia Ricchuito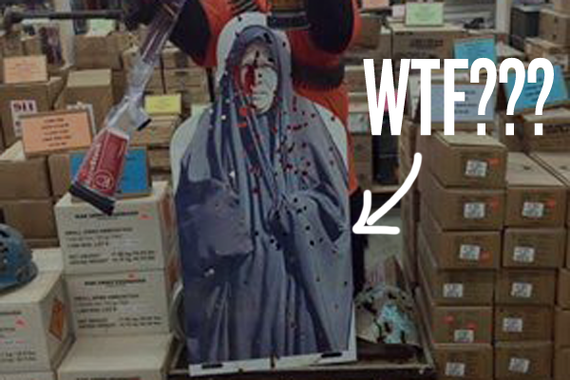 Almost immediately upon entering Knob Creek Gun Range in West Point, Kentucky, Yousef was greeted by a shooting target that appeared to be a veiled Muslim woman.
The silhouette, which was nonchalantly propped up by a stuffed bear holding a rifle, appears to be an elderly woman wearing in traditional Islamic clothing, with several bullet holes to the face and left side of the chest.
Yousef was made aware of the inappropriate target by a friend a few weeks prior to his visit. To confirm his friend's story, he quickly snapped a photo on his cellphone and uploaded it to his Facebook page.
The post read, "Two days ago I went to the shooting range, knob shooting range to be exact what I saw was disgusting. They had this picture of a woman in hijab whom was a target. Is this what America has come to? The racism needs to stop."
Mr. Yousef is originally from Palestine and has been in the United States for about 14 months. He was shocked by the entire experience and said, "I posted it to show the world what is happening here."
Interestingly enough, potential customers who visit Knob Creek's website are initially greeted with a bright, bold-lettered banner that says "Celebrate diversity (Buy as many guns as you can)."
In another twist of irony, flags from countries around the world are displayed at the top of the site's homepage.  When you scroll over Tunisia's red crescent moon flag, the text "KCR is an international destination welcoming visitors from around the globe," is displayed on the screen.
Their website also proudly proclaims, "...where the Second Amendment comes first."  It seems Knob Creek takes this proclamation pretty literally:  The Second Amendment is the right to bear arms, while the First Amendment is the amendment that guarantees freedom of speech--and religion.
We called Knob Creek for comment, and to ask them about the offensive target.  A woman who gave her name as Carrie answered the phone, and told us that it's $10 to shoot for the entire day, and that circular paper targets were provided.  We asked her about the availability of "other kinds" of targets, and she quickly confirmed they had "silhouette targets."  After confirming the availability of "silhouette targets," we asked if they had a "Muslim or scarf wearing target," and she hesitantly replied, "No, I'm going to have to go ahead and say that we don't."  When confronted with the fact that we had seen a photo of such an item there, she said "Ummm, probably the only thing we have that's 'Muslim' is maybe this one that someone used that's propped up by our big bear."  She was then asked where it came from--if it was one available for purchase in the store or if a customer brought it themselves--and didn't immediately answer.  When asked again if it was available in store or if a customer brought it in themselves, she responded "Probably."
It is incredibly unnerving to think that with the rapid rise of Islamophobia and attacks in the West, Muslim shooting targets are suddenly acceptable to be on display in gun ranges in America.
We disagree with this assessment. It should also further be noted that the target appears to be a wearing a khimar, while The Emperor wears a hooded cloak. When the photo is enlarged, you can also see where it looks like someone actually put the image of the veiled woman on a standard silhouette target...notice the outline behind the veiled woman's image.
We firmly believe that this is not a Star Wars character, but a veiled woman, and find no justification for this, whatsoever.
Originally reported and written by Caitlin Salovich and Azmia Ricchuito for Muslimgirl.com
Calling all HuffPost superfans!
Sign up for membership to become a founding member and help shape HuffPost's next chapter