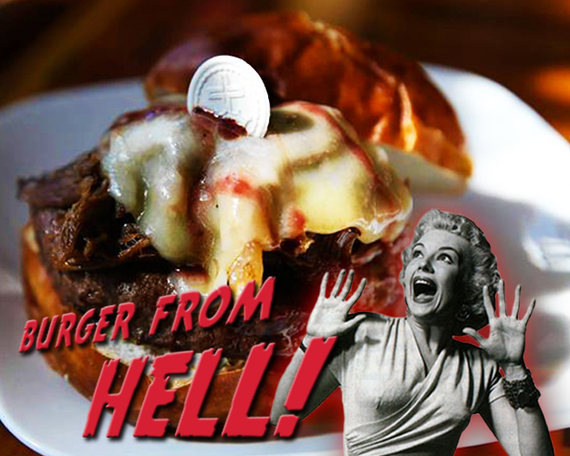 Are you ready to eat the most offensive burger in America? Chicago's infamous metal-themed burger joint, Kuma's Corner, recently rolled out their monthly special, this time named 'The Ghost Burger' after swedish metal band Ghost. The response has been... varied. Regardless of what you think, there's no doubting that the power of Christ compels you to try this sacrilegious burger.
The bovine abomination comes equipped with a red wine reduction and an unconsecrated communion wafer to top the staggering 10oz patty, making it arguably the most brutal burger on the menu.
Unsurprisingly, since the release of the Ghost burger Kuma's has caught flack from religious groups and been overwhelmed by interview requests about the blasphemously metal special. Kuma's responded by making a $1,500 donation to the local Catholic charities, which was promptly denied.
If you're interested in taking a bite out of Kuma's blasphemous burger, make sure to visit their Belmont Ave location, or swing by the brand new restaurant, Kuma's Too located at 666 W. Diversey (no I'm not kidding). Remember to show up well in advance, or you'll be SOL, as Kuma's is notoriously busy and way too f*#&ing metal to give a crap about your hour long lunch break.