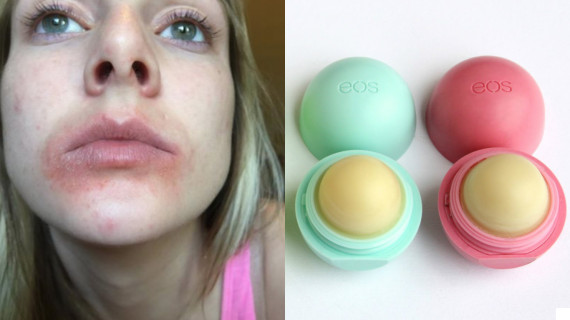 Even if you don't use EOS lip balm, you probably recognize the cute little orbs from checkout counters, and endorsements by stars like Kim K, Hillary Duff, and Miley Cyrus. But while celebs seem to love the stuff, a few customers are anything but fans.
According to a class action lawsuit filed on January 12 in Los Angeles, Rachael Cronin applied the balm and her lips became dry and coarse (like "sandpaper") within hours. She then applied more balm to try to smooth her lips, but the symptoms worsened. When Cronin shared a pic of her swollen mouth on Facebook, the post "set off a frenzy of responses from other individuals who shared the identical experience with EOS," according to the lawsuit.
The original photo appears to have been removed from Facebook, but Fox 11 Los Angeles tweeted these images included in the lawsuit.
Cronin's lawyer Mark Geragos wrote in the document that "potentially hundreds of thousands of similarly situated consumers" could be affected. He is asking for damages and corrective advertising.
But EOS--which stands for Evolution of Smooth--is sticking by its product. Health received the following statement from the company: "We firmly believe this lawsuit is without merit. Our products are made with the highest quality ingredients and meet or exceed all safety and quality standards set out by our industry and validated by rigorous testing conducted by an independent lab. The health and well-being of our customers is our top priority and millions of satisfied customers use our products every day, many of whom take the time to share their experiences with us."
The fact is, there are many things that can cause a rash on the lips. New York City dermatologist Joshua Zeichner, MD--who couldn't comment on the specific cases in the lawsuit--listed some possible culprits: "an allergy, irritation, lip licking, dry weather, certain foods, some systemic diseases, even excessive drooling."
He noted that allergies to personal care products are not uncommon. And as any derm will tell you, just because a product says it is 100% natural that doesn't mean it won't cause an allergic reaction.
With lip balms, the problem can get worse when you apply more in an effort to soothe your raw skin, Dr. Zeichner explained. "You are essentially adding fuel to the fire and creating a vicious cycle." (In general, he recommends steering clear of lip products that contain the potentially irritating ingredients camphor, menthol, and salicylic acid.)
If you develop a rash and suspect a product, stop using it immediately and see your MD. If he or she determines it is an allergic reaction (and not an infection or something else), these are treatable with antihistamines and topical cortisone creams, says Dr. Zeichner. "You can start with OTC products and move over to prescriptions if you're not improving in a day or two."