You know those moments when you take pause, look around with wonder and think: is this really my life?
I had one of those wondrous moments last night.
But this all started a little less wondrously.
I was sitting with a friend a month ago in a noisy restaurant in San Francisco. He was telling me that he just joined a new, fun pay-to-play community that gives him access to a few interesting events every week and the chance to meet new people. It sounded right up my alley and I was nearly ready to sign up myself when I discovered it was actually just another offline-dating avenue for singles. And I am now in a serious relationship.
It was becoming very clear that I no longer fit the demographic for most of the communities and activities geared towards my thirtysomething, fun-loving age group.
I had already found myself stepping back from the various communities and activities I was into and groups of friends I'd enjoyed because they too, at the end of the day, were centered around the theme of singles finding that special someone. I totally get it -- that was a main impetus for my involvement, too; admittedly, I found my very own special someone through one of these communities. But even so, it didn't take the sting out of the reality that I didn't really belong anymore.
And then there was the other side of the equation: the other half of my friends who were married and having babies -- their families ever growing as they immersed themselves in family-dom -- baby groups, toddler classes and the like. Not married or with kids yet myself, I didn't belong in that clan, either.
So there I sat, feeling squeezed between two thirtysomething worlds -- no longer the former single-me but not yet the wife-and-mommy future me, either.
So what about us? Couples in our thirties that don't have kids yet? Where do we go? What do we do?
And that's when, sitting at my computer one Monday morning, my (ridiculous) woe-is-me-pity-party morphed into a beautiful insight: we can do whatever we want.
We have time, freedom, and some disposable income. We're not tethered to the responsibility of kids quite yet nor mired in the exhausting singles dating scene. We have this magical moment in our lives, and it was time for me to start embracing it.
So that's how I found myself at the luxurious Meadowood Napa Valley resort with my boyfriend last night looking around thinking: is this really my life?
Because I decided if I was going to embrace this magical moment, I was going to embrace it big time. And having won Travel + Leisure's World's Best Awards for 2015 and touting one of the coveted Michelin 3-star restaurants, Meadowood fit the bill. Meadowood would be big time.
We drove about 90 minutes through the wine country from San Francisco and went straight to their relaxing spa for a couples massage. Just driving in felt like we were entering The Secret Garden -- honeysuckle is everywhere and the sweet flowery perfume in the fresh Napa air is enchanting.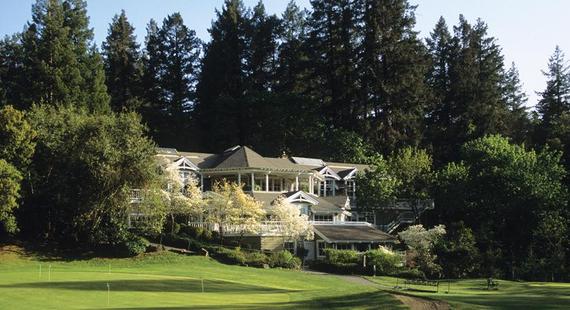 After being escorted to a special couples spa suite, my boyfriend and I each had a consultation to find the perfect essential oils for our pre-massage steam. I started to understand the expression "all your cares melt away," -- I was pretty melty myself as the staff attended to our every need and every single detail -- the hot packs, the music volume, the shades lifted at the end of our treatment showing off the most magnificent woodsy view. This was pure perfection.
But the spa wasn't the only remarkable part of our weekend. We indulged ourselves in a room with a view (an oasis overlooking the golf course) complete with Jacuzzi tub and a fireplace in the living room. And even though it was hard to leave our digs, we managed to wander out to learn something about wine -- we were in the wine country, after all. So Brittany Hastings, Meadowood's sommelier, impressed us with her endless knowledge of Old World versus New World wines in a private tasting (turns out my boyfriend and I need a bigger wine fridge -- his palate favors Old World, mine favors New). And in Hastings' spunky, spirited approach to the serious business of wine tasting, she taught us how to saber champagne bottles, too (she actually teaches a Sabering 101 class for guests).
And of course no indulgent weekend would be complete without a sumptuous dinner in the setting summer sun, on a deck overlooking the most gorgeous expanse of greenery.

Course after course arrived -- mouth-watering burrata, Wagyu beef...each bite more delicious than the last. The chefs even turned my olive-hating boyfriend into a convert with their citrus-soaked olives, and my dessert-mousse-apathy into enthusiasm with their Earl Grey Yuzu mousse -- an explosion of flavor that brightened in my mouth after a curious delay.
And it was just following that last bite of mousse that I found myself looking around thinking: is this really my life?
My adorably funny boyfriend had just made me laugh so hard I cried, and I was relishing this incredible view, amazing service, delicious food...this beautiful, beautiful life.
Sure, I'm not married with kids yet -- and I have an ever-nagging voice that tells me that I'm behind the eight-ball on that one -- and I no longer fit into my old single-girl world, but I have the chance to take my thirtysomething no-man's land and turn it into utter magic. And our wine country weekend at Meadowood certainly helped me see just how magical this moment could be.
For more on Meadowood Napa Valley, check them out here.
REAL LIFE. REAL NEWS. REAL VOICES.
Help us tell more of the stories that matter from voices that too often remain unheard.