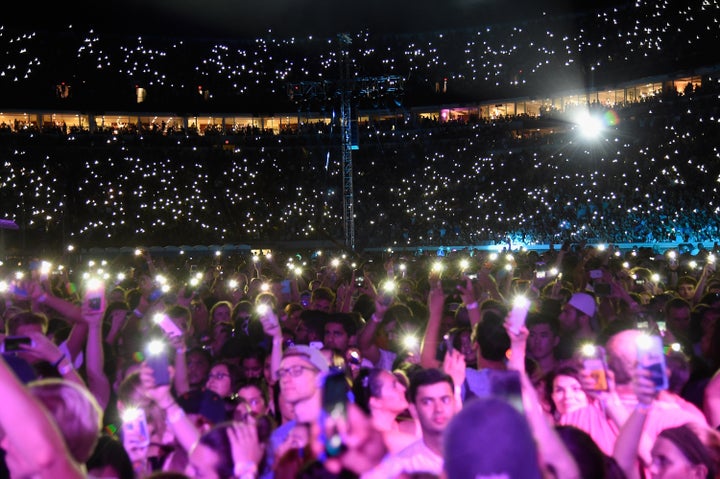 By all accounts, Sunday was a star-studded night in Charlottesville, Virginia. Justin Timberlake, Ariana Grande, Dave Matthews and surprise guest Stevie Wonder headlined a unity concert, organized to bring the town together after the heinous display by white supremacists a month prior.
"This is what unity looks like!" said Timberlake before breaking out into a cover of "Blurred Lines."
Is it really? I'm not so sure.
The show was certainly entertaining, with the celebrity musicians performing their most iconic hits. And the venue, Scott Stadium's football arena, was almost unrecognizable to me with the packed audience (although I'll admit I only went to a collective 2.5 games while a student at UVA). But the impetus for the gig — a rallying cry against a racist dogma — mysteriously took a backseat throughout the evening.
As expected, everyone's inner fangirl came out full force at the entrances of Pharrell Williams, Timberlake, Grande and the like, with the crowd (myself included) screaming with anticipation at the intros to "Sexy Back" and "Side to Side." It took me back to my first concert (Lady Gaga, obviously) and how excited I was to be in the same room with such a flamboyant legend. That feeling is customary at most pop concerts. So perhaps it isn't surprising this was no different on Sunday evening, with the major focus falling on the artists' glitz and glamour — not the need for change following a despicable demonstration by the "alt-right."
Williams and Stevie Wonder got down on two knees in solidarity with the NFL protests. Grande expressed gratitude to be "a part of a generation that is so passionate about creating a change." Apart from a few other one-liners, an appearance by Susan Bro (the late Heather Heyer's mother), and a finale speech from Wonder, there wasn't much said or done to stir hearts and minds, much less inspire.
That's not to imply the concert wasn't well-intentioned. The event's A-list singers undoubtedly drew national attention to Charlottesville and helped raise donations for those impacted by the Aug. 12 attack. But members of the Charlottesville community, particularly those who feel personally targeted by a repulsive white nationalist mantra, deserve a little more.
At UVA, students have been crying for just that. The Black Student Alliance presented a list of demands to University President Teresa Sullivan, all approved by the Student Council Executive Board and signed by dozens of other campus groups, hoping to spur tangible progress directly after the supremacists' August rally.
Three demands were recently accepted by the UVA Board of Visitors, including the removal of Confederate plaques on Grounds and the barring of open flames on the Lawn. The remaining requests are larger (e.g., quadrupling the number of African-American faculty members), and I don't presuppose to know how difficult such modifications are to implement. Regardless, the underlying fears students have surrounding race relations are palpable, particularly in light of the KKK's increased presence. These anxieties are worthy of a continuous dialogue with university administrators at the very least.
"The impetus for the gig — a rallying cry against a racist dogma — mysteriously took a backseat throughout the evening."
Just two weeks back, a mass email from President Sullivan made its way into my inbox with a subject line that referenced another protest. This time, UVA students covered the statue of Thomas Jefferson, a centerpiece of the UVA Lawn, with a black tarp, so desperate were they to be heard by their university leaders. Whether or not you agree with their actions, it shows some members of the community, particularly black students, feel like their concerns are still falling on deaf ears. And perception is reality.
The vision of a shrouded Thomas Jefferson provides a pretty blunt contrast to the concert given on Sunday night. The concert was fun. His statue ― adorned with a sign reading "TJ is a racist rapist" ― implores that you listen.
I understand that many see this movement in a negative light, apprehensively asserting that not every stain on history can be erased. I will be fully transparent in admitting that I've also struggled with some of the actions taken by students in recent weeks, and I'm not convinced all the demands they make are realistic. While I am fully in favor of relegating Confederate monuments to a history museum (why are we celebrating one of the most divisive eras in American history?), I'm still grappling with where to draw the line in rewriting the past.
But I am not black. I do not know what it's like to be black in this country, and I did not have to spend my tenure as a student coming to terms with the inconvenient truths behind UVA's inception — both Jefferson's history as a slave owner and the university's reliance on slave labor for its initial success.
As a UVA student, we are constantly told to look through a Jeffersonian lens when confronting any sort of issue — essentially a blanket "WWJD" (What Would Jefferson Do?) rule. The Cavalier serves as the school's official mascot, yet, apart from football games, TJ is our mascot through and through. But I can only imagine that becomes increasingly complex for a student population that feels alienated and angered by his questionable moral legacy, particularly when asked to frame issues surrounding race and class through his eyes.
"Showing up to a concert is easy. Showing up to hear those that most need to be heard, even if you might disagree? That's harder, but it's arguably much more consequential."
This is a fatal flaw I found in President Sullivan's email to the university, and it's something that has been a gaping hole in the school's response to recent events at large. While she was quick to point out that Jefferson was "a believer in freedom of expression, and he experienced plenty of abusive treatment from the newspapers of his day," as well as that she "strongly" disagreed with the student protestors' actions, she neglected to highlight all the areas where we do agree. And as I recently posted on HuffPost, I wholeheartedly believe that, when it comes to this issue, there are far more areas of common ground than not. An "I hear you" goes a long way.
But that cannot be where the conversation ends. It's a fairly effortless task to say in any number of ways that white supremacy is, well, pretty awful — in passing conversation, in a Facebook manifesto, etc. Showing up to a unity concert is easy. Showing up to hear those that most need to be heard, even if you might disagree? That's harder, but it's arguably much more consequential.
In one of the few calls to action at Sunday's show, Stevie Wonder had the final word. "Don't talk about it. Be about it," he said. Amen, Stevie! Amen.
Popular in the Community