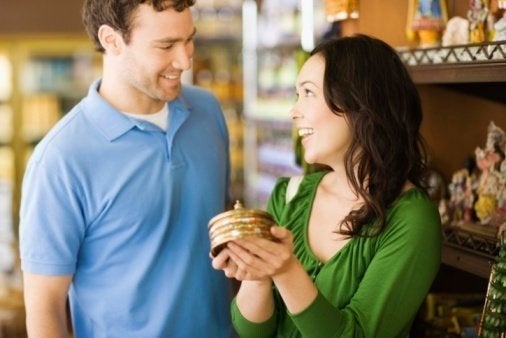 Kyle is a recently divorced executive with grown children, loves to cook and is a terrific dancer. Shira is a single parent and small-business owner, deeply religious, who shares his fondness for food but admits to having two left feet. They've been casually dating for six months, and friends on both sides say they're "perfect" for each other.
So how can these two, or any other couple, know for sure if they're really a match made in heaven? Whether you believe you've already found Mr. or Ms. Right or are just thinking about taking a dip in the dating pool, there are a couple of steps you can take that will help resolve whether that certain someone is right for you.
Know Your Partner--and Yourself
Most important, if you and your partner have a clear understanding of the qualities in a romantic partner that most matter to you, the odds of your relationship lasting over the long haul greatly improve.
First, do you know what the right person would look like if you met him or her today? Ask yourself, "What do I need or want in a partner?" Take an hour or two to list the 15 qualities (no more, no less) that you believe are the most important in a romantic relationship or partner. Be specific, and be brutally honest. For example, if you're a woman, "tall, dark and handsome" may be your ideal, but when it comes right down to it, it may be far more important to you for your partner to have similar religious beliefs, be around the same age, or to be financially stable. Make sure you take the time to sit down and list what is right for you.
When you are done, share your list and seek feedback from someone who knows you well. Revise your qualities accordingly. If you're just getting started, use this laundry list as a guide to selecting men or women to date. If you've been dating for awhile, keep your list handy and be sure to review it regularly to monitor your progress and make sure your priorities haven't changed. If someone meets about 80 percent of these qualities, that is good.
Three Questions You Need to Answer
But how can you know if this relationship really is the right one, and what signals or cues will reveal whether you and your partner are truly compatible? There are three crucial questions you should ask yourself before you take the next step toward commitment or marriage.
1. Do you share similar values? Many people are attracted to their opposite. But studies show that the strongest long-term relationships are built on a foundation of similar underlying values and beliefs. Does this mean you have to like the same music or food? Absolutely not. These common key life values might include shared or common religious beliefs or upbringing; racial, ethnic or cultural background; or lifestyle preferences. Shared values and experiences are important because they act as a frame of reference for a couple and enhance communication by creating a kind of "emotional shorthand." Sharing a similar perspective or set of experiences makes it easier for couples to see things from the other's perspective and, thus, better understand each other's feelings. If you and your mate-to-be aren't compatible on life values, think long and hard before taking the walk down the aisle.
2. How do the two of you handle conflict? Stop for a moment and think about the last disagreement or argument you had with your romantic partner. Did you interrupt one another or call each other names? Or were you able to listen to the other's perspective and remain respectful of one another's opinions? Conflict is a natural part of any relationship. The key is how you treat one another when you are odds. How both of you behave now when you are having a disagreement says a lot about how you will (or won't) resolve problems in the future.
If you handle disagreements consistently in a destructive manner--such as interrupting, yelling or calling your partner names, my research shows that you are more than twice as likely to divorce over time. I discuss these findings in my book, "5 Simple Steps to Take Your Marriage From Good to Great" (Random House). A good relationship is where the two of you fight fair. It is important that you pick your battles, know when to engage in an argument and when to let it go without resentment, don't name call, and calm down when you talk.
Humor also can be a great equalizer and, when used strategically during an argument, can de-fuse a disagreement and remind the couple why they are together in the first place. In a recent survey of 1,000 Americans conducted on behalf of People Media, Inc., the number one provider of targeted online dating communities, 45 percent of respondents said that, in addition to chemistry, a sense of humor was the single most important factor when choosing a relationship partner. (Thirty percent said sharing a similar cultural background was the most important factor.)
3. Do you trust this person? Trust is perhaps the most important and essential aspect of any relationship. Before you make a commitment, ask yourself whether you trust your partner. This means that you believe your partner tells you the truth, won't hurt or deceive you, and has your best interests at heart. Be sure to have what I call a "trust chat" with your partner. Ask each other tough questions, such as: "What does commitment mean to you?" and "Is it acceptable to have secrets from one another? And, if so, what kinds of secrets are okay?" More than anything else, this conversation will give both of you a sense of whether your values are similar.
Sure, it takes courage and confidence to initiate an honest and intimate conversation with your partner about shared key values, how the two of you manage conflict, and trust. However, it is far better to fully understand in advance the factors that make your relationship work well than to be confronted later on with the challenge of figuring out why it didn't.