Fly Tebow Fly. It's Tebow Time in the City of Brotherly Love.
The much maligned, polarizing and still, very much beloved quarterback is getting another shot in the NFL. In case you've been disconnected, Tim Tebow signed with the Philadelphia Eagles this week in time to report for the team's first official off-season workouts.
Having been born in Philadelphia, I grew up an Eagles fan. I also went to the University of Florida -- that's me in the Tebow jersey celebrating another Florida SEC Championship.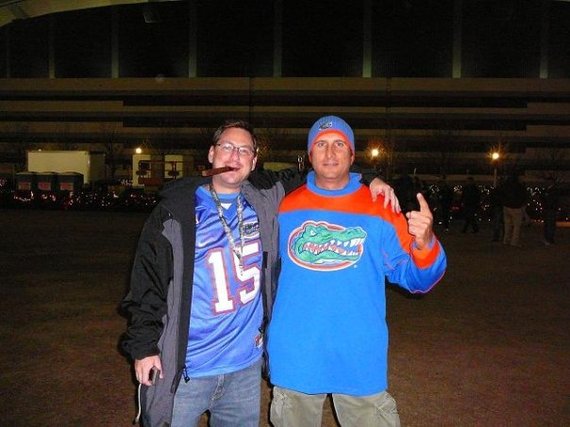 So naturally, I've always wanted Tebow to be an Eagle. And I've always believed Tebow is the real-life Rocky, an inspiring, underdog figure who could transcend his sport and unite a community. It happened at Florida, and it happened again in Denver in 2011.
In case you forgot how Tebowing became a global phenomenon and why the Philadelphia Pretzel Factory is already selling Tebowing pretzels, just listen to his infamous postgame collegiate speech and the crazed halftime one he gave at the national championship game. It's the game Tebow and his Florida Gators ended up winning over the Sam Bradford-led Oklahoma Sooners -- the same Sam Bradford who is now Tebow's teammate with the Eagles.
The man delivers with words -- and with his arm, even though many will try to convince you otherwise -- for a guy who "can't throw." This one from the 2011 playoffs looked pretty good.
Even with all his success on the football field as a two-time national champion, a Heisman Trophy winner and playoff victor, people still doubt him. Denver cut him loose in favor of veteran Peyton Manning. The Jets never trusted him to do anything; except, inexplicably, punt protect. At the end of training camp in 2013, the Patriots simply cut him. And then no team wanted anything to do with Tebow Time -- until now.
Off the field, Tebow leads an exemplary life, deeply committed to God and his foundation that bears his name.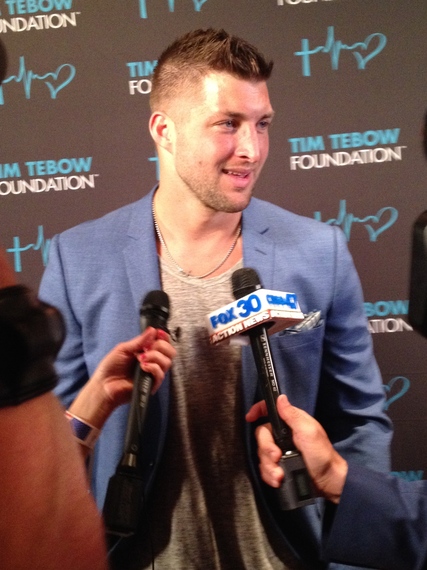 His mission and the foundation's is simple: Bring Faith, Hope and Love to those needing a brighter day in their darkest hour of need.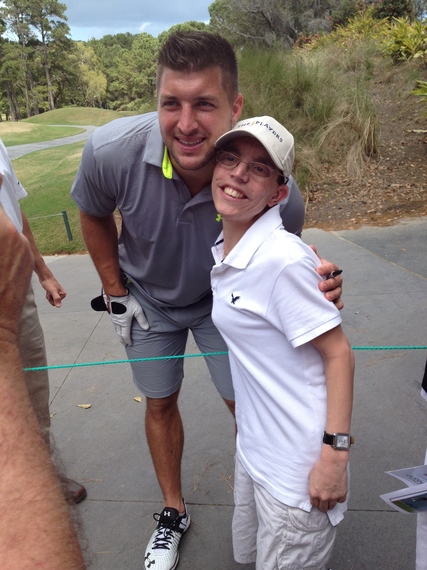 At his core, this is who Tebow is.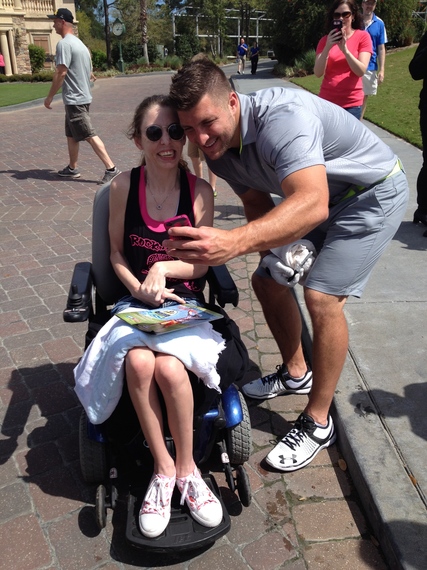 At his annual celebrity golf classic and gala last month, which I attended, the Tebow Foundation raised more than $1.5 million to serve its five different outreach programs. You don't have to search hard to find Tebow's goodwill and inspiring stories. When I asked him what message he'd like to give his millions of fans who still want to see him in the NFL, he delivered a very Tebow-esque statement.
And now that Tebow's signed with Rocky's hometown team, I can't help but recognize the striking similarities.
Tebow was home-schooled. Rocky educated himself.
Tebow throws left-handed. Rocky fought as a southpaw in his greatest victory.
People say Tebow can't win as a QB in the NFL. People said Rocky couldn't win in the ring.
Both have had someone special in their corner. Tebow has God. Rocky had Mick.
Tebow owns a dog. Rocky owned a dog.
Tebow has a statue. Rocky has a statue.
Tebow built a hospital. Rocky was in the hospital.
Tebow was down and out of the game. Rocky was down and out.
If Tebow plays in an NFL game in 2015, it will be nearly three years after his last one. Rocky II came out nearly three years after Rocky I. And we all know what happened the second time around.
The Philadelphia Eagles embrace Rocky prior to every home game with a video tribute, that includes Rocky's training montage. Of course, it sends the crowd into a fired up frenzy and leads the team onto the field. And that's exactly what Tim Tebow does - inspire and lead. All he needs is the chance.
I believe in Tim Tebow the person. And I believe in Tim Tebow the quarterback. I believe I can see Tebow running through the streets of Philadelphia and up those museum steps anytime now. Do you believe it?
All Tim Tebow Foundation photos and video courtesy of Steve Matoren
Calling all HuffPost superfans!
Sign up for membership to become a founding member and help shape HuffPost's next chapter