A new website is taking a dig at President Donald Trump's frequent, costly trips to his Mar-a-Lago resort and suggesting how the money might be better spent.
"It's supremely hypocritical of Donald Trump to spend millions of government dollars at Mar-a-Lago while crusading to cut vital programs such as Meals on Wheels," CAP Action spokeswoman Morgan Finkelstein said in a press release. "Our tracker will provide context and keep Trump accountable for his out-of-control spending at taxpayers' expense." 
To calculate costs, the website estimates Trump's resort visits at around $3.6 million per trip, pointing to an unidentified Government Accountability Office report. The GAO report commonly cited for that estimate looked at a 2013 Palm Beach, Florida, visit by President Barack Obama and, as The Washington Post has pointed out, costs can be complicated to estimate.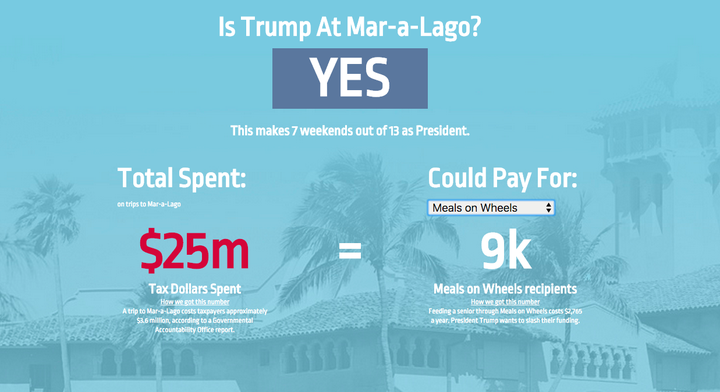 Many people have also noted the irony of Trump heading to golf clubs so often ― 12 times in the first nine weeks of his presidency ― after he repeatedly criticized Obama for golfing during his time in office.
With the money spent on Trump's Mar-a-Lago visits, the site calculates the government could have funded a year's worth of meals for 9,000 Meals on Wheels recipients, six years of the U.S. Interagency Council on Homelessness, or 7,000 Pell grants to help low-income students pay for college, among other options.
While CAP Action said in its release that the site specifically lists "programs that Trump wants to cut," it glosses over some nuances of those budget proposals. For instance, the site says Pell grants "have been on Trump's chopping block." In fact, the president's proposed budget would continue to fund Pell grants at the same level. However, in order to do so, it would pull $3.9 billion from the program's surplus, which advocates had hoped would be preserved as a cushion or used to strengthen or expand the grants, according to Inside Higher Ed. 
Similarly, the site says the president "wants to slash" Meals on Wheels funding. But the block grants targeted in Trump's budget aren't the main source of federal funding for that program. It is unclear how much Meals on Wheels funding would actually be affected by the proposed budget, although Trump's budget director did appear to criticize the program to reporters, citing it as an example of efforts that "sound good" but "don't work."
So far the tweeter-in-chief has not publicly responded to the website's criticism.
Calling all HuffPost superfans!
Sign up for membership to become a founding member and help shape HuffPost's next chapter
BEFORE YOU GO
PHOTO GALLERY
First Trump White House Easter Egg Roll 2017