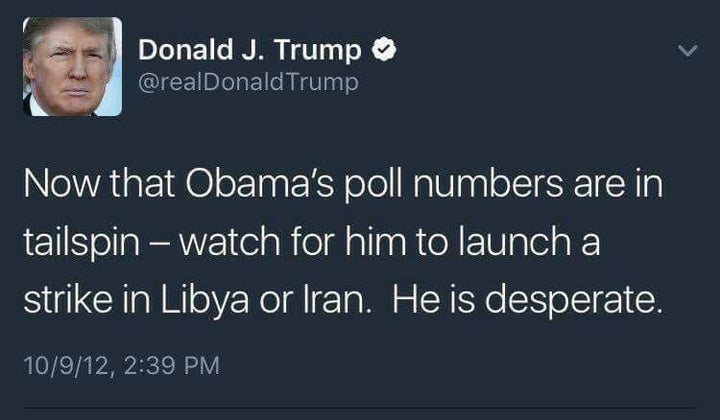 War is show business - that's why we're here.
On Tuesday, Donald Trump told a group of cheering building trades workers at the 2017 North America's Building Trades Union legislative conference, "I'm not, and I don't want to be the president of the world. I'm the president of the United States, and from now on it's going to be America first." Two days later he launched an attack on an air base that was the origin point of the lethal poison gas attack on the Syrian city of Idlib that killed more than 100 people, many of them women and children.
This is the same Donald Trump who tweeted President Obama at least a dozen times after the much more devastating chemical attack in 2012 warning him to stay out of Syria saying "Syria is NOT our problem." On June 15, he tweeted:
"We should stay the hell out of Syria, the "rebels" are just as bad as the current regime. WHAT WILL WE GET FOR OUR LIVES AND $ BILLIONS?ZERO."
As a candidate and as President, Trump has been almost militantly non-interventionist and proudly non-globalist. Just last week, Secretary of State Rex Tillerson and UN Secretary Nicki Haley said that removing Assad was no longer a U.S. goal. Trump said in November that he considered Assad a potential 'natural ally' in the fight against terrorism.
This is a cold and calculated move designed to distract from the mounting evidence of a Trump-Putin connection...
So what happened in two days to so radically change Trump's mind? The story we are being fed is that the President was so moved and outraged by photos of dying Syrian children and women that he decided to abandon his often-voiced concerns about getting bogged down in Middle East conflicts and take direct military action—counter to his promises to always put American interests first. Nothing he has ever done before lends much credence to this rationale. After all, this is a man who wants to ban Syrian women and children refugees from entering the U.S.
More plausibly, this is a cold and calculated move designed to distract from the mounting evidence of a Trump-Putin connection and to boost Trump's historically low approval ratings. This move has the added value of making Trump look like he is getting tough with Russia.
We'll learn more of all this in the following days but consider these unusual facts that have emerged in just a few hours since the strike.
1. We told the Russians at the air base we bombed that we were going to do so and at what time we were going to do it;
2. The Russians apparently did not tell the Syrians since our drones show that no aircraft or guns were moved to safer places;
3. The Russians have a missile defense system that can shoot down Tomahawks. It wasn't used.
4. It was kind of an end-of-the-bolt air field where not much damage was likely anyway.
What we know for sure is that this air strike has no lasting strategic value. It won't make America safer. It won't change the dynamics of the Syrian civil war.
What it will do is change the subject for a few days and maybe that's all Trump is trying to do at this point.
Calling all HuffPost superfans!
Sign up for membership to become a founding member and help shape HuffPost's next chapter
BEFORE YOU GO