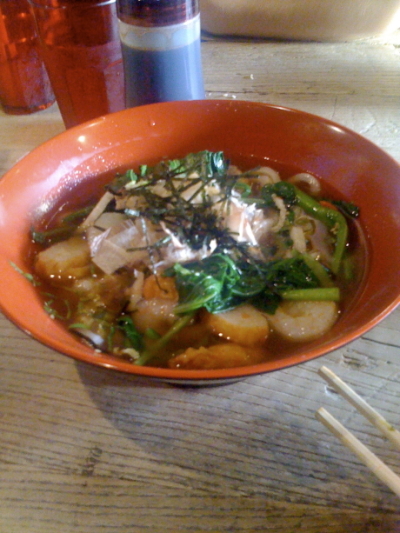 When I heard Urban Belly was opening this week, I was a little skeptical, and frankly, worried I wouldn't have a good experience. I try to stay away from the arms race in food coverage currently being waged by Time Out, Metromix and a host of other bloggers, all of whom seem to be descending upon restaurants as soon as they open. In some respects, I can appreciate this. After all, if a restaurant is open, charging full price and not offering "opening" discounts - as they sometimes do in New York to insulate themselves from official criticism - they should be subject to a review. It's more common courtesy on the part of food writers to cut the owners some slack when they first open. (They'll have to do so in the case of iCream, which tried to open in Wicker Park last Friday, and is still having problems. I went there tonight for dessert, only to discover their liquid nitrogen tanks were out of commission, and hence, no ice cream). Typically, a wait of a few weeks is standard, and most of the big time critics will visit at least twice, if not three times, before they'll print a review. But for some reason, I've been drawn to Bill Kim's personal project since he announced it several months ago. As Executive Chef at Le Lan, and a partner in Soul out in Clarendon Hills, he and partner Howard Davis have been taking a higher end approach; Le Lan originally began as a project between Arun Sampanthavivat (Arun's) and Roland Liccioni (Le Francais, Old Town Brasserie). Billed as a Thai-French-Vietnamese lovechild of two masters, it evolved into a showcase for Kim's modern riffs on his Korean heritage. Unfortunately, I've felt that the food lacked soul, pandering more to the River North/Clark Street throngs that are more interested in what's on the cocktail list than what kind of cabbage he was using in his inspired sides of daily kimchi. But in what must surely be the best first-day opening of any restaurant in Chicago, Kim has swung for the fences, and has hit it out of the park.
In many ways, the restaurant feels like a response to David Chang's wild success in New York with his Momofuku empire. Both guys are Korean; both love pig and both have set-up shop in out-of-the-way neighborhoods. Kim has been honing his recipes and adding his own Korean spin. Like Chang, who began in a gritty part of the Lower East Side, Kim opted to open his "baby" as he called it, on a similarly desolate stretch of North California Avenue, in what might graciously be called Avondale, although local real estate agents might stretch it and say Far North Logan Square. Granted, there are no pork buns here (one of Chang's signature dishes) but rather, plenty of pork belly. If Kim isn't already a poster boy for the Pork Board, they should sign him up. There's belly and pineapple in one of his fried rices; luscious slabs gently splayed across the top of a bowl of ramen that would make the characters in "Tampopo" swoon with pleasure. In fact, there isn't much on this limited menu that didn't sound downright delicious. There are just five dumplings, and I could have ordered them all - chicken & mushroom, lamb & brandy, Asian squash, duck and pho spices, pork & cilantro - I opted for the last one, which turned out to be beautiful little pockets of hand-formed wonton wrapper filled with juicy bits of pork and bright cilantro. Four rices grace the menu, and while the pork belly and pineapple has wonderful balance, I really dug the organic pea shoots with Thai basil - every mouthful yielded bits of rice, herbaceous basil and barely-cooked shoots - yum. A side of seasonal kimchi featured napa cabbage with a chili sauce worthy of the finest kalbi joints on Lawrence Avenue.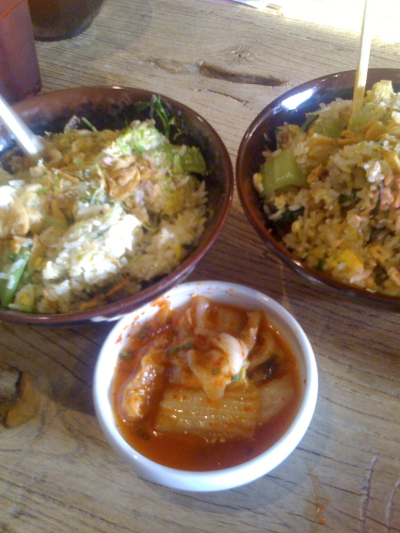 Then there are the noodles. Belly offers a half dozen, and we tried half of them. The udon not only stands up to most Japanese restaurants, but it could be argued it also exceeds them: hidden within the tangle of perfectly-cooked, al dente noodles are plump shrimp, Vietnamese coriander and fish cakes; the sweet chili lime broth is infused with shards of boniato (dried, shaved tuna) and nori that melt into the soup. The house ramen contains the aforementioned thick slices of pork belly, but also earthy shiitakes and nori, all swimming in an anise/clove/cinnamon scented pho broth. This is the kind of soup that marries the best of Vietnam (broth) and Japan (ingredients). Finally, my Asian egg noodle bowl arrived with huge hunks of medium-firm tofu, stir-fried with bok choy and bite-sized chunks of Japanese eggplant. The noodles rest beneath these ingredients, in the form of a stir-fried circular "cake" that is cut into quarters. When your chopsticks dig into it, the noodles release into a delicious mouthful. A spicy garlic chili sauce allegedly graces this dish - I found it a little tame - but a dash of togarashi (chili powder) on the table helped give it added punch.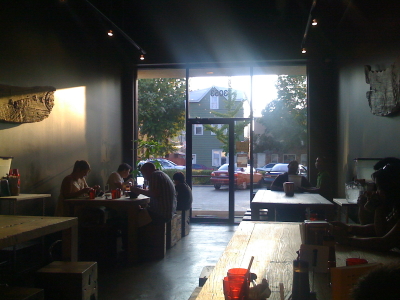 Ordering is simple. Just walk up to the counter, peruse the brief menu, place your order, pay and sit down at one of the four communal wooden tables that look like they've just been harvested from the forest and sanded down. As soon as the food is ready, servers whisk it out to your table, where you'll have a hard time deciding what to try first. Be sure you bring friends who don't mind sharing, and be sure to bring your own; there's no liquor license in sight.
Related
Popular in the Community