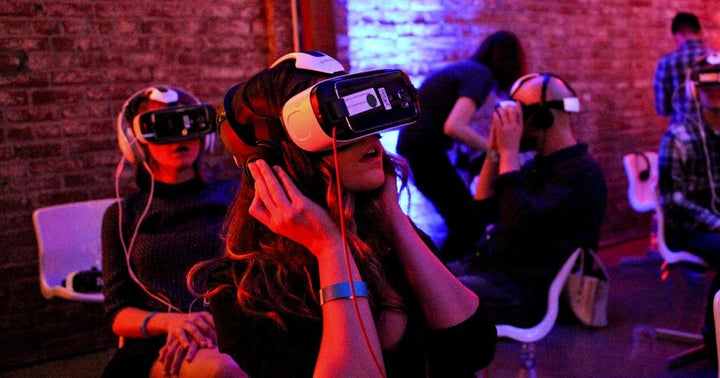 Today's adult education programs can only reach about five percent of the 36 million adults who read at or below a third grade reading level. Access to engaging and effective literacy tools is one of the greatest challenges we face when it comes to teaching our adult population.
While the technological innovations of the past few years have utterly transformed fundamental aspects of our daily lives, such as the ways we move from place to place, the ways we consume goods, and the ways we deliver health care, we still have a long way to go in applying technology to the way we learn and reach some of the most underserved members of society.
Virtual and augmented reality could hold the key.
Over the past few years, a broad range of startups and more established companies have been making tremendous technological strides in developing virtual and augmented reality content and tools for K-12, corporate, and higher education. Lab4U is using phones as virtual science labs. NearPod and Google are conducting virtual field trips. And VR is beginning to allow for more immersive lecture experiences.
The advantages to using VR in learning settings are numerous and easy to understand. Not only does immersion in content make it more engaging, even if for the sheer novelty factor, but immersion could also have broader cognitive effects on perception that seem to make learning stick.
Numerous laboratory studies have, for example, shown that people are affected by their experiences while using virtual reality, whether for treating PTSD or heightening empathy. In one well known example, UNICEF found that using virtual reality to show a film about a 12 year-old Syrian refugee halved the time it took to receive charity donations. While, as with most new technologies, there are concerns about the effects of VR on the brains of children, such concerns will not stop the spread of VR into the classroom.
In other words, virtual and augmented reality will eventually change the face of education as we know it.
As an educator who works at the intersection of adult literacy and groundbreaking technologies, I cannot help but wonder what the coming mass commercialization of VR and AR means for adult learners.
Lamentably, adult education is the so-called stepchild of the education system. The US Department of Education spends 50 times more per pre-school aged child than it does per low-literacy adult in the US. While advances in education technology proliferate in other educational settings, adult education programs are lucky even to have access to a learner management system and are using antiquated learning software. There is virtually no investment in the space by venture capital and private equity firms, in large part because there are no large institutional buyers as in traditional education systems.
But to overlook this market, and its massive potential, is a mistake.
While devices like Facebook's Oculus Rift and HTC's Vive cost hundreds of dollars, anyone with a smartphone, headphones, and $15 dollars to spend on a Google Cardboard viewer can have a perfectly suitable and accessible virtual reality set.
So how do we take this forward?
An estimated 70-75% of the 36 million adults who need literacy support have access to a smartphone, and while many of these phones are older models that would struggle to run the more high-end VR apps, this still leaves millions of adults who are eager to learn and can access virtual reality software on devices they already own. The $7M Barbara Bush Foundation Adult Literacy XPRIZE presented by Dollar General Literacy Foundation is an effort to catalyze this needed momentum, as the competition incentivizes teams from all over the world to develop autonomous mobile learning software for low-literacy adults.
With VR and AR content still in its infancy, now is the time to invest in bringing high quality immersive or augmented content to the adult education market. The opportunity is big, the consumers are ready, and, for once, adult learning can lead the way in innovating education. Let's change adult learning, for good.
Shlomy Kattan is Senior Director of the $7M Barbara Bush Foundation Adult Literacy XPRIZE presented by Dollar General Literacy Foundation.
Popular in the Community