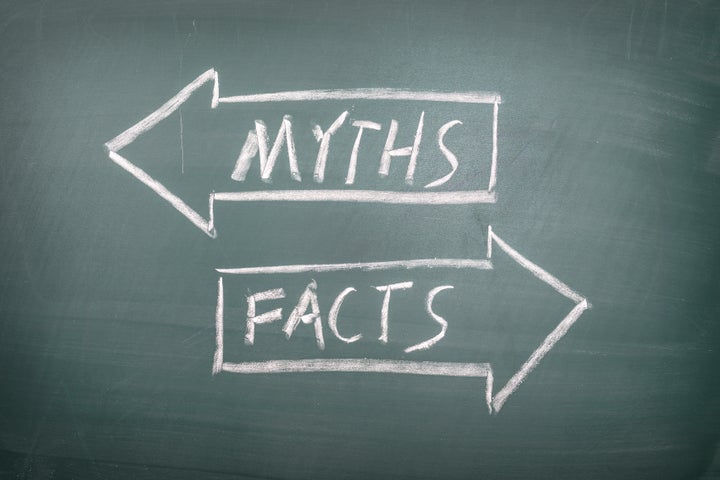 Do you consider vocational education a unviable alternative to university or college? You are not alone. However, you need to think again. I would like to invite you to put aside your pre-conceived beliefs about vocational education and training (VET) and let me explain how misconceptions about VET are hurting the next generation's chances of a meaningful future at work.
We have all heard the old adage 'perception is reality', but when it comes to VET, nothing is further from the truth. Here's my premise: Skills-based education gives young people the chance to get experience and gain confidence early. It can catapult them into steady jobs, a great pay packet and, more than likely, a future-proof career.
Have you ever thought or believed any of these common statements? Well, allow me to bust these myths.
Myth 1. Apprenticeships are old fashioned - they aren't funky
Actually, they are. And they're really coming into their own in major economies.
For example, in the US, after waning and being restricted to a narrow range of fields over the past few decades, apprenticeship programs are coming back in a big way. There are more than 505,000 people in the US currently enrolled as apprentices – the highest rate in eight years, and US apprenticeship programs are increasingly offering the entry key to careers in a vast array of growing fields such as IT, health care, hospitality and advanced manufacturing, to name a few.
Despite that, 8 of 10 people surveyed by the US National Association of Manufacturers said they would not encourage their own children to enter the manufacturing field.
Those same people said they view manufacturing as critical to the prosperity and security of the US (90% of those surveyed actually ranked manufacturing top of the list of important industries!).
The same 'it's essential work, but not for my kids' dynamic exists in Australia. Various research shows parents overwhelming respect the importance of manufacturing as a national priority, but not when it comes to wanting their children to pursue a career in that sector. Go figure.
Meanwhile, among northern and central European countries, between 40 and 70 per cent of high-school students opt for vocational education. After completing three years of combined on-the-job and classroom learning, students graduate with a qualification that carries real weight in the labour market, and a pathway to even higher levels of education and earnings.
If you look to countries where apprenticeships are the preferred way of training young people, like in Switzerland and Germany you will see the superior economic performance, with impressively low unemployment, and youth unemployment rates. It's no coincidence.
In Australia, government data shows 9 out of the ten occupations predicted to have the greatest jobs growth over the next five years can be entered into through vocational education and training programs. If you want to get and keep a job, it would seem VET training is your best option.
So, naturally, I was flummoxed with the results when my organization surveyed Australians on their attitudes towards VET. Three out of five Australians agreed with the statement "in a globally competitive world we need university education more than VET". Moreover, nearly half of respondents also suggested VET is no longer as relevant as university or college. Ouch.
The reality is that two-thirds of tomorrow's jobs will not need a four-year degree. That is the low down from Georgetown University's Center for Education and the Workforce.
Myth. University graduates walk into top-paying jobs
Perhaps that was the case twenty years ago, but increasingly, that is not the reality. If you talk to the average person, you would think VET graduates earn between $AUD10,000 and $AUD20,000 less annually than their uni peers. Is that what you think, too? Let's explore that with a couple of stats.
Did you know that VET graduates have higher starting salaries than university grads, on average? The median full-time income for a VET graduate is $56,000 a year, which beats the median graduate salary for those with a bachelor's degree of $54,000. It might be only $2,000, it is still a win for VET, as that is a lot of money for a young person starting out in their career.
In Australia, some VET graduates will start their first job on $AUD85,400. That is the average starting salary for those with a Certificate IV in Hazardous Areas – Electrical, which beats even the starting salary for a dentistry graduate, who'll earn $80,000 a year after a 5 or 6-year program.
Myth. Uni grads get jobs quicker than vocational education grads.
Three in ten people we surveyed believed the main reason Australians chose university over VET is because university graduates found work more easily, but graduate employment outcome data from the Dept of Employment reveal this is another total furphy!
Did you know VET graduates who did their training as part of a trade apprenticeship scored 92% for post-program employment? Also, 78% of VET grads find work straight after graduating.
Meanwhile, only 68% of bachelor degree grads found work four months after completing their course in 2015 – down from 86% in 2008. Yet, despite employability falling to near its lowest level in three decades, and increasing tuition costs, university enrollments continue to rise - and are currently at record high levels!
Why? University has an aspirational aura of prestige, but it might not be the best route to stake out a career. We all want our kids to have a better education than we did, but ask yourself – what is the right choice for them? Are you nudging the next generation to attend university because you did or because of a belief a degree it will be an open ticket to wealth and career success?
However, in reality, there are plenty of unemployed and underemployed people who have university degrees. Think of the glut of qualified teachers who have to make do with casual shifts here and there, some for their entire career, all while waiting to land a permanent job and pay off that HECS debt.
Can we afford to be dazzled by career options involving universities or should we get real and focus on skills-based training? Research shows that completing a VET qualification means you are less likely to be unemployed in the long term. (Just being armed with Australian Certificate I or II qualification, decreases your likelihood of becoming long-term unemployed by nearly 50% in comparison to a person with no post-school education)
Australia's unemployment rate is nudging 6%, but for youth aged 15 to 24, it is more than double that at 13.1%. It has been stuck there since February, according to the Australian Bureau of Statistics. Overall, about 750,000 Australians are unemployed, which costs the Australian Government almost $11 billion annually in Newstart benefit payments!
However, in almost all sectors, too many jobs remain unfilled because there aren't enough people with the practical, real-world skills that companies need. It is a phenomenon I call people without jobs, and jobs without people.
Employers are struggling to find skilled workers across the economy. In Australia, one in three vacancies for skilled trade workers go unfilled (one in three!), and that number rise to as high as 55% for jobs in construction, 59% for automotive trades and 65% and 67% for food trades and building professionals respectively.
In fact, the Australian Government's Skills Shortages report from March this year, show over 27 'Traditional Trades' are in shortage, mostly nationwide. We are talking about Mechanics, Electricians, Fitters, Plumbers, Chefs, Butchers, Hairdressers and Cabinetmakers. These are jobs not only there now, but they will also be there in 50 years, and all can be trained for via vocational programs.
Now I have laid it out for you, isn't it time you revisited your views about university/college and sharpened your focus on skills-based training to meet the demands of our vibrant, innovative 21st-century economy?
If not for yourself, do it for your children.
Nicholas Wyman is the Author of Job U. New report just released download here, "Perceptions are not reality: myths, realities & the critical role of vocational education & training in Australia". Skilling Australia's Citi New Recruits program is a part of the Citi Foundation's Pathways to Progress initiative. The program is designed to prepare urban youth with the career readiness tools and opportunities to gain a traineeship or apprenticeship. Citi Australia supported this report as part of a commitment to supporting research that helps advance the field of youth economic opportunities. The report tackles myths about the VET sector, which is too-often considered the "poor cousin" of universities. Follow nick on linked in @nicholas_wyman
Related
Popular in the Community