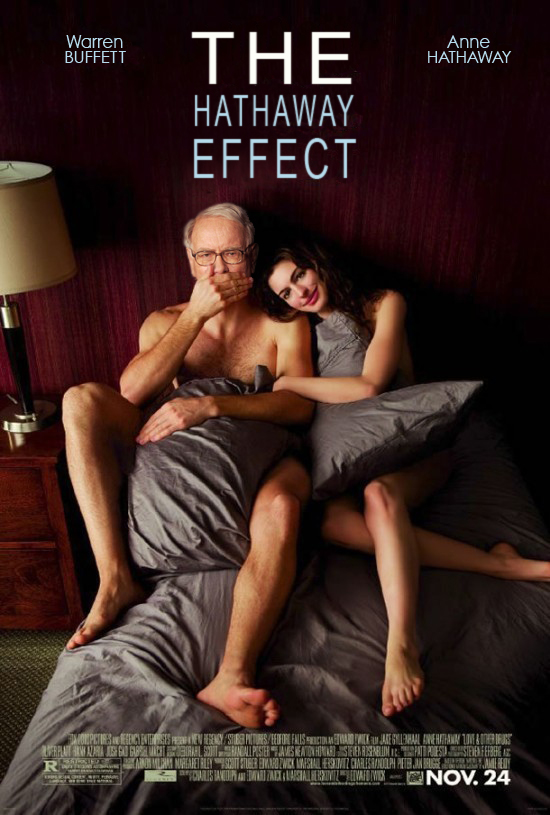 Last week I wrote about the curious phenomenon known as "The Hathaway Effect" -- when Anne Hathaway is in the news, the share prices for Warren Buffett's Berkshire-Hathaway go up (most likely because of robo-traders reacting to the Hathaway name in the news). There was an international reaction to the story (including BoingBoing, Time magazine and the evening news in Canada). But one of the more curious responses was from one of Berkshire-Hathaway's official blogs in Buffett's homebase of Omaha.
The Omaha World Herald had a really fun and interesting article today about the connection between actress Anne Hathaway and Warren Buffett... Here's a link to the article: Wait Till She Names a Child Berkshire

I can think of another connection, too! Anne Hathaway likes to wear jewelry, and Berkshire Hathaway's Borsheims loves to sell jewelry! Shop our looks fit for an actress.
So come next Oscar season, will Warren Buffet be the next Harry Winston, decking out Hathaway and other Hollywood starlets in million-dollar jewels? If so, will they have to go to Omaha for a fitting at Borsheims or will Warren set up shop on Rodeo Drive? (I asked Anne Hathaway's publicist, Steven Huvane at Slate PR, for a response but he demurred.)
Among the other unintended consequence of "The Hathaway Effect" is that since writing about it, it appears to have become a self-fulfilling prophecy that proves my original point: On March 3, the first full trading day after the story got wide circulation last week, Berkshire-Hathaway's stock rose by 2.05%. I know some have commented that Berskire Hathaway stock goes up everyday anyway, but on the contrary: The day before, it was down .51%, and the day after it was down 1.40%.
Meanwhile, Anne Hathaway's IMDb STARMeter number shot up 85% in the last week (she's now #7 on the list). And out of full disclosure, perhaps it is worth noting that my own IMDb STARmeter rating rose by 39% in the last week, too. Now that's some Hathaway Effect!
Related