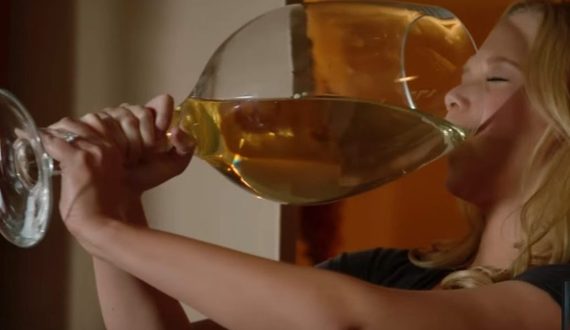 These days corn-syrup-sweetened soft drinks are targeted as villainous causes of obesity. Artificial sweeteners are busted as bogus substitutes. And now the big-gulp generation is graduating to wine time.
Americans Are Drinking More
According to the Wine Institute, Americans are drinking more wine than ever, exceeding even the French. Figures from 2014 show U.S. wine consumption nearly doubled in 20 years, up to 895 million total gallons in 2014 from 459 million in 1994, with a steady increase each year. Findings released in April, 2015, by the Institute for Health Metrics and Evaluation found that "heavy drinking" (more than one drink per day for women and more than two for men) among Americans rose 17.2 percent between 2005 and 2012, with the sharpest increase among women.
You love your wine, I know. I love mine. But is your serene evening unwinding routine, that shared bottle of wine with your beloved or those subtly enlarging glasses of Chardonnay, becoming an insidious slow climb, silently widening your waistline?
Liquid Calories Are Slippery
Liquid calories are just plain slippery. A meal of steak or rice and beans settles down satisfyingly in the stomach. Even hearty salads, like a Caesar or Cobb, knock a filling home run, leaving us feeling satiated. But it's all too easy to swallow the notion that what is not food is not really caloric. When it comes to wine, tipping the scales can happen fast.
Some of us gain weight dramatically, due to emotional upheaval or health issues, but for the vast majority of people the culprit is excess calories over time. Although our metabolisms "reset" to a somewhat higher threshold for caloric intake when we gain weight, even a small increase of calories regularly consumed over weeks, months, or years can bulge the body.
Calories in wines vary considerably depending on alcohol level and sugar content. Dessert wines, for example, can be several hundred calories more per bottle than your average Merlot. And from one Merlot to the next there can be significant difference, something we can't check because wine labels don't feature "nutrition" facts, including calorie counts.
According to an analysis in Wine Folly, an average 750-liter (25.4-ounce) bottle of wine contains 750 calories. That means a typical 5-ounce serving of wine is about 150 calories, more than a 12-ounce can of Coke (140 calories). If you split a bottle of wine with your sweetheart, you are drinking about two and a half 5-ounce servings, or 375 calories, the equivalent of a turkey sandwich. If you make it a nightly habit, that's an "extra" turkey sandwich every day.
How do these numbers stack up in terms of our daily calorie reality? The U.S. Office of Disease Prevention and Health Promotion's 2015-2020 Dietary Guidelines for Americans recommends about 2,000 calories per day for moderately active women under 50 and about 2,500 calories per day for moderately active men under 50 (varying more for age). For people over 50, the recommended numbers drop to 1,800 calories per day for moderately active women and 2,200-2,400 calories per day for moderately active men. For women, that bottled turkey sandwich represents about 20 percent of their daily caloric needs (slightly less for those under 50 and slightly more for those over 50). For men, it's about 15 percent (slightly more for those over 50).
Common sense and medical consensus tell us that conservative wine (particularly red) drinking in combination with healthy eating and regular exercise is ideal. But our trending thirst for wine and our pouring habits just might be too liberal for our own good.
Julia Hall is the author of the forthcoming memoir Carry You about life, and a few near deaths, in a narcissist family. Read excerpts. Visit her website.
Featured image from Inside Amy Schumer "Football Town Nights."