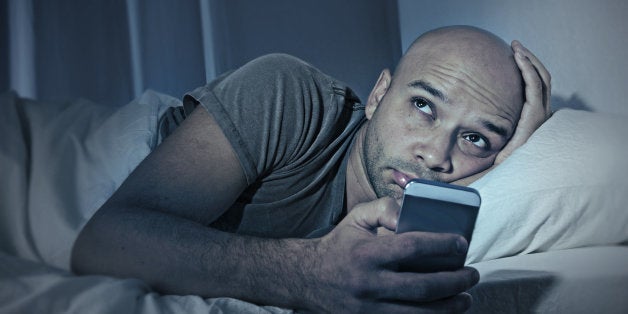 In today's day and age, we are constantly consumed and bombarded by technology (i.e. e-mails, Facebook, Instagram and texting). In some ways we may feel more connected to others, while at the same time more lonely and disconnected from others and ourselves.

Does your morning begin with you reaching to shut off your phone alarm? This routine can make you feel like an unconscious zombie because of the instant temptation to check Facebook and respond to emails before getting out of bed, interacting with your partner or pet, taking a shower or eating breakfast.

Your phone begins to feel more like an appendage; if misplaced it sends you into a lost tailspin. And if you fall victim to the overconfident superhuman illusion of multitasking, you may find yourself, god forbid, texting and driving at the same time leading to unsafe consequences not only for you, but also the livelihood of those that cross your path.

If you find yourself being less present with live human beings, getting swept away by the technology tornado or just feeling ready to break up with technology so you can feel more connected with yourself and loved ones, then the following tips will help you get back online with life.

Track your time online: Two years ago, when I was in the mist of launching my online psycho-educational program for couples and opening up my CA office location, I was in front of my computer for hours at a time. My workday started at 9 a.m. and I would work until 9pm, taking only a brief lunch and dinner break. It caused me to feel agitated, wound up and isolated. Unfortunately, the time dedicated to exercise and building a community was startling and minimal in comparison. Although it can be hard to admit the truth about the amount of time you spend online, it can open up a space to reorganize your prioritize, detox from technology and make the necessary changes to set yourself free.

Notice how your body feels: My husband shared with me several months ago that he was experiencing tension headaches, his eyes were feeling strained and his neck and back were in pain from so many hours working in front of his computer. One morning I saw him hunched over in front of the computer and asked him, "Babe, how does your body feel right now?" He woke up from his tech trance and said, "I need a break" and stretched his arms up in the air letting out a deep sigh. Being attuned and aware of your body's messages is the key to change. If you find yourself becoming impatient, tense, anxious or even depressed after a tech binge or as a result of not getting your tech fix for the day, you may want to take a time out from technology and start honoring your emotional and physical wellbeing again.

Set boundaries with technology and substitute for healthier habits: Like with any other addiction, you need to replace old toxic patterns with healthier habits. A good first step is to ask, "What does this toxic behavior superficially give me? Does it give me peace? Confidence? Excitement? Power? Importance?" Once you figure out the deeper need it satisfies you can begin replacing it with a more fulfilling habit that meets the same objective without all the negative consequences.

Get connected for real: Often times you can feel so over stimulated by the intensity of today's fast paced world that you burnout or shutdown. It can prompt you to withdraw from others and deprive yourself of the true joy, connection and love life has to offer. Having the courage to step outside your comfort zone, overcome your fear of vulnerability, create healthier habits and foster more fulfilling relationships can open up the doorway to the true fulfillment and freedom you seek.

If you would like to get access to additional relationship resources visit www.CreateARelationshipYouLove.com to receive my Free 3-Part Video Series for couples so you too can: Avoid the 4 Common Mistakes Many Couples Make And Know What To Do Instead, Learn the 8 Strategies To Strengthen Your Emotional And Physical Bond With Your Partner and Improve Communication In 10 Minutes Or Less.

Andrea Cairella is a Licensed Professional Clinical Counselor and owner of TruePotentialCounseling.com based in Long Beach, CA. She works with adults and children and specializes in couples issues, trauma, addiction, anxiety and self-esteem and is the creator of Create A Relationship You Love ™ an online psycho-educational program for couples.