Imagine that your body is like your bank account... (it really is a repository of the wonderfulness that is you).
If you make regular withdrawals and no deposits, sooner or later (likely sooner) you are going to wind up in the red. You know that stress-inducing overdrawn feeling?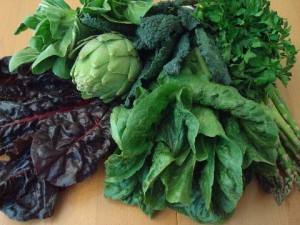 Well, your body is just like that, and when you keep requiring it to provide you with energy withdrawals but you aren't putting in healthy nutritious deposits, you are going to put your body in the red.
In fact, when you refuse to deposit greens (it's more than the color of money), you are robbing your body, just like you'd be robbing a bank...
So how do you create space in your busy life for making simple nutritious meals that include greens to improve the quality of your health? It all starts with your mindset. Is it important enough to you to get healthy and lose weight without the restrictions and rules of a diet, or do you want to keep going deeper in the red?
If lack of time is your reason, a great place to start is to take a look at your calendar and remove what absolutely doesn't need to be on it. And add what does, such as time for home cooking, self-care, relaxation and having fun. Approach this as if your life depends on it, because it actually does!
We all seem to be challenged today with balancing many things, but do you absolutely need to do everything and be everywhere? Or, does making time for a nutritious home cooked meal make sense? Sure. When you are sick you can't do everything and be everywhere which forces you to change your plans. Put yourself back in charge of your life and health and start thinking of your health like your bank account. Is it healthy or deficient?
Choosing to take responsibility of your health and how you feel is very empowering and worthy of making the investment. I encourage you to try it.
In the meantime, the truth is we all make excuses. Ask yourself if your excuses are helping you or hurting you. Is foregoing a few minutes of planning a healthy meal really worth it for catching up with your recorded TV shows and a TV dinner, or hanging out on social media with a bunch of snacks?
Next time you decide to skip a meal or grab something quick, ask yourself, "Is this a deposit or a withdrawal?" You don't want to run out of money, and I know you don't want to run out of having a healthy and happy life.