As we wind down 2017, we appear to be ahead of the game in making New Year's resolutions. At the top of Deloitte's list: help make sure that companies around the world can handle exponential change by transforming the structure, role and focus of their IT systems. That sounds like a tall order--and it is. Nearly every executive team I speak with is scrambling just to keep on top of the nature of technological change, let alone move proactively to take advantage of it. So, how do you orchestrate a symphony when you are still figuring out the instruments?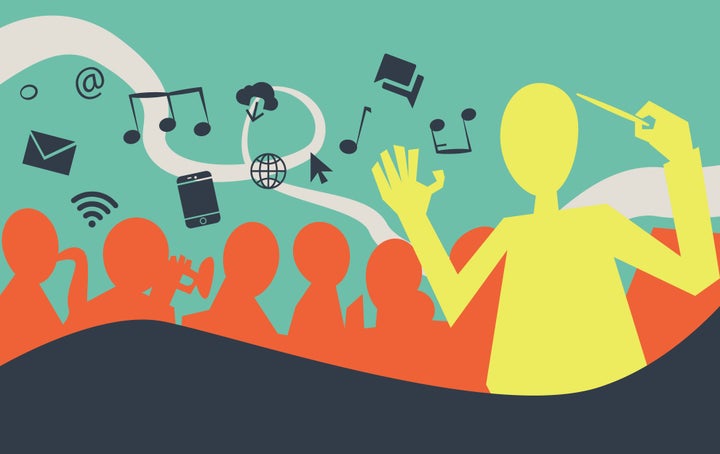 Instruments of Progress. Last week, Deloitte's Tech Trends 2018 report was published– the ninth annual installment in the series. This one is subtitled – optimistically – "the symphonic enterprise." Its binding premise is that the key to flipping potential disruption to opportunity for unprecedented growth lies in "the unified 'orchestra' over individual advances in technology." The titles of each of the essays in this issue read like a 'best hits' list of topics making the rounds of executive suites today:
Enterprise Data Sovereignty
Digital Reality
Blockchain to Blockchains
API Imperative
No-Collar Workforce
… and so on. The report covers trends reflecting the macro forces fueling growth – cloud, digital and analytics – as well as the innovations that can be built on top of them. It tells stories about how best (and best not) to focus IT efforts accordingly. As it usually does, Deloitte's Tech Trends report leaves the reader optimistic and hopeful about being able to make beautiful music from a seemingly vast array of different instruments of progress. However, I imagine there are some skeptics in the world of scaled, successful organizations questioning if we can collectively get there.
New to the Band. What may be driving this skepticism? We're new at trying to do this. Deloitte's research reveals that of the two-thirds of Fortune 100 companies that have an established innovation function or capability, a full 40% of those established the function just in the last five years. That means that over 25% of the world's biggest companies are still trying to work the kinks out of a new model for driving growth.
And, those kinks are substantial and predictable: How do you divvy up decision rights and responsibility for innovation between the businesses and the corporate center? Who gets to sit within the center and where do they come from? Do we reskill people who know our business? And, if so, is their assignment a temporary one or a permanent one? Or, do we hire in outsiders who might bring a fresh perspective but will likely be seen as – well – outsiders? And, where does the magic pot of money to fund all this activity come from if not a 'tax' on the business lines--which are probably struggling already with limited budget to achieve their goals?
For any company, there are "right answers" to all these questions, but they're not obvious and don't come overnight. So, for the 60% of the Fortune 100 that either don't have a coordinated innovation capability or one which is just getting up and running, symphony seems unlikely in the near future. These organizations are still trying to figure out what sound each of their players is best at making--if given the opportunity to play.
Time for a Remix. I'd speculate that a second – and honestly bigger – reason for such skepticism is the lack of mindset or skill by many individuals who have "grown up" within today's successful businesses to perform as a symphony. Recently, this particular subject has weighed heavily on my mind as I put the finishing touches on the manuscript for a book I'm writing with my colleague and Deloitte Consulting LLP's Chief Strategy Officer, Steve Goldbach.
The book—due out Spring 2018--is called Detonate: Why – and How – Corporations Must Blow up Best Practices (and Bring a Beginner's Mind) to Survive and is based on our nearly 50 years combined experience working with some of the world's biggest companies. The premise of the book is based on a simple observation: that most of the work being done within organizations these days is execution of playbooks handed down from previous successful generations of managers. They are still playing the oldies instead of writing new music.
At most companies, we see well-intentioned workers stuck in a vicious cycle of reacting to increasing uncertainty by adhering ever more stringently to stale processes that lead to bad results. Rather than throw out the dumb stuff that doesn't appear to work or make sense in today's world, they're hunkering down. They are relying on the rules carrying the day – and their jobs. Instead, they should be looking for opportunities to change the tune and do things differently. We see an opportunity--in fact, an imperative--to counter disruption of scaled businesses by bringing a novice's perspective and inquisitiveness; after all, this is exactly what the start-ups and entrepreneurs that are bringing about digital disruption are doing.
Making music. Achieving the harmony of a symphonic enterprise will take a lot. It likely means shutting down stage-gate systems; challenging experts (and sometimes customers); turning P&L development upside-down; ditching annual strategic planning processes; and doing away with corporate institutions like career paths. Needless to say, it shouldn't all be taken on at once. Taking small steps at the right time in the right place, though, can help accelerate any company down the path of the "symphonic enterprise."
My fear, likely shared by those skeptics, is that a disjointed reaction to digital opportunity will result in cacophony—a jarring, discordant mix of sounds—instead of symphony. Unless the average company can speed up the development of an institutional innovation capability and toss out the songbooks that have made them successful in the past, the vision presented by Deloitte's Tech Trends report may turn out to be nothing more than a pipe (organ?) dream–accompanying a dirge of opportunities unrealized as customers, markets, and industries move on.