By Kerri Winick, Beauty Editor
Busting face potion? Check!
Under-eye smoothing serum? Check!
Anti-aging hair helper? Hmmm...
Yep, just like our skin, our hair ages...and not always gracefully. It sure does sound odd, considering hair is "dead" and all, but sprouting grays isn't the only thing we have to worry our pretty little heads about.
World-renowned hair and scalp scientist and L'Oreal Paris expert consultant, Dr. David Kingsley, says aging strands lose bounce and elasticity, become dry and unruly and may even start to thin. (We knew we should have appreciated our shiny, teenage hair more. Le sigh.)
The bottom line? Hair that's tired and damaged can add years (yep, years) to your look. On the flip side, Dr. Kingsley says shiny, happy hair depicts "youth, health, vitality and femininity," any of which can be a total confidence booster.
Thankfully, keeping your locks forever young is as easy as rinse, lather, repeat. Anti-aging hair care concoctions are a hot trend. Dr. Kingsley says to look for ingredients like:
Ceramides: Think of ceramides as the glue that hold your hair together. As you age, and style, and style some more, you start to exhaust your natural supply. Ceramides in shampoos and conditioners bind to the hair shaft, forming a barrier and preventing moisture and protein loss.
Arginine: Arginine is a naturally occurring amino acid which may help strengthen hair and help reduce breakage.
Dimethicone: Dimithicone is a silicone that coats the hair shaft, conditions, and moisturizes it. Silicones can cause buildup over time, so be sure to shampoo often. A simple scrub will do the trick!
You can find anti-aging hair care products everywhere from the drugstore to the salon. What's more, Dr. Kingsley says all of the major brands have extensively researched the ingredients in their hair helpers.
Check out some of the hottest products below, and let us know what you think! (PS: I've tried both L'Oreal Total Repair 5 and Pantene Age Defy and can totally vouch for them. With daily use, my strands felt silkier, looked shinier, and were more manageable for days. After using Total Repair 5, my husband even noticed a difference, telling me my hair looked "amazing." After that, I was sold!)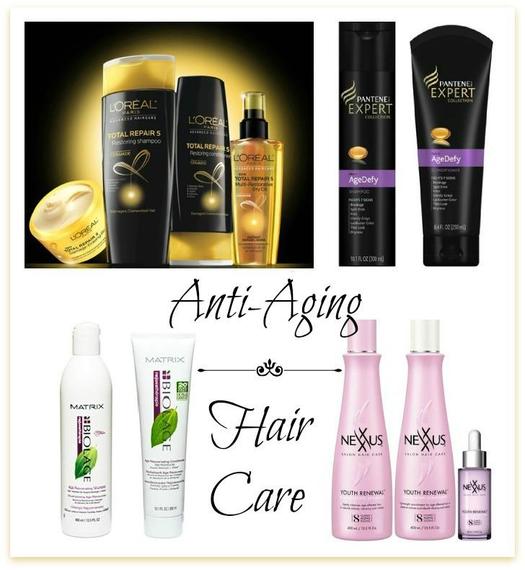 (Try: L'Oreal Total Repair 5 Restoring Shampoo and Conditioner, $4.49-$7.49; Pantene Age Defy Shampoo and Conditioner, $9.95 each; Biolage Rejuvathérapie Age Rejuvenating Shampoo, $18, and Conditioner, $19, salons nationwide. Nexxus Youth Renewal Shampoo, $14.99 and Conditioner, $19.99)
After you're done stocking your bathroom with products to turn back the clock on your locks, try these American Academy of Dermatology approved tips for healthy hair:
Nourish hair from the inside out with a healthy diet
Shampoo regularly. As you age, your scalp produces less oil, which means you may not need to wash your mane daily. But if you see flakes in your hair, you may not be shampooing enough. Do a strand-spot check every so often.
Use conditioner after every shampoo, concentrating on the ends. It really does make a difference!
Be mindful of the water temperature when you hop in the shower. Dr. Kingsley says - If it's too hot for your hand, it's too hot for your hair!
Incorporate treatmWays ent systems into your weekly hair care system. (We like L'Oreal Power Moisture Power Rush Masque,6.99)
Use a wide-tooth comb to detangle hair, and then grab your brush to style.