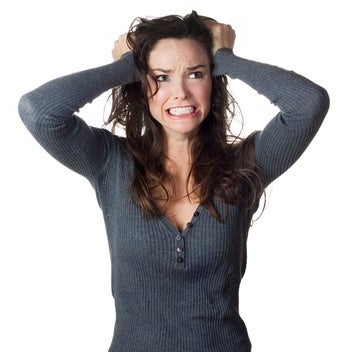 How I Prevailed Over Empire Blue Cross Blue Shield
Do you ever feel so utterly frustrated dealing with your health insurance provider that your blood seems to boil? Maybe you're on the brink of pulling your hair out. Or maybe, in the case of life and death issues, your heart is breaking and you don't know where to turn. Be it a question of unreasonable – sometimes even life-threatening – denials of coverage or countless processing errors or unhelpful employees, everyone seems to have a story. The common denominator is greed and Blue Cross Blue Shield's certainly at the top of the list when it comes to horror stories.
My purpose in writing this is to shed light on and encourage use of the invaluable resource we consumers in New York State have for health insurance provider-related obstacles and conflicts: The New York State Department of Financial Services (NYSDFS). And if you're one of those who think an "efficient, supportive and professional governmental agency" is an oxymoron, think again.
My own tales of torment with Blue Cross Blue Shield (actually, Empire Blue Cross Blue Shield of New York; hereinafter, BCBS) thankfully don't involve terrible illness. They simply exemplify the greed and blood pressure-raising characteristics of this company. But I got them to toe the line, so to speak, and you have at least the opportunity to do so, too. Mind you, it took substantial effort on my part, in conjunction with the valuable support of the NYSDFS. It was well worth that effort.
My first saga began several years ago when, after submitting a claim to BCBS for some surgery, I initially received a benefit check for some $4,200. Believing I was entitled to a far greater benefit, I phoned BCBS and was told by customer service that yes, indeed, I deserved more and that the claim would be reprocessed; however, some weeks later, I received a letter from them requesting I return the $4,200 check, claiming they saw no medical necessity for my surgery. Imagine that! I begrudgingly returned the check and immediately began to mount an appeal. I carefully prepared a three-page letter to BCBS, along with annotated annexes that included letters from three different medical specialists I'd seen, copies of prescriptions and, most significantly, my underscoring the fact that the surgery had eradicated the symptoms I'd had that had compelled me to have the surgery in the first place! No surprise, BCBS rejected my appeal. The reverse side of their letter indicated I could lodge an external appeal to the State, which I subsequently did.
Upon phoning the NYSDFS to understand clearly how to proceed and to see if I needed an attorney, I was told, "No, you don't need an attorney. We are your advocate." But I also needed to be my own advocate. My external appeal consisted of a detailed letter to the NYSDFS, BCBS's rejection letter, my original appeal to BCBS and accompanying physicians' letters and documents.
I quickly received a response from the NYSDFS that stated my case was worth exploring and that I would be receiving a response from an outside ombudsman's office within thirty days. Sure enough, within thirty days, that response arrived: It was a copy of their letter to BCBS that contradicted the latter's claim that there was nothing in the medical literature that substantiated my need for surgery; rather, the ombudsman's office presented them with nineteen citations from the medical literature that substantiated the necessity! (What does that insinuate about BCBS?) They ordered BCBS to pay me the $17,500 benefit to which I was entitled! That bears repeating: This government entity helped me go from a zero benefit to a benefit of $17,500.
Some years later, after having used a couple of other insurance providers in the interim, I reluctantly signed on once again with BCBS. The timing was consistent with the launch of the Affordable Health Care Act and the provider had made some changes to the previous iteration of the plan I selected. It took little time to see they'd not taken sufficient preparatory steps to best service their customers. I won't bore you with an account of the innumerable problems and errors I encountered, literally from day one. Put succinctly, let's just say there were endless hours spent on the phone, both on long periods of hold and speaking with reps who rarely had answers; misinformation; lack of responsiveness and follow-through; and processing errors in virtually every single medical claim I submitted. It seemed like not a day went by without some BCBS problem or error rearing its head, taking my time and testing my patience.
Frustrated by my inability to find much needed support, I turned once again to the NYSDFS to help facilitate the resolution of my many pending BCBS issues. Very shortly thereafter, I received a letter from the NYSDFS indicating the name and direct telephone number of a BCBS service representative the former had gotten the provider to assign to assist me. It took that insurance rep and me two hours on the phone to sort through all the errors – and, even then, there were several claims that were processed incorrectly a second (some even third) time. Once again, the NYSDFS proved itself a valuable advocate.
The NYSDFS did not respond to my request for data regarding success rates of external appeals. And while there can be no guarantee anyone's particular situation can be resolved by them, it is clearly well worth the effort to submit an external appeal when a need may rise. The health insurance system, as it exists, banks on the fact that most people won't make an effort to challenge providers' decisions or have the time and even the wherewithal to stomach the frustration that's too often involved in dealing with them.
In my experience, the NYSDFS has been top notch. The direct link to the external appeals page of their website is www.dfs.ny.gov/insurance/extapp/extappqa.htm. Just the other day I was told by someone to whom BCBS had denied coverage of a drug crucial to her treatment that the NYSDFS had come through for her; she is now getting the treatment she needs.
My hope is to have inspired some of you to seek the assistance of the NYSDFS in resolving disputes and seeking justice when up against powerful health insurance providers such as Blue Cross Blue Shield. Don't let them make you sick!
Related
Popular in the Community