Depending on whose numbers you believe, somewhere between 15% and 25% of American households have their televisions connected to the Internet. When it comes to Baby Boomers and Seniors that number is probably much lower. Why the slow adoption rate? In large part it's because of inertia. Older people are more likely to be set in their viewing ways. If they want to see some Internet based video, like a specific YouTube clip, they are more likely to view it on their computer, even if the television is their primary entertainment device. It's just generally easier. And frankly hooking up a computer or laptop so the output appears on your television can be an intimidating experience. But now there are new ways of connecting that should mean more of us watching on the web through our televisions.

Why Bother?
There's lots of video material available on the Internet that's just not available on traditional broadcast or cable television. And it's not just videos of cute cats. On YouTube alone I found roughly 7,400 videos under the category Caregiving for the Elderly. There are tens of thousands of How-To videos as well - everything from setting a complicated digital watch to installing an Internet Router, and lots of tips on how to install and use almost every device and piece of software imaginable. And especially when it comes to intricate shots of installing devices, it's generally easier to see the details on a large screen television.
The Internet is also a great place to find entertainment. On sites like Netflix and Hulu Plus you can find old television series dating back to the 1950's and 60's. And increasingly sites like Netflix and Amazon are creating new original content like Kevin Spacey's dramatic political series House of Cards. This is content you'll only be able to find on line, even though they have the dramatic and visual content that merits a larger screen.
New Ways to Connect
It's now getting easier to connect to the Internet. Many new television sets are already Internet enabled, and there are a host of gadgets to let your television access content that's on the Internet.
•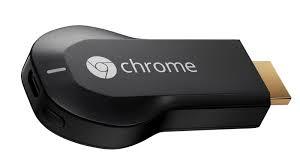 Google's $35 Chromecast device looks a little like a USB thumb drive only it plugs into your TV's HDMI input. It will let you access anything that's you can pull up on Google's Chrome Internet browser. Chromecast also has specific applications such as Netflix, Hulu Plus, and Youtube. Best of all it is really easy to set up using your computer, smartphone or tablet. It took me less than fifteen minutes to get it up and running.
• Google TV - Google makes software that lets you integrate the Internet and your cable programming in one place. The software is already installed on some Sony and LG televisions, but is also available in separate boxes from companies like Hisense, Sony, Asus, Netgear and others. Price ranges from about 50 to $160. But those boxes take more time and patience to set up. Allow an hour or more to get it up and running, especially if you have other components like a surround sound receiver that are part of your system.
• Other television makers such as Samsung and Panasonic offer some Internet access.
• Roku has boxes for about $100 that claim to access to thousands of movies, sporting events, and other programming. Their boxes are also relatively easy to set up.
• The Apple TV box costs $99 and is also relatively easy to setup, and it allows you to access any of the movies and TV shows you'd like to get through the iTunes store.


• One of my personal favorites is the Slingbox which reverses the whole process. Instead of accessing the Internet through your television, it allows you to access your own cable box from anywhere in the world where you can get Internet service. It's great for those of us who travel and want to keep up with local sports teams or local news. It's also a great workaround for International copyright issues that can prevent you from watching your favorite premium channels in another country.
• Intel, which has played footsie with television - providing the chips for Google TV boxes, has been working on a service called On Cue which would provide programming bundles comparable to those offered by the cable companies, only these would be available over the Internet. But there's been word that Intel's new CEO is skeptical about the project and the company is said to be in talks to sell it to Verizon.
For Boomers and Seniors the bottom line is that there's a world of video out there on the Internet that's going to look a lot better on your HD television than it does on your laptop or tablet. So it's probably worth the effort to either figure out how to connect up, or get your kid or grandkid to do it for you.
Calling all HuffPost superfans!
Sign up for membership to become a founding member and help shape HuffPost's next chapter