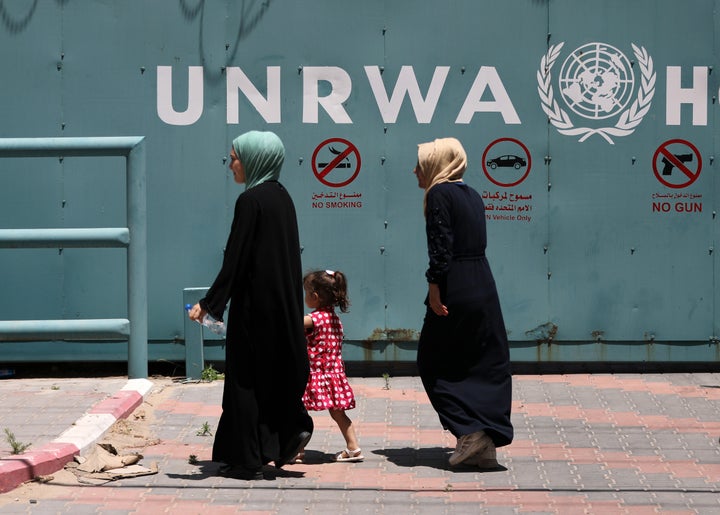 As Israeli President Isaac Herzog gets the red-carpet treatment in Washington this week, two powerful Republican lawmakers are withholding $75 million in American aid from the poorest Palestinians.
The moves by Rep. Michael McCaul (R-Texas) and Sen. Jim Risch (R-Idaho) could spark starvation and violence in Gaza, where millions of Palestinians are struggling under a 15-year Israeli blockade, humanitarian groups warn. Half a million children are at particular risk, according to the United Nations Relief and Works Agency, or UNRWA, which would administer the aid.
If the funding continues to be delayed, "the plight of Palestine refugees, who are already enduring immense hardships, will be intensified to the point of an unprecedented catastrophe," reads a letter that 25 organizations — including Oxfam America, Refugees International and faith groups — sent last week to McCaul and Risch, who are the top Republicans on the House Foreign Affairs Committee and Senate Foreign Relations Committee, respectively.
Legislators approved the food assistance for Palestinians in a bill they passed last year when Democrats controlled Congress, noting rising food and transport costs. In May, the State Department told Capitol Hill it planned to disburse the funds shortly.
McCaul and Risch used their positions on the powerful committees to enact holds soon afterward, with McCaul pausing more than $400 million in United Nations funding beyond the Palestine aid.
On Tuesday, a Risch representative put the onus for releasing needed funds on President Joe Biden and cast doubt on a resolution before the Sept. 1 deadline that UNRWA describes as vital.
"The administration has all the authority they need to provide emergency food assistance to UNRWA," Risch spokesperson Suzanne Wrasse wrote in an email to HuffPost. "The funds they are requesting are outside of an emergency situation and therefore Senator Risch will continue to hold them until his long-term concerns about UNRWA are addressed."
The Biden administration is not seeking new funding, but members of Congress with senior ranks on committees can use their influence over government agencies to meddle with already-approved expenditures.
Risch has questioned UNRWA for years, saying the U.S. must do more to verify that the agency is not promoting antisemitism or aiding Palestinian militants.
A spokesperson for McCaul did not respond to a request for comment for this story.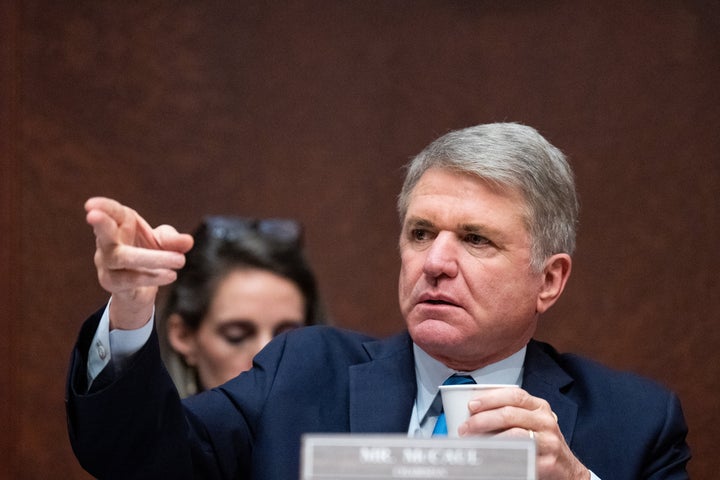 The dispute comes during high-profile discussions of U.S.–Israel ties. On Wednesday, Herzog, Israel's largely ceremonial head of state, will give a speech to a joint session of Congress marking the 75th anniversary of Israeli statehood and celebrating the U.S.–Israel relationship.
But the contrast between U.S. politicians' embrace of Herzog and their penny-pinching toward Palestinians shows how America remains far from attaining the more even-handed approach to the Israeli-Palestinian conflict that many experts see as vital to achieving sustainable peace.
Republicans have taken a harsher line toward Palestinians since former President Donald Trump cut off nearly all aid and took additional steps that previous U.S. presidents had avoided to sustain Palestinian faith in negotiations. Trump declared Jerusalem the capital of Israel despite significant controversy over its status and called Israeli settlements in the West Bank legal.
Republicans have also sought to score political points by suggesting they are more supportive of Israel, a longtime U.S. ally, than Democrats, whom they cast as discriminatory toward the country and, by extension, antisemitic.
While Biden has tried to restore U.S. relations with Palestine and urged a two-state solution, he has largely ignored calls from fellow Democrats to challenge policies like Israeli settlement expansion and military actions or to take steps to acknowledge Palestinian autonomy.
It's not clear if Biden or other U.S. officials are raising the issue with Herzog or his team during the Israeli president's visit. The State Department and Israel's embassy in Washington did not respond to requests for comment for this story.
Yet Monday brought a fresh sign of the president's soft-touch approach to Israel: Despite Biden's own stated concerns about Israeli Prime Minister Benjamin Netanyahu's ongoing controversial bid to consolidate his power by overhauling Israel's judiciary, he invited Netanyahu to visit the U.S. No date for the visit has yet been set.
And on Tuesday, the ongoing political sensitivity around being seen as too tough on Israel was on display in the House of Representatives, which took time to vote on a sure-to-succeed resolution stating the country is not racist. Republicans pushed for the vote after Rep. Pramila Jayapal (D-Wash.) made and then walked back a comment calling Israel "a racist state."
"This is essentially politics that plays with Israeli and Palestinian lives."
Amid the political furor, supporters of aid to Palestinians say it is a moral imperative. Allowing aid to be affected by partisan differences over America's approach to the Palestinians, they argue, would both create needless misery and worsen the overall situation on the ground by fueling dissatisfaction.
"This is essentially politics that plays with Israeli and Palestinian lives," said Hannah Morris, the director of government affairs at the liberal Jewish American advocacy group J Street. "The Israeli government understands that this funding is crucial for their own security."
While Israel is critical of UNRWA, the country has long acknowledged the need for help in Gaza, where observers say the experience of living in what is effectively an open-air prison helps drive locals into the arms of violent anti-Israel factions. The region has been largely cut off from the outside world since the armed organization Hamas, which the U.S. and its allies view as a terror group, took over in 2007. Israel allows the U.N. to funnel assistance into Gaza and has repeatedly worked with Qatar, the gas-rich Persian Gulf nation, to channel in additional funding.
Gaza already has one of the highest unemployment rates in the world, according to the U.N., and international assistance meets most of the nutritional needs of 75% of the region's population.
Humanitarian experts already expected the situation there to worsen following the World Food Programme's May announcement that because of its own funding limitations, it was suspending aid to hundreds of thousands of Palestinians, many of them in Gaza.
"You're looking at, frankly, a humanitarian disaster that poses an impact to regional stability" if the U.S. funding does not go through, said William Deere, the director of the UNRWA's Washington office. "For people who purport to support Israel: Is Israel going to take over feeding these people? Or is it these two members' plan to let people starve in Gaza?"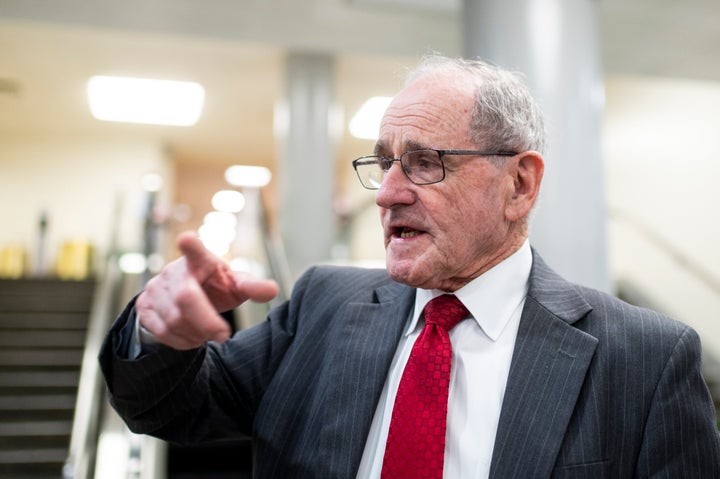 UNRWA anticipates that continuing the hold would force it to experience shortfalls by September, Deere said, hurting its ability to provide essential food items like flour, rice, sugar, lentils and milk to 1.2 million Palestinians, nearly all of them in Gaza.
In 2021, Risch halted Biden's plan to restore assistance to Palestinians before accepting assurances about how the money would be spent — including a pledge that $20 million worth would go specifically to food aid.
Advocates for the aid hope the urgency of the situation will eventually convince the senator to accept similar guarantees about vetting and to use a different tack to push for changes at UNRWA.
"There can always be a question about what's best regarding the long-term, but an immediate hold without any kind of underlying solution does not actually address the problem," Morris said.
Staffers for both Risch and McCaul have met with UNRWA about the issue, Deere told HuffPost.
"It is as apolitical as apolitical can be: the funding is earmarked solely for food assistance," he said. "It's food for people who already are in a desperate situation."
Support HuffPost
The Stakes Have Never Been Higher
Popular in the Community