In a radio interview, Toledo says that she's "floating" and that peoples' different interpretations of the color (which she says is lemongrass) "makes her want to cry" (with joy). She also comments on the copycat dresses that will be coming out: "If it's optimistic and it's being copied...good for us all! This is a dress specially made for her, and if other people get inspired, this is America and that's what it's all about." Toledo is making a similar dress line for Barney's.
Since the whole occasion is so fraught with symbolism, I think that the choice of Isabel was particularly apt. She and Ruben are Latinos--from Cuba--who grew up in working-class families. They and the Obamas belong to the same generation. Ruben described himself to me (before Obama famously did) as a "mutt." America gave them a chance, and they made the best of it. When Obama spoke, this morning, about the "makers" who work with their hands, and who have built America, he might have been thinking of the Toledos. They are also independent entrepreneurs who have built a small business which has suffered its ups and downs, but they hang in. And like the Obamas, they're an unusually devoted couple.
The International Herald Tribune reported that the designer did not know until Tuesday morning that the first lady would wear her lemongrass-yellow coat and matching dress she specially designed for her:

"We're all up here watching the T.V.," said the designer in a telephone interview from her New York studio.

"It's great. We're so happy."

Toledo, who has been making clothes in New York for 25 years, said the coat and dress were made of Swiss wool lace, backed with netting for warmth and lined in French silk.

"I wanted to pick a very optimistic color, that had sunshine," she said. "I wanted her to feel charmed, and in that way would charm everybody."

Toledo, sounding overwhelmed, said, "This is so wonderful."

About 13 people in her studio worked on the outfit over the Christmas holidays. "Chinese ladies, Polish ladies, Spanish ladies - I have a picture of everyone working on her clothes," Toledo said.

She added, "We're all grateful for this opportunity, and we don't even have a PR person!"

Like the other designers who have made inaugural clothes for Michelle Obama, Toledo worked with Ikram Goldman, the owner of a boutique in Chicago called Ikram, where Obama has previously bought clothes. Ikram also sells clothes by Narciso Rodriguez and Maria Cornejo, other favorites of the first lady.
Isabel Toledo was born in Cuba and moved to New Jersey where she attended high school and met her future husband and collaborator, Ruben Toledo. Toledo attended the Fashion Institute of Technology (NY) and Parsons School of Design (NY) where she studied painting, ceramics, and fashion design. An avid sewer from a young age, Toledo's work reflects not only a distinct design sense but a keen understanding of garment construction and appreciation for the geometric intricacies of pattern shapes.

In 1984, Toledo married artist Ruben Toledo and in 1985 presented her first collection. In 1998, she stopped presenting biannual collections, instead choosing to create on her own schedule.

Along with her husband, Ruben Toledo, Isabel was the recipient of the Cooper Hewitt national design award for their work in fashion in 2005. Toledo made her debut with Anne Klein at New York Fashion Week in February 2007 to critical acclaim. She and Anne Klein parted ways, however, a few months later.

Toledo was also the recipient of an Otis Critics' award named for her at the Los Angeles-based Otis College of Art and Design.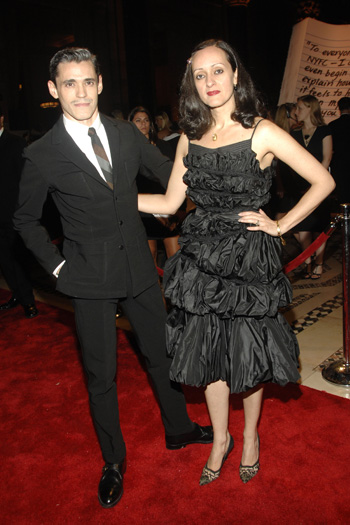 Isabel Toledo with her husband Ruben Toledo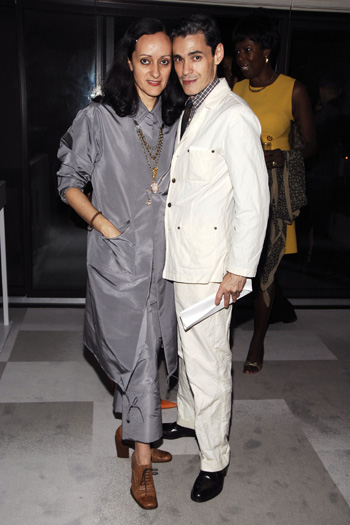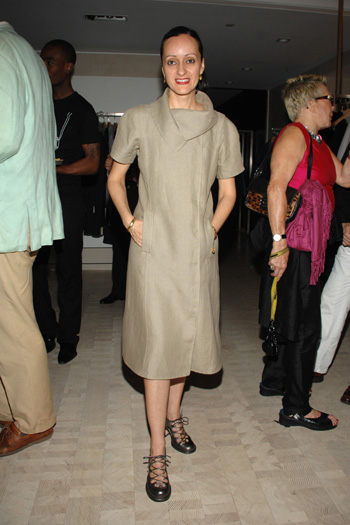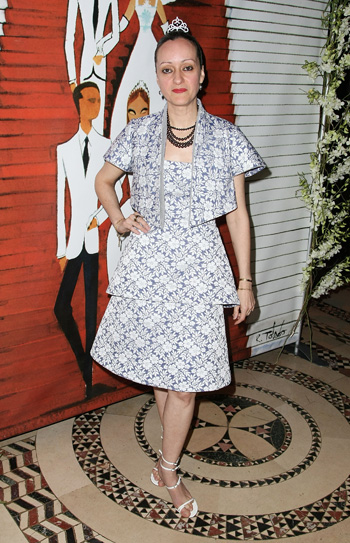 Images courtesy of Patrick McMullan and Getty
Isabel Toledo told New York magazine she was shocked when she saw Michelle Obama wearing one of her designs at the Vogue/Calvin Klein fund-raiser back in June 2008:
"I understand that she buys a lot of my work, which is really ... I'm very, very honored for that. It's even better than her contacting me, the fact that she just goes out and buys it!" Toledo said. Toledo says that since then, the hopeful First Lady's people have been in touch, but she's mum on what she's whipping up for Mrs. Glambama. While she says she'd be happy to dress Michelle in anything, after much prodding, Toledo admitted that she has, in fact, been thinking about designs for an inaugural dress should the situation arise. But those will remain in her head unless the Obama camp reaches out to her. "For me, that's the way to do it," she says.
Here's a video of a 1993 Isabel Toledo fashion show.
WATCH:
Since discovering Michelle Obama is fan of her designs, Isabel Toledo has been in touch with the First Lady of the United States. Toledo told the New York Daily News back in October 2008:

"I was so honored to hear that she's a fan," said Toledo. "Think of it, this girl from West New York, N.J., is designing a dress worn by the possible next First Lady," she says, crossing her fingers.

"I'm in the White House! Well, I'm in the closet of the White House," she jokes. Toledo said she was recently contacted by Obama's representatives, but out of respect for her privacy she wouldn't say specifically what she's working on.

"I have sent her a lot of things to wear on the road," she allows.

Last month, Toledo became the third recipient of the Couture Council Award for Artistry of Fashion from the Museum at the Fashion Institute of Technology, her alma mater. She just designed costumes for the Wheeldon Company's new ballet, "Morphoses," and next spring, she'll unveil the exhibit "Holy Toledo!" -- a celebration of her 25 years in the industry.

Born Isabel Izquierdo in Cuba where she lived until the age of 8, Toledo grew up in West New York and attended Memorial High School, where she met her husband, the artist Rubén Toledo.

They married in 1984 and settled in Manhattan.

She spent the next decade designing and doing fashion shows, which she doesn't do anymore.

"Before the shows were more intimate, they were about the clothes -- not about who was sitting in the front-row seats," she says. But in 25 years in the business, Toledo admits, her work has changed, too.

"It used to be more industrial," she says. "It has become much more intricate and handmade."
Will Michelle Obama wear Isabel Toledo tonight to all the inaugural balls? Stay tuned.
Related