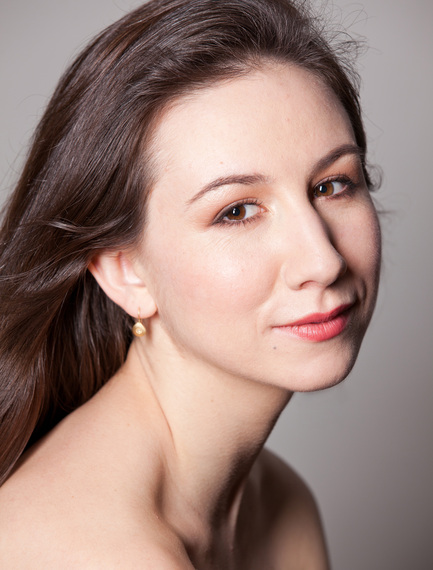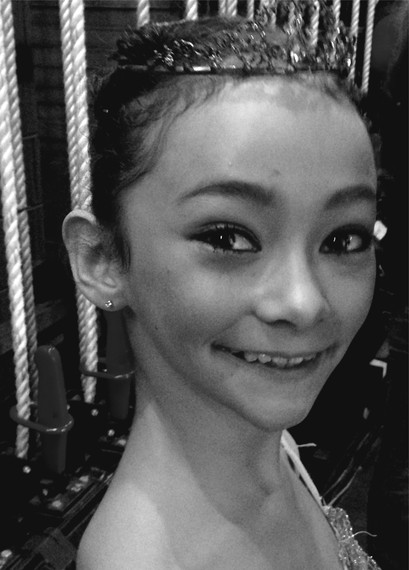 ABT Principal Dancer Isabella Boyston (l.) and 11 year old Satya Tranfield (r.)
Boylston photo by Rosalie O'Connor, Tranfield photo by Jill Eathorne Bahr
The Youth America Grand Prix (YAGP) has grown since its inception in 1999 to become the biggest and most important ballet competition in the world. Former YAGP competitors are now leading dancers in most of the world's dance companies and it's only getting bigger. Isabella Boylston, a principal dancer with American Ballet Theatre, and 11 year old Satya Tranfield from Charleston, South Carolina agreed to meet and talk about the experience of competition and life as a ballet dancer. Boylston won a gold medal in 2001 at the age of 14 and Tranfield won the Hope Award in 2013 at the age of 9 and took first place in this year's pre-competitive division. We discovered that, despite their age difference, they have a great deal in common.
Who helped you to prepare for the YAGP competition?
Isabella Boylston: An Estonian woman named Inge Saarsalu who was teaching at Colorado Ballet. I've lost touch with her. We rehearsed every day for about six months. She volunteered her time which was a huge break for my family.
Satya Tranfield: I was coached by Patricia Cantwell and Jill Eathorne Bahr (of Charleston Ballet Theatre).
That brings up an important point. It's really expensive to get training as a dancer, isn't it?
IB: It's very expensive and another thing that I think people are surprised to learn is that most professional dancers come from working class families even though it's considered an elitist art form.
What did each of you dance in your competitions?
ST: I did Grand pas Classique and Tango Tartare.
IB: I did Aurora's third act variation from Sleeping Beauty. I remember it because I was so small for my age. When they announced me they said I was twelve years old so when I went out on stage I took my place and said, "I'm fourteen!"
Satya, how will it change your life to get a scholarship to a bigger school?
ST: It would be really great because I'll get to see dancers that move in different ways and learn from them and become a better dancer.
What kind of school are you looking for?
ST: I'm not sure yet. It would be fun to be with other people like me.
Out of all the scholarships you've been offered so far, which school is your favorite?
ST: I'm not sure because I don't know them too well but I'm interested in the National Ballet of Canada. I also have an offer from Berlin, Houston and ABT, I think.
IB: That's a lot of good options to choose from.
How do you prepare before a show?
ST: I usually practice a lot because if I stay still I get nervous. I practice and I don't look at any of the other performers.
IB: When I was Satya's age I used to look at older dancers and think they were wasting their time warming up but now I definitely need to. The last thing before the show, I have my make-up on and my tiara and then I go in the shower and take a really hot shower. It looks crazy but I find that's the best way to get my blood moving.

Bella, what was the competition like for you?
IB: I think it was an eye opener for my family that I was actually kind of talented and they began to take it more seriously. I don't come from a ballet family. When I went to the Harid Conservatory I felt like I found my niche for the first time in my life. I had felt kind of alienated from my peers until I went there and everyone was like me.
Can we talk about competition?
IB: Competition is important. You find that whenever there's a class with one or two girls who are really good, that the level of the whole class is improved. It's not good to compare yourself to other people too much because you can make yourself really miserable. You have your own individual path and you have to use competition in a constructive way, not in a way that hurts yourself.
Do you think competitions are good?
ST: I think they're good because you get to see other dancers and improve yourself and you get a chance to perform on stage.

IB: I definitely have mixed feelings about them. I think it depends on the kid. For some, it's too much stress to handle at such a young age but it seems like Satya has a level-headed approach to it. Good can come out of it, like getting scholarships and getting experience on stage. I had so little stage experience as a kid. The most valuable part of it for me was getting to work with my coach for half an hour or an hour, every day. I improved so much because of those rehearsals. It was also really good to see the different styles of other dancers my age from around the world.
What advice would you give to a dancer who is new to competition?
ST: I would tell her to just enjoy it and do the best she can do and... just enjoy every single moment.
IB: I don't know if I can say that any better than Satya. I would say, don't focus on the outcome, focus on the journey. It's hard to see when you're in the middle of it but it's not about winning or losing. It's about the experience that you're gaining and the journey to get there. It's immeasurably more valuable than winning.
You're both at a crossroads in your lives. For you, Isabella, there are going to be a lot of roles opening up with three women retiring from ABT. What roles are you looking at that you would really like to do?
IB: I definitely want to explore some more dramatic and lyrical roles. So far I've done every hard ballet and I'm glad because it's made me so much stronger. I think I'm naturally more of a lyrical dancer and I'd really like to do Juliet and Manon. I would like to think that I'm naturally suited to them.
Satya, what ballets have you seen that you want to dance in?
ST: Manon, Romeo and Juliet, La Bayadère, Le Corsaire. I like the dying scenes. Ballets are mostly really happy or sad but the dying parts are the best.

Who do you think dies really well on stage?
Satya, are there any questions you'd like to ask Isabella?
ST: When did you join a company?
IB: ABT was the first company that I joined. Ten years ago I joined the studio company and I've been in the main company for eight or nine years.

ST: When did you start dancing?
IB: I was three, but not seriously. What about you?
ST: I was four but I wasn't really serious until I went to South Carolina. How do I get from where I am to where you are?
IB: I think my best advice for younger dancers is, obviously, to work hard. Try not to beat yourself up too much. You know the things you need to work on and you need to be aware of them but you also have to acknowledge the things that make you unique. Have a balanced and clear view of yourself. It's probably more distracting growing up now because we didn't have social media so it's important to remember that all that is not a reflection of a person's artistry. Wendy Whelan said something that I really liked. She said you have to look at yourself from the inside out rather than the outside in and approach your work as a scientist experimenting, not like an external presence who's always judging. That's a great way to get the most out of your development. And try not to worry about what other people think.
What is it like for you to meet Isabella Boyslton?
ST: It's really exciting and inspiring. I want to be just like that.
Isabella, what keeps you coming back to perform in the YAGP gala?
IB: Larissa Saveliev. She's done a lot to help my career in any way she could. I also think that the YAGP competition is a great opportunity for kids. A lot of the alumni have been really successful.
What would you recommend to Satya in terms of choosing a ballet school?
IB: Find a place the feels right and where you can also keep up with academics so that it's not only about ballet. It seems like you're on the right path, Satya. I'm sure you'll make the right decision when the time comes. Anyway, I don't think there's a wrong decision as long as all the raw material is there: the talent, the drive, the curiosity. Wherever you go, you'll do great things.
PHOTO GALLERY
Satya Tranfield, all photos by Scott Nilsson
Isabella Boylston will be appearing in Theme and Variations, Sleeping Beauty, Swan Lake, Les Sylphides, La Bayadère and Giselle during American Ballet Theatre's spring season at the Metropolitan Opera House beginning May 11th and continuing through July 4th. It's too soon to tell what will happen in Satya Tranfield's future but don't be surprised to see her on stage with a major company in ten years. If you'd like to help further Satya's ambitions, go to her GoFundMe site.
REAL LIFE. REAL NEWS. REAL VOICES.
Help us tell more of the stories that matter from voices that too often remain unheard.