When American Ballet Theatre opens its Nutcracker season at the Brooklyn Academy of Music this weekend, soloist Isabella Boylston will be conspicuously absent. She is taking part in the company's new Dancer Exchange Program which has her performing in Copenhagen with the Royal Danish Ballet where she will be dancing the roles of "Dewdrop" and "Sugarplum." She kindly consented to answer a few questions about her experience there.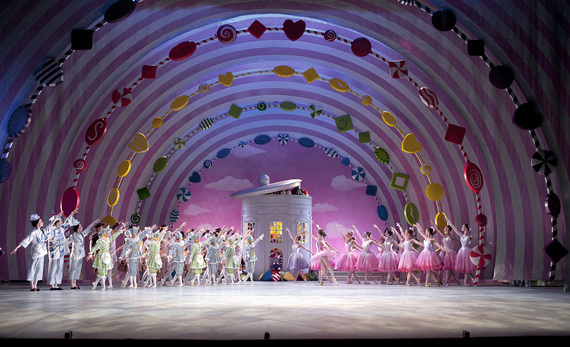 The Royal Danish Ballet's Nutcracker (photo courtesy of the Royal Danish Ballet)
When last we spoke, I think you mentioned that the Royal Danish Ballet uses Balanchine's choreography for its Nutcracker. Have you had to make many adjustments?
The choreography for the Balanchine Nutcracker is completely different from any I've done in the past, so I've had to start from scratch. I think Balanchine's version of the pas de deux is absolutely gorgeous. It's very lyrical and the steps feel very natural to me. There are lots of moments to show off your penchée arabesque and I'm trying to make each one a little different. The Sugarplum solo is a bit tricky, and it's taking me a little longer to find the right feeling and timing. I'm also dancing the Dewdrop, which is an amazing role in Balanchine's version. There's definitely some drama in there. There's also a lot of jumping in it which I find quite fun.
The Royal Danish Ballet is one of the world's oldest. What is it like dancing with such an historic company?
The theater itself is stunning. It looks like a giant jewel box. It's amazing to get to be a part of such an historic institution. Everyone here does their job with pride, from the pianists to the seamstresses.
How is the general speed of the company compared to ABT or New York City Ballet?
The rehearsal process has been completely different from what I'm used to. I've probably had about five or six stage rehearsals, and several with orchestra, which is unheard of in ABT because we don't have our own theater. The dancers here work hard in class, just like at ABT.
Do dancers there gripe about Nutcracker like they do in the US?
I haven't heard too much griping, but I'm pretty sure dancers have the same love/hate relationship to Nutcracker in every country.
When and where did you dance your first Nutcracker?
My first Nutcracker was at Boulder Ballet in Colorado when I was about seven. I had the role of the Mouse Princess (yes, this version had a mouse princess, daughter of the Rat King). I thought I was the star of the show.
Who are you partnering with and how is it working out so far?
My partner here is Marcin Kupinski, a Polish dancer who's been with the company for several years. I could tell from our first rehearsal together that we were going to hit it off. There's a very natural harmony and sensitivity between us and I think we both enjoy dancing together.
How has it been fitting in with the company? Are they fun to be around? Very serious?
Nikolai (Hübbe) and the dancers been incredibly warm and welcoming. There's a bar near the theater that is supposedly older than America where the dancers often congregate after a show for glogg. It feels like a very close-knit company, and the hierarchy is less apparent here than in some other companies.
Have you been in the theater yet? Also, is Nutcracker being done in the old Royal Danish Theater or the new Opera House?
All the classes and rehearsals have been in the old opera house, and that's where I'll be performing too. I went to see RDB performing Come Fly Away the first week I was here and the Prince of Denmark was there, sitting across the theater in the Royal Box. It's the kind of building you could spend an entire day exploring, so many little rooms and passageways full of secrets. Today one of the dancers showed me the roof which has a spectacular view over Copenhagen.
How do you like Copenhagen? Is it your first time there?
I've actually been to Copenhagen a couple of times already. I became close friends with two of the dancers, Alban Lendorf and Hilary Guswiler after I met them at the Erik Bruhn competition several years ago. We've stayed in touch ever since. Also, my mom is from northern Sweden, so I spent a lot of time in Scandinavia as a child. I feel very at home here. A friend of mine remarked that the Danes treat "cozy" as a genre and it's so true. They call it "hygge," a word used to describe many situations. It seems like a pretty utopian city as far as I can tell, and there are beautiful little Christmas markets everywhere at this time of year.
I'm staying in an apartment the company rented for me. Danes don't go out to eat as much as we do in New York because it's so expensive, so I've had to attempt some cooking. Fortunately I found a wonderful cafe right around the corner from my apartment where I've been spending a lot of time drinking coffee.
Did you bring your own costumes for Dewdrop and Sugarplum?
There is a beautiful costume shop in the theater where they make the costumes for every production so they made my costumes as well.
What are some other companies you would like to perform with?
There are many companies I'd love to perform with, but it would be incredible to get to perform at the Mariinsky or Palais Garnier someday.
What do you think the benefit is of having the Dancer Exchange Program?
I'd been looking forward to coming to Denmark and performing with RDB for so long that I'm really trying to soak up and enjoy every minute of it. I think it's an amazing growing experience for the individual dancers like me and Cory to be out of our comfort zone, performing new repertoire in a foreign place. I've absolutely loved working with Adam Luders and Sorella Englund, two of the coaches here. It's incredibly inspiring to be asked to do something in a different way.
What are you planning to do when you get back to New York?
When I get back to New York, I have some time off and I will start working on some upcoming projects made possible by the Annenberg Foundation grant that I received this year. I have a project coming up with Justin Peck and James Whiteside and a new creation with the Swedish choreographer Pontus Lidberg. I'll also start learning Giselle for the first time with ABT and getting ready for our upcoming tours.
Bonus questions:
How many pairs of shoes did you take with you?
I brought 18 pairs of pointe shoes. I have six shows and I wear new shoes for almost everything.
Are you slated for any of the Nutcracker shows at the Brooklyn Academy of Music?
Nope! After my run here, I'm going to Stockholm for a few days with my fiancé for vacation, then back to NYC!
REAL LIFE. REAL NEWS. REAL VOICES.
Help us tell more of the stories that matter from voices that too often remain unheard.