"I follow a lot of drag queens on Instagram," says artist Isabella Kelly-Ramirez. "They really know what it takes to be a woman!" Kelly-Ramirez's photo-based mixed media collage, and her painting and drawing as well, expresses an enduring fascination with exactly that -- what it takes to be a woman. Specifically, the effort it takes and the products and rituals of its marketplace. "I collage using images of both men and women, but there has been a feminist stance to all of this from the beginning, because it comes from a place of examining representations of women in fashion and art, and the narrative of what women sacrifice for beauty -- the sheer volume of stuff and attention that is required to be a woman."
Kelly-Ramirez's creative background includes the parade world. She loves a good masquerade, and that certain intimate, artfully scientific way a makeup artist has of studying faces. She is rarely far from a makeup kit. Though on a macro level her interest is in the psychological, emotional, and sociological implications of our collective youth and beauty obsession, her specific fascination is with its accoutrements and grooming products -- lipstick, nail enamel, powder blush, hair styling, perfumes, fashion garments, all of it. It's no accident that her source material is mostly art and fashion magazines. Her aesthetic is about pattern, abstraction, repetition, and accumulation; and she has a borderline obsessive temperament finely suited to the supreme precision of preparing and executing photo-collage with refinement and control.
Her exhibition "All the Missing Pieces" (January 24 - February 20 at Gallery 825) is comprised of some 30 photo-based mixed media collages, original wallpaper of her design, and a wooden altarpiece festooned with sculptural objects that move the story. Against the wallpaper leans the Ego Altar -- a pun on "alter ego" as well as an artfully active sculptural recreation of a ubiquitous site, the vanity table, an altar to ego and to beauty. Personal rituals are individual and inscrutable, but everyone has them, and this sculpture represents the site where they play out. "It's a very straightforward analogy actually," says Kelly-Ramirez. "I was already interested in this back when I was painting." For her, collage is a new way to express enduring ideas; one that is somehow more direct despite and because it is crafted from found and appropriated imagery. Her topic is societal, so using the primary materials of popular culture as her medium has a conceptual directness. As does the cutting-up itself, which disrupts the magazines' agenda, letting her take just the part that speaks to her and discard the rest. She likes pictures of make-up spills, drifts of powder pigment, kohl-lined eyes, surreal bits of landscape, folds of colorful fabrics, tresses of hair, and other themes and tropes that were borrowed from art, and that she's "borrowing back. These are moments of abstraction, taken out of context. Patterns, stripes, and anything sparkly!"
The chief quality of popular culture these days is visual oversaturation, what Kelly-Ramirez puts as "that sense of everything all the time, to where content loses meaning." Her salon-style installations, the energized patterns of her wallpaper designs, the shrine covered with deliberately rough, glitter-spattered, recycled-material, hand-wrought talismanic offerings -- it all speaks to this zeitgeist of over-muchness. Making these offerings is a messy and labor-intensive process, not unlike the personal rituals they reference. But it's also sort of urgent, wry, and rather joyful actually. "I feel that just because this is a feminist critique doesn't mean it's an antagonistic one. I'd say it's more a self-aware critique, because I'm buying into it all too -- I'm right there! I'm just shining a light on it."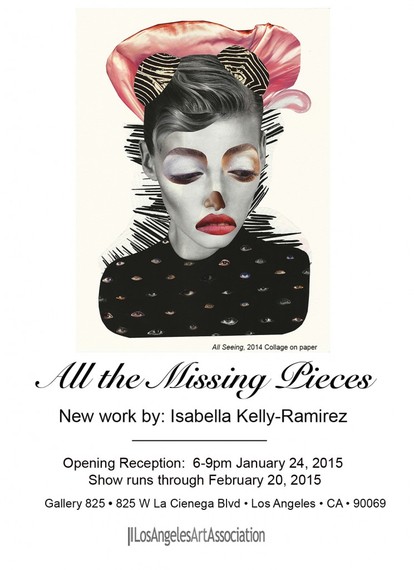 Related
Popular in the Community