Art lovers approaching the venerable Isabella Stewart Gardner Museum's sparkling new entrance pavilion are in for a shock when they catch sight of its striking copper facade, chemically patinated to bright Statue-of-Liberty green. This brash industrial-looking addition to the 110-year-old Venetian-style palazzo, a short walk on the Fenway from the Boston Museum of Fine Arts, has landed in its park-like surroundings like a creature from another planet: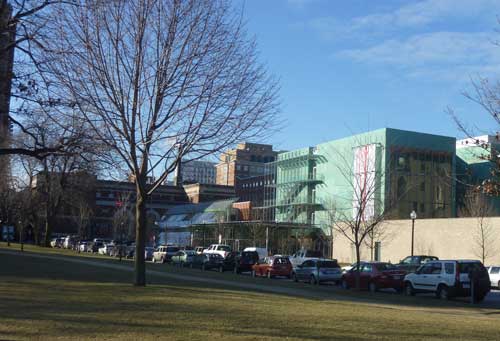 The new copper-and-glass addition to the Isabella Stewart Gardner Museum
All photos (unless otherwise noted) by Lee Rosenbaum
Not since he designed the 1977 Pompidou Center with Richard Rogers has architect Renzo Piano seemed so unconcerned about being disconcerting. The exteriors of his additions to the High Museum in Atlanta and the Morgan Library and Museum in New York were deferential to a fault, resulting in bland imitations of the originals' styles and palettes.
It would be folly for a contemporary architect to try to imitate Isabella's 15th century-inspired Italianate creation (originally called Fenway Court), where she resided and entertained cultural luminaries like painter John Singer Sargent. To his credit, Piano didn't even try.
What he did attempt was to alleviate the pressures on the "fragile" (as Piano called it) historic building: Ticketing, eating, shopping and schmoozing now occur in the sunny front of the house, allowing Isabella's tenebrous 57,000 square foot repository for more than 2,500 paintings, sculptures, tapestries, furniture, manuscripts, rare books and decorative arts to function as it was intended -- providing a peaceful, masterpiece-filled refuge from the city's cacophony. Thanks to the 70,000 square feet of new facilities, visitors will now be distributed over a much wider area and staffers will have much more space for offices and conservation.
In Piano's pavilion, contemporary art (particularly by emerging artists) will now have a an attractive showcase in a new changing-exhibition gallery. This sun-drenched 1,500-square-foot cube features an adjustable ceiling, allowing three different gallery heights (36', 24', 12'):

Paintings by Victoria Morton, a Gardner artist-in-residence, in the new gallery
A new greenhouse will cultivate plants for the Gardner's celebrated courtyard: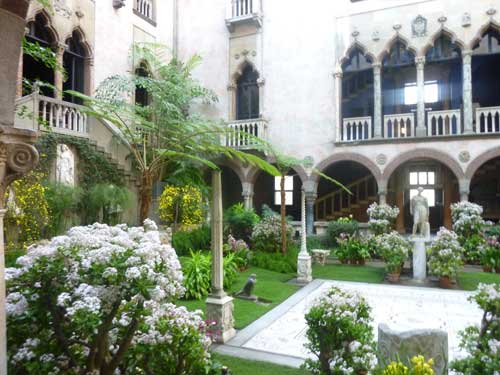 There is also a new education space -- a great improvement over the former dark, cramped basement quarters: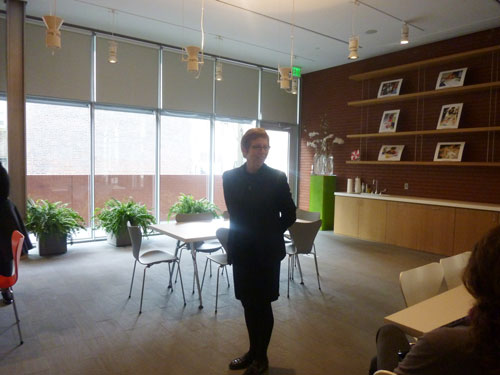 Education curator Peggy Burchenal enjoys her new digs
And there's a lounge, dubbed "The Living Room," with cushy seating and caged canaries: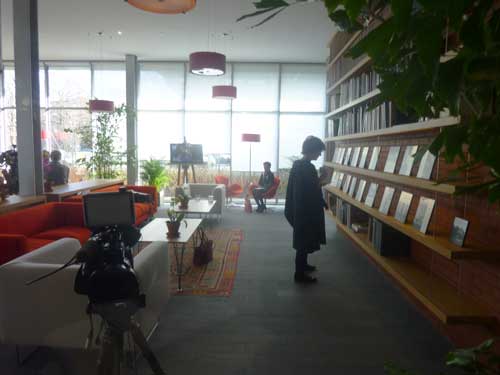 Museum director Anne Hawley peruses informational material in the the Living Room
The expansion, however attractive and necessary, was not without controversy: Like the new Barnes Foundation facility, to which Dr. Albert Barnes' eclectic collection of Impressionist, Modern and other masterpieces will relocate this spring, the Gardner's capital project deviated from the founder's explicit instructions regarding the collection. Both Barnes and Gardner stipulated in writing that the installations of their troves, including the exact locations of the objects, were to forever remain unchanged after their deaths.
The infamous Gardner thieves, still at large, never got that memo: Some 22 years ago, burglars spirited away three Rembrandts, a Vermeer and nine other still unrecovered works from the galleries.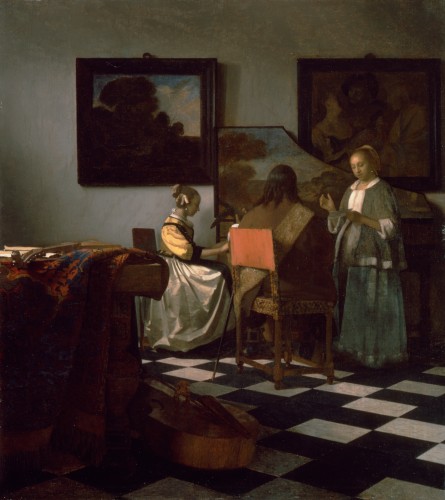 Still Missing: Johannes Vermeer, "The Concert," c. 1665
Photo courtesy of Isabella Stewart Gardner Museum
The Gardner Museum's deviation from Isabella's instructions is not nearly as drastic as that of the Barnes, which (with court permission) is moving everything from the Merion, PA, mansion, which Dr. Barnes had built for his superlative holdings, to a new, much larger building in Philadelphia, opening May 19.
The court-allowed deviation from Isabella Stewart Gardner's will involves repositioning only one object -- a sarcophagus -- which was slightly shifted to create the passageway from new to old. But more significantly, a separate carriage house on the property, not mentioned in the will, was demolished to accommodate the new construction, roiling preservationists.
Some Gardner habitués -- like the Boston Globe's art critic, Sebastian Smee --may find Piano's spiffy, modern digs disturbingly incongruous. In his mixed appraisal of the expansion, Smee wrote:
The deliberately theatrical, disorienting experience Gardner contrived with her original building is not just being altered: It is being openly contradicted by a new ethos of transparency, orientation, and explanation.... One can no longer plunge into the experience of the museum without first being enticed by all the clean, new offerings of the new building.
I arrived with misgivings but came away convinced that this was an appropriate solution to a pressing problem -- the need to preserve Isabella's unique creation while providing the space and services that modern museum visitors expect and museum staffers need.
Piano's interiors are functional, simple and appealing. I particularly liked this floating grand staircase, similar to (but wider than) the one he designed for his recent expansion of the Art Institute of Chicago.
Here's the Boston version: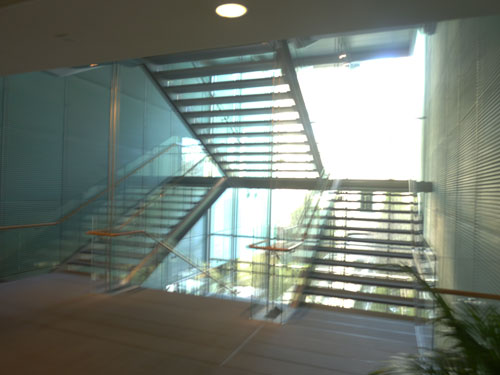 The new concert hall (which you will visit in my video, below) is a marvel -- both aesthetically and acoustically. Everyone who sits at orchestra level has a "stage seat," because (as requested by music director Scott Nickrenz) there is no elevated platform for the musicians. In the three balconies above, everyone has a "box seat," because there is only one row around the perimeter of each tier. You will hear director Anne Hawley and architect Piano speak in the concert hall near the beginning of my video; at the end, you will hear the Gardner's resident chamber orchestra rehearsing there.
Unfortunately, Piano may have created one new problem for the Gardner. As you will see in my video, the glass corridor connecting the new and old buildings is a narrow two-lane road: If people are moving in both directions, they must proceed single file, creating the potential for bottlenecks -- a problem that Piano also created at the Art Institute of Chicago on its Modern Wing's stairway and passageways. (A Gardner spokesperson told me that, aside from special events, "the traffic moves smoothly" through the glass corridor.)
A video is worth a thousand words. Come join me now for an inside look at the two different worlds of the Gardner -- the new pavilion and the old palace. We will make an extended stop to hear Oliver Tostmann, curator of the collection, discuss the newly restored Tapestry Room, which previously doubled as the concert hall: