Americans are fond of excess, so of course Hollywood's awards season lingers for four interminable months (six if you count the annual fall film festivals). Isabelle Huppert, a screen legend just nominated for her first Oscar at age 63, schlepped back and forth from her native France for a parade of ceremonies, screenings and media appearances. She has a bundle of hardware to show for it, including a Gotham Award, a Golden Globe, an Independent Spirit Award and a bevy of critics' prizes.
Having wrapped another movie upon returning to Paris after last month's Oscars, a vacation is the next line item on Huppert's agenda. When we hopped on the phone Tuesday in recognition of the DVD/Blu-ray release of "Elle," the actress assured me she is "absolutely" taking a few weeks off. I told her she deserved it, to which Huppert responded, "I think so too." How heavenly.
What follows is the rest of our conversation, which contains an obvious highlight: She loves "Showgirls." (And Barry Jenkins, of course.)
Because of its unconventional portrayal of a rape victim, "Elle" is a polarizing movie. It's sparked some fierce debates. Considering the many conversations you've had about this movie over the past several months, has your perception of it changed at all?
Not really, actually. I have to say that since the very beginning, when the movie was first presented to an audience in Cannes last May, from that moment on, we've seen more positive reactions than anything else. I think from very early on we realized the film had the potential to be taken beyond the controversy. Of course, the film is disturbing. I did not want to present the film differently from what it is. But basically, globally, I would say, the film was received with a great understanding, a great comprehension.
The film is a real film, and that's the way people received it. When I say that, I mean its potential for imagination, for fantasy, not to be taken as a philosophical point of view upon the rape. No, it's more to be taken as a fantasy and an imaginary situation from which you can try to understand a woman's behavior, a woman's psyche, a woman's most unconfessable parts of herself. And it's her own attempt to understand where violence comes from, how it's been transmitted in the same family or from men to women. The movie is so rich and so complex and so complete that I think it leaves behind any kind of real controversies.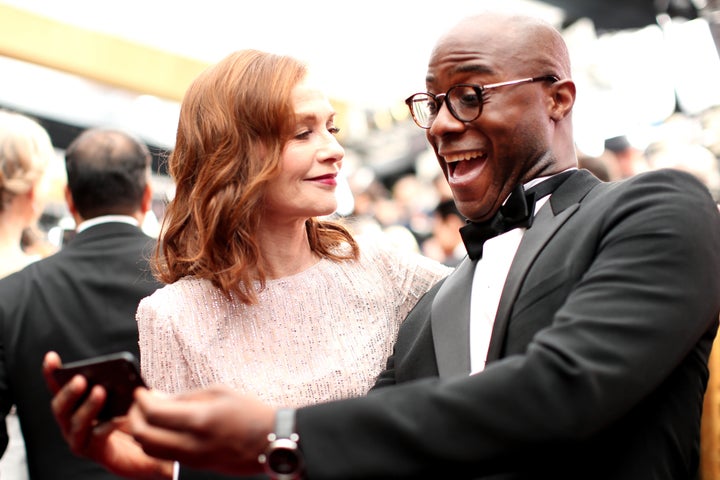 You've been working for almost five decades, but this was your first Oscar nomination. Does it surprise you that this was the film voters responded to, given it's a challenging story told in French?
Well, first of all, of course, it's a French film, and that's always a surprise in a way, that a French-speaking film gets this kind of attention. Of course, it's not an easy film. It's a very provocative film, it's a distributing film. But it's also a Paul Verhoeven film — it didn't come from someone completely unknown to the American audience or the American critics. Paul Verhoeven is obviously a big name for the American audience, so on one hand, yes, it was a surprise because it was a French-speaking film. Then, on the other, no, it was not such a big surprise because it was precisely a Paul Verhoeven film.
But of course there was the combination of this film and the other film last year, "Things to Come," and I got many awards for both films in this country. I have nothing much more to say. I was very, very happy that it got all this recognition because the movie was successful in America — I mean, as successful as a French film can be successful, you know? I'm not saying it's a major blockbuster. It was all very, very nice. 
Was there a moment for you that became the highlight of the season?
It all started with the Gotham, which I won. That was really wonderful because no French actress got that prize before. To be honest, it made the Gotham Awards very popular in France because no one had ever heard of the Gothams in France before I got it [laughs]. In that sense, it brought as much to me as I brought to the Gotham. No, I'm kidding. But you know what I mean, because no one was really familiar with the Gothams before I got it. But it all started with the Gotham, until the Spirit Awards, which I won for "Elle."
It's such a recognition for the film and such a recognition for Verhoeven, who always had a French status, even in America, even though he did big blockbusters like "RoboCop" and "Showgirls." Well, "Showgirls' might not be a blockbuster, but let's say "RoboCop" or "Starship Troopers." But Verhoeven was always such a free spirit, always doing his own way and playing with codes and pretending to be a mainstream director. Meanwhile, he was never really a mainstream director because he was always fooling with the classic codes of making movies. I mean, he's really a great director for that because he pretends to be what he is, and under the surface he is by no means what he pretends to be. I was really, really happy to get all that recognition for this movie.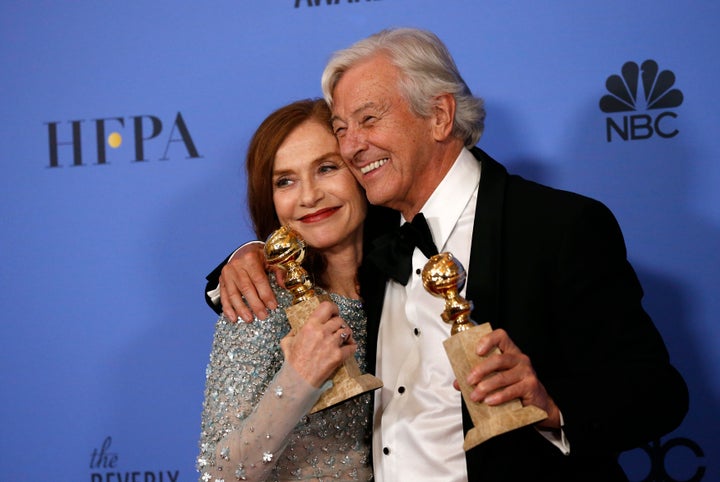 Speaking of which, what's your opinion of "Showgirls"?
Well, I love "Showgirls." I always liked it since the first time I saw it. Even in France, some people thought it was not such a great film, and other people thought yes, it was a great film. But now most people can come to terms with it and admit that it is a great film. Recently, because I think the movie was re-released in France or released on DVD or whatever, there were a lot of new reviews about the film. They all came to the conclusion that, yes, of course it is a great film and by no means is it a bad film. I always thought that ever since I saw the film.
Who were you happiest to meet along the way?
Well, I've particularly enjoyed meeting people like Barry Jenkins, of course, and I was so happy that he won for best film. And Kenneth Lonergan. We kept meeting each other along the way, first in Toronto. We always met at the film-critics circles because we were always winning prizes together. Yes, I really appreciated meeting Barry and Kenneth, yes.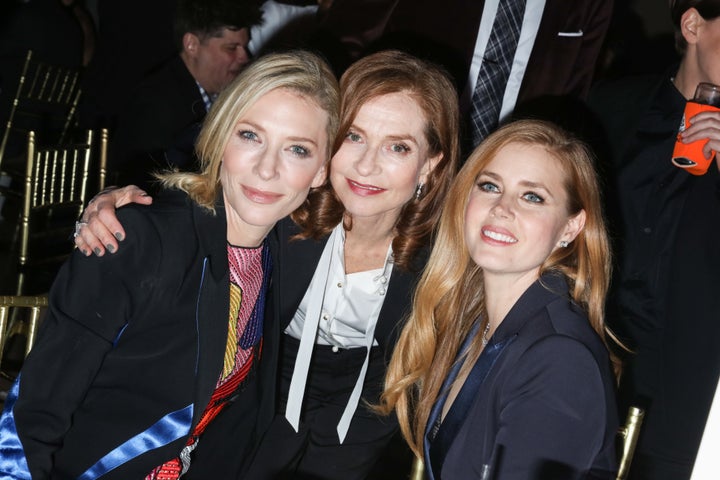 Well, it was very weird. It is certainly something I will remember all my life, as will most people who saw it, even on television. That film will be certainly imprinted with what happened. Because all of a sudden the mechanism was — oh, how can I say it? — usually on this kind of evening, everything goes in the right direction, and for a few seconds it obviously went in the wrong direction. We all thought for a few seconds that something extra dramatic was happening, like an attack or whatever. It was very weird, for a few seconds. Of course, after we realized. But it was human. Sometimes the machine doesn't work the way you expect it to work.
You're making another movie with Michael Haneke, who directed you in "The Piano Teacher," "Time of the Wolf" and "Amour." What can you tell us about it?
It's called "Happy End." We shot that film in the north of France, and it's about a family. It's very, very critical and very political, but it's also very funny. It has all the qualities of the best films of Michael Haneke.
I hope you enjoy your vacation. It's much deserved.
Yes! Well deserved in fact. Thank you very much.
This interview has been edited and condensed for clarity and length. 
Calling all HuffPost superfans!
Sign up for membership to become a founding member and help shape HuffPost's next chapter
BEFORE YOU GO
PHOTO GALLERY
The 21 Best Movies Of 2016