Isaiah McLoughlin, a 9-year-old boy from Waterford, Conn., was concerned about how fast cars were driving down streets in his neighborhood. So the third-grader penned a letter to his local police department to report the speeders. The next day, he received an in-person response, ABC News reports.
So Mell suggested that Isaiah write to the Waterford Police Department to notify them of the dangerous drivers.
(Story continues below)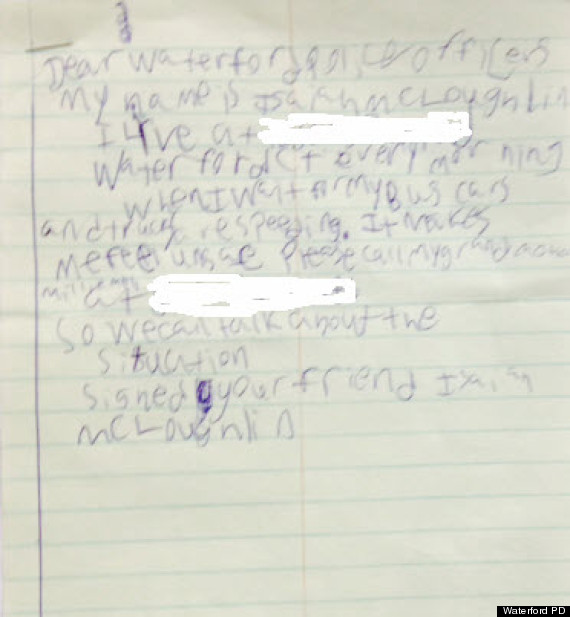 Dear Waterford police officers,

My name is Isaiah McLoughlin. I live at [address redacted] Waterford, CT. Every morning when I wait for my bus, cars and trucks are speeding. It makes me feel unsafe. Please call my grandmother Millie Mell at [phone number redacted] so we can talk about the situation.

Signed, your friend Isaiah McLoughlin
Officer Nicole VanOverloop, Waterford Police Department's youth officer, visited Isaiah at his home Tuesday night to discuss the problem, according to FOX CT. By Wednesday, police officers were present on Isaiah's street to monitor car speeds.
"While he's young in age, his complaint is no less important," Lieutenant Brett Mahoney of the Waterford Police Department wrote in an email to The Huffington Post. "We sent a patrol officer out to his house (he was specific about the time!), and she listened to his concerns. She filed the complaint like she would for any of our citizens, and we now have speed enforcement on the road Isaiah lives on as part of our regular enforcement rotation."
BEFORE YOU GO
PHOTO GALLERY
The Most Heartwarming Thank You Notes To The Police