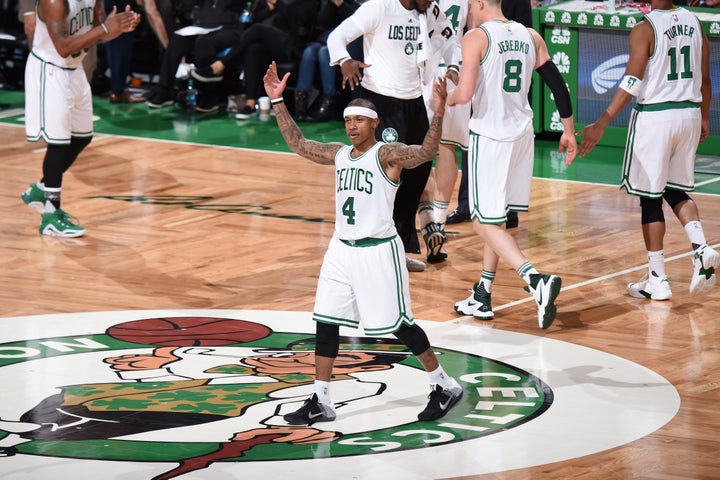 Isaiah Thomas has been proving people wrong throughout his entire basketball career.
The diminutive 5-foot-9-inch point guard comes from the Seattle area, a basketball hotbed -- but because of his size, he was not as heavily recruited as his peers.
Following a brilliant three-year career at the University of Washington that included two first-team All-Pac-10 selections and two Pac-10 Tournament MVPs, Thomas declared for the NBA draft because he no longer felt like he could improve his stock. He slid all the way down to the final pick of the 2011 draft before the Sacramento Kings finally nabbed him with the 60th pick.
Despite earning NBA All-Rookie second-team honors, the Kings shipped him to Phoenix in a sign-and-trade with the Suns. After playing well, Thomas earned a four-year contract, leading him to think he was the Suns' point guard of the future. However, at the trade deadline, Phoenix sent him to Boston in a last-minute deal that left him stunned.
And yet, Thomas has found a home with the resurgent Celtics. In this, his first full season with the team, the 27-year-old earned his first All-Star selection. Under his guidance, Boston sits at 38-26 -- good enough for the third seed in the Eastern Conference. Thomas, for his part, is averaging nearly 22 points (which is more than Carmelo Anthony, Kawhi Leonard, Dwyane Wade, John Wall, Chris Paul and Klay Thompson), to go along with 7 assists.
Thomas, who recently signed on with Mountain Dew for his first marquee sponsorship, caught up with The Huffington Post to discuss his newfound NBA stardom, why he loves the big shot and his appreciation for Celtics coach Brad Stevens.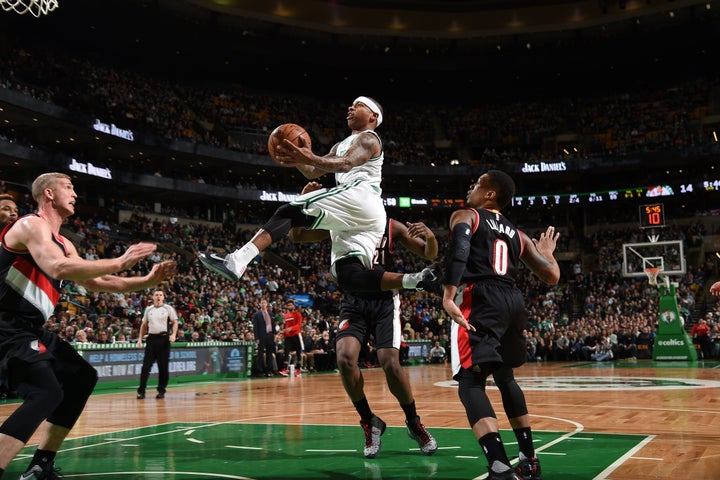 You weren't 6-foot-6, you weren't a McDonald's All American. I remember watching you play in high school during the state tournament when you had 51 points in a single game, but I don't know if anybody thought you were going to be this good. For all the kids out there who may be undersized, what would you say is the number one thing that they should be doing?
First off, just working hard. When you're undersized, you have to outwork the competition and work 10 times harder than a normal guy. For me, I just didn't let anybody tell me what I couldn't do. I didn't care what my reputation was, I just knew what I was capable of, and I always told myself that given the opportunity, I'm going to take full advantage of it, and that's what happened. That's how I go about my life, and that's what I would tell the next small guy out there to do: Take full advantage of every opportunity that you get and be ready when your name's called.
When you came into the league, I'm not sure people realized how good a playmaker you were. How have those skills translated so well to the NBA?
For me, it's just getting better at decision-making. I've always been a scorer, I've always been a playmaker for the most part -- creating stuff for myself. I think that's what I've gotten better at throughout the years, and I think that's what made me more of a complete player, knowing that it's not always about me scoring but it's about getting the team the best shot possible, whether that's me coming down every time and shooting and scoring, or getting somebody else the ball. I think I've just become a more complete player when it comes to that aspect of the game.
The pick-and-roll is crucial for any point guard at this level, and it is something you have significantly improved on during your five years in the league. What has been the key?
It's just something I've kind of always been good at, and then being a student of the game and watching film, how certain teams are playing me off the pick-and-roll, and just being able to make decisions and be aggressive. I think that comes with me being a real student of the game and watching a lot of film.
What kind of effect did your coach at the University of Washington, Lorenzo Romar, have on you outside of basketball?
Growing up, becoming a man. Going from a boy to a man -- taking care of my responsibilities, whether that's schoolwork or working out in the gym, things like that. Being in the weight room on time. He's a man of his word, and he's not just a good coach, but he's better person. He's definitely like a father figure, and everybody who has been through his program would say the same thing.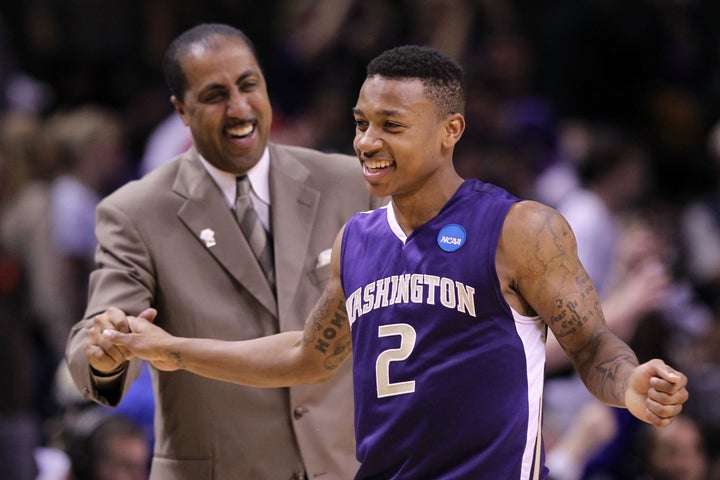 Is there something in particular that your current coach, Brad Stevens, asked you to do from last season to this season that helped you that much more?
Be as confident as I can be, go out there and make plays. And that's what he asked of me from day one after I got traded.
With you shouldering so much of the scoring load and becoming such an explosive offensive weapon, have you noticed a difference in terms of how teams are guarding you this year?
Teams are really trying to focus in and stop me, and I know great players need to have counters for everything that teams are doing. And I think that's when my teammates come into play, and that opens it up a lot more for me late in games. 
You have developed a reputation as a big shot maker. Is there something that happens for you in that clutch moment?
Just confidence. I think that comes from being in the gym every morning, late nights, working on my craft and knowing that if I'm anywhere on the floor, then I can knock the shot down. I think the biggest thing is just taking the shot no matter if you miss or make it.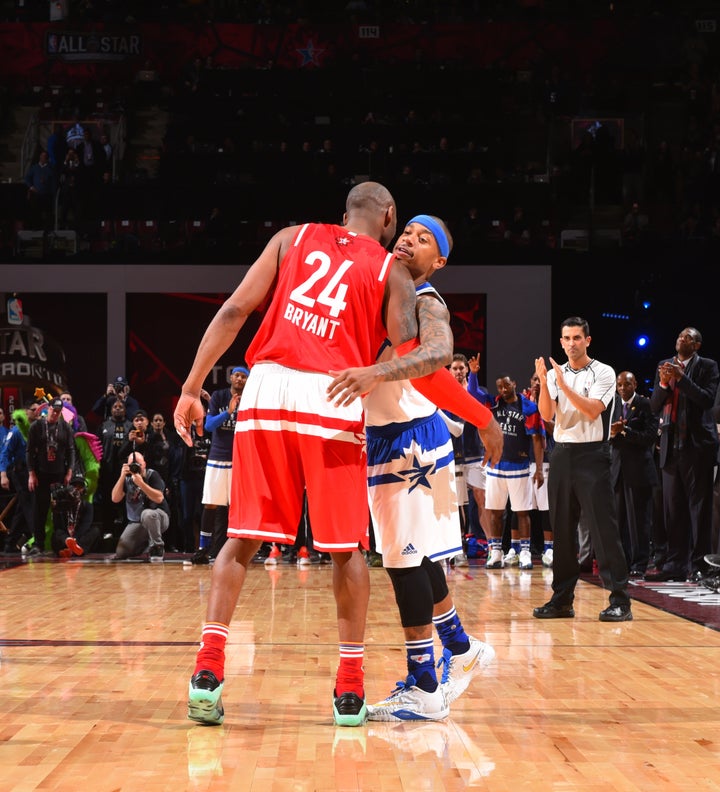 In other words, you've taken that shot so many times before, that when you're in the game you feel comfortable?
Yeah, 9 times out of 10, I'ma get a shot that I want, so it's going to be a shot that I've worked on. It's not gonna be something new that I try at the end of a game. I think that's when a lot people mess up at the end of games, because they do a lot of things they haven't done before.
When you evaluate your team, it seems like everyone has a lot of fun playing together, but what else can we attribute to the Celtics' success?
The biggest thing is this team plays for each other and not just with each other, and we play as hard as possible. I think that's the difference between us and the other teams. We play our heart out each and every game.
You don't see that every game in the NBA because of how long and grueling the regular season becomes.
Exactly. I think that's the difference between our team and everybody else. We're more like a college team, where we're going to bring it each and every night.
This interview has been edited and condensed for clarity.
REAL LIFE. REAL NEWS. REAL VOICES.
Help us tell more of the stories that matter from voices that too often remain unheard.
BEFORE YOU GO
PHOTO GALLERY
Monster Dunks From The 2015-2016 NBA Season