Scroll down for EXCLUSIVE PREVIEW of "You Will Remain" from Isidore's upcoming album, Life Somewhere Else.
In 2003, Jeffrey Cain, formerly of Remy Zero, met one of his longtime music idols, Steve Kilbey, lead singer of The Church. The two subsequently teamed up as "Isidore" and released their eponymous debut album in 2004. Isidore's long-awaited second album, Life Somewhere Else, comes out this week on CD, MP3, and 180-gram vinyl.
This is Part 2 of Karen's interview with Jeffrey Cain. For Part 1 of the interview, click here.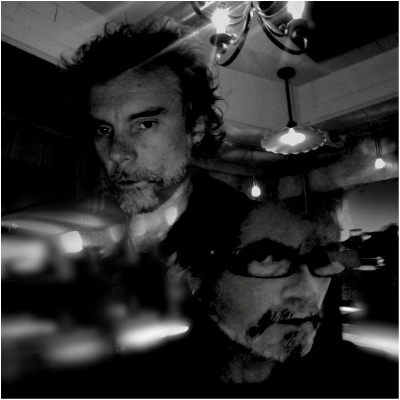 Isidore Self-Portrait. Jeffrey Cain in Alabama and Steve Kilbey in Australia, 2011. Collage by Jeffrey Cain.
KS: So, Jeff, you were a Church fan from a young age. What about the Church's music spoke to you as a kid growing up in Alabama?
JC: Well, I found it on my own without a radio or magazine telling me what it was. I kind of stumbled upon the record.
JC: In a store. You couldn't listen to it, so I was looking at album artwork and reading titles. I had to take a leap of faith and spend the little money I had on something that I had no idea what it would be like or sound like. I was a 14- or 15-year-old kid.
The very first song was called "Myrrh." It was trance-like -- the music was very hypnotic. And the lyrics spoke of an ancient city, but people had microphones and there were telephones ringing. Then people were riding camelback -- all this juxtaposition. Time had been bent. Things you thought were one way were another way. But you could picture that place. You understood that place. The future was there. The past was there. And something I had never really heard in music -- a man telling a story of people who are searchers, maybe outsiders, maybe the fringe-dwellers on a mission or a search for enlightenment, trying to figure out their lesson in this world. It opened up my mind.
KS: The lyrics and the music?
JC: Oh, yeah, yeah, definitely. The music -- I loved. But the lyrics -- I knew there was a kindred spirit out there for me. I was hearing someone from another generation saying things that made sense to me when I was living in a world where the older people around me were saying things that did not make sense to me.
KS: So that prompted you to pursue the path you had started on?
JC: Definitely. Because then I felt not alone.
KS: Did you go see The Church in concert?
JC: I did. My friend -- who I don't think really had a license yet --
KS: Learner's permit? Metaphorically that fits.
JC: Right, yeah. Somehow we were able to drive to Atlanta. We got up early one day and drove to Atlanta from Mobile.
JC: It was when they had broken in America -- "Starfish" -- which was kind of odd to me because when I found The Church, nobody around me knew who they were.
JC: Front row! The guitars were loud. Very loud. It was another moment that reinforced the idea that this is what I'm supposed to do.
KS: That's a great image. Steve Kilbey on stage and out there sat his future collaborator. It says something about the power of passion and also about Steve Kilbey's generosity and openness.
JC: Definitely. I have to say for him -- when my band was touring all the time and I met a lot of my idols or people I'd grown up listening to -- some you're happy you met, some you wish you hadn't met. Steve's just a music fan, too. He has hilarious stories of going on tour and meeting some of his idols and it going all wrong. Some of these guys who get so successful -- I was always surprised where they put their energy when they're not on stage. But Steve -- what he wanted to do when he was not rehearsing, was to go into the studio and make another song. That's life to him. That's success to him. He needs it. It's his air.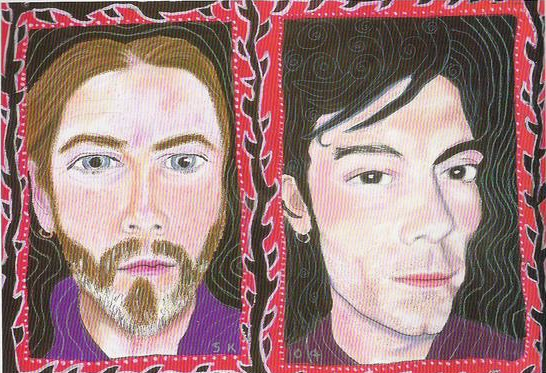 Steve Kilbey and Jeffrey Cain of Isidore in an untitled painting by Steve Kilbey, 2004. Courtesy of Jeffrey Cain.
KS: We talked last time about how you and Steve Kilbey eventually met and became Isidore. Your first album, also called Isidore, came out in 2004 and was mostly written while you were in the States and Steve was in Australia. You'd record tracks here and he'd add lyrics there. Did you work that way again on your new album, Life Somewhere Else?
JC: The first time around, trading in that manner was our conversation, so it wasn't just, how's the weather in Australia? But over the years, we ended up becoming friends. For Life Somewhere Else, when it was time to start cutting vocals, we decided to do something we did not do the first time and that was to get in the same room. I went down [to Australia] and recorded him singing all the songs.
KS: So you were actually working together?
JC: Yes. I had finished all the music in my studio in Alabama.
KS: Did you title the songs?
JC: Oh yeah. I titled all the songs. So I went down. I had ten days. I set up the studio in an apartment. A two-bedroom apartment.
JC: In Sydney. In Bondi Beach. And Steve just brought his stuff over, brought his mic over. And it ended up, he stayed in one room and I stayed in the other. We had our studio in the living room. So each day we'd get up and he'd say, "Okay, pull up a track." And I'd play the song and we'd sit there and listen to it together, maybe talk for a second. Then he would sit with his notebook and write the lyrics out.
KS: Wow. That is amazing!
JC: He'd say, "Oh, I've got the first verse." And then we'd cut it. Every once in awhile he'd say, "How was that? You like that?"
KS: This is like the time I found out that Casablanca was half-written on the movie set. Did he blow you away?
JC: Oh yeah. I've worked with many singers and I'm a writer as well. And to see someone sit right there when it did not exist -- he wasn't pulling from a notebook. He was listening, it was coming through him, he wrote it down. If it got weird and there was a section he didn't have, we'd go for a walk. We'd go do something and come back. There were a few songs I had sent to Australia a few years ago, but other than that, we cut eleven, twelve songs in those ten days I was there.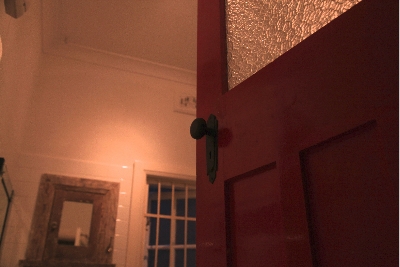 Door to the apartment in Bondi Beach, Australia where Steve Kilbey and Jeffrey Cain recorded Isidore's new album, 2011. Or in the words of Jeffrey Cain, "When isidore not a door?" Photograph by Jeffrey Cain.
KS: In the liner notes, there's a tribute to your dear lost friend and former Remy Zero bandmate, Gregory Slay, written by C.J. Reddy. On his website, Steve Kilbey says the last song, "You Will Remain" is expressly for Greg.
KS: It's a beautiful song. It starts out almost like a dirge -- like bagpipes floating in over the hills. Then there are faint sounds, like the wind rippling, then the guitar kicks in and just lifts us up like a balloon. I feel as if I'm Jill or Eustace being blown along by Aslan in that song. Is Life Somewhere Else an elegy or a eulogy for Greg?
JC: It is in that Greg was my other kindred spirit with the kind of humor and wit and understanding about things that's very rare in one's life, so it's not something you replace. Steve is one of those characters in my life. And we all go through those things, but I think you have to take the pain and confusion of situations like that and hopefully turn it into something positive.
Listen to EXCLUSIVE PREVIEW of "You Will Remain" from Isidore's upcoming album, Life Somewhere Else, below: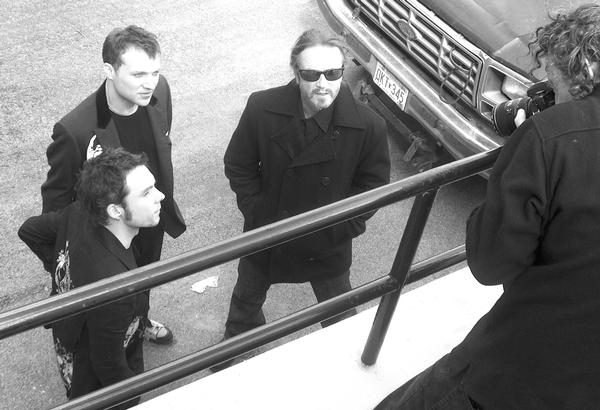 Jeffrey Cain, Gregory Slay, and Steve Kilbey, Minneapolis, 2005. Photo courtesy of Jeffrey Cain.
Calling all HuffPost superfans!
Sign up for membership to become a founding member and help shape HuffPost's next chapter