Airstrikes against ISIS: They are a go. And, as it turns out, they are a-going with coalition partner-nations in the Arab world, according to the news. Here's CNN:
American jets began bombing ISIS targets in Syria early Tuesday, raising U.S. involvement in the war-torn country and sending a forceful message to the terror group.

[...]

All foreign partners participating in the strikes with the United States are Arab countries, a senior U.S. military official told CNN. Those nations are Bahrain, Saudi Arabia, the United Arab Emirates and Jordan.

Diplomatic sources told CNN that Qatar was also involved, though it was not clear whether Qatar actually conducted airstrikes itself.

The U.S. and "partner nation forces" began striking ISIS targets using fighters, bombers and Tomahawk missiles, Pentagon spokesman Rear Adm. John Kirby said, though he didn't specify a geographic location.
And we have statements from some of these partner nations, confirming their involvement:
Bahrain: "A group of fighter jets from the Royal Bahrain Air Force (RBAF) carried out earlier this morning, along with the air forces of the Gulf Cooperation Council (GCC) states and those of allied and friendly countries, air strikes against a number of selected targets of terrorist groups and organisations, and destroyed them, an authorised source at the Bahrain Defence Force (BDF)'s General Headquarters said."
Jordan: "An official source at the General Command of the Armed Forces of Jordan, including the following:
Despite repeated warnings and decisive actions taken by the armed forces on the northern and eastern borders against infiltration and shoot toward military sites and the commitment of the armed forces to the principle of the protection of the border in the hope that the other party adjusts its borders and control them, but he unfortunately has increased attempts to breach the border and dramatically during the past two months, forcing the armed forces to an air strike against a number of sites taken by some terrorist groups as a springboard for operations against the Jordanian territories. The source added that in the early hours of dawn today formations of aircraft Royal Jordanian Air Force to destroy the number of targets elected, which date back to some of the terrorist groups and which has been sending some elements of the terrorist to carry out acts of sabotage inside the Hashemite Kingdom of Jordan has returned all the aircraft safely to base."
The United Arab Emirates: "The UAE Ministry of Foreign Affairs in Abu Dhabi released the following statement: 'The UAE Ministry of Foreign Affairs confirms that the UAE Air Force launched its first strikes against ISIL targets last evening. The operation was conducted in coordination with other forces participating in the international effort against the ISIL.' For additional information on the UAE's commitment to combating Islamic extremists: UAE Ambassador to the US Yousef Al Otaiba's op-ed in the Wall Street Journal; UAE Foreign Minister Sheikh Abdullah Bin Zayed Al Nahyan's recent comments to the UN Security Council."
So if you were wondering whether nations in the region were going to forsake this ongoing operation against ISIS, wonder no more! (You can go on wondering if it's going to be successful, of course.)
The next order of business, however, is dealing with all the people who, for whatever reason, thought this coalition was not going to come to pass, a popular topic of conversation among pundits and lawmakers who take the ol' warm spittle-and-loose guesswork approach to war theorizin'. Corrections, retractions, and apologies are due. Let's round 'em up!
Mark Thiessen, The Washington Post: "… [Secretary] Kerry is meeting resistance from nations small and large as he seeks allies to join the fight against the Islamic State. Turkey has forbidden the United States from using Incirlik air base for military strikes on Islamic State targets. Egypt's foreign minister told Kerry that Egypt's 'hands were full' with its own fight against terrorism. In Jordan, the New York Times reports, King Abdullah II 'told Secretary of State John Kerry . . . that Jordan was focusing on the reconstruction of the Gaza Strip.' Looking at Kerry's efforts, CNN reports that 'it looks like a coalition of the not-so-willing.'"
Looks fine as far as Turkey and Egypt goes, but the rest is wrong.
The Wall Street Journal: "... a day after the U.S. said Arab states were willing to participate in airstrikes, Arab countries attending the Paris meeting gave no sign they were ready to join the military campaign. … The hesitancy of many of the Middle East's major Sunni leaders, including in Saudi Arabia, Jordan and the United Arab Emirates, to back military operations is driven, in part, by a belief American airstrikes against the Islamic State will benefit the region's three main Shiite-dominated governments in Iran, Iraq and Syria, according to U.S. and Arab officials involved in the deliberations. That debate highlighted how the Obama administration's plans to lead the international coalition against Islamic State have plunged it more deeply into a regional feud between Sunni and Shiite states."
It's fair to say that these nations may fret over the anti-ISIS effort benefiting Iran and Syria -- it's obviously intended for the benefit of Iraq (I didn't realize this was even in doubt). The rest is wrong. Looks like someone talked to the wrong "officials involved in the deliberations"!
Chris Matthews: "The Arab countries -- which Jordanian soldier is going to put his foot into Iraq or Syria? None. Which Saudi Arabian fighter pilot's going to go in there and fight ISIS from the air, or bomber? None. Who from the Arab Emirates is going to go in there? None."
Matthews is probably right that we won't see Jordanian ground troops. Beyond that, this is a big whiff.
Washington Post editors: "By those standards, the results thus far of the Obama administration's efforts to marshal an alliance to fight the self-described Islamic State look meager. In Paris on Monday, two dozen governments pledged to help fight the extremists 'by any means necessary, including military assistance.' But only a handful -- not yet including Britain -- have so far agreed to participate in air combat missions in Iraq, and none has yet signed on to support prospective U.S. air strikes in Syria. Nor is any sending combat troops."
Airstrikes in Syria are now officially supported. (The no one is "sending combat troops" line is pretty hilarious because theoretically, the United States is not going to be sending any either. Wink, wink, nudge, nudge.)
Ed Henry: "They know it's going to be a long haul, and that's why you see Secretary of State John Kerry in the Mideast right now trying to pull together a coalition and struggling somewhat to get allies. You've got David Cameron, for example, a key ally -- he has put up surveillance planes to help with intelligence, which is important, as the U.S. plans air strikes in Syria. … But then look at the Arab allies. They have not come forward and publicly said they're going to help with air strikes, as well."
Sen. Bob Corker (R-Tenn.) to Secretary of State John Kerry: "What Arab Sunni country is gonna be flying in and bombing and doing missile raids with a Arab insignia on the side of the plane? Tell me that."
Answer: United Arab Emirates, Jordan, Saudi Arabia.
Sen. Ron Johnson (R-Wis.) to Secretary of State John Kerry: "Let me ask you, in your discussions with, for example, Saudi Arabia -- do the potential Arab states, do they understand how fragile American public opinion will be toward this effort, toward this destruction, if they don't fully commit?"
Sen. John McCain (R-Ariz.) to Sean Hannity: "But let me say I have just heard, and it may be wrong, that no Arab country has agreed, Middle Eastern country has agreed to engage in air or ground support against ISIS. This is a direct result of American indecision and lack of credibility."
There you have it! Please hand in your corrections, retractions, and apologies by close of business today, boys.
Before You Go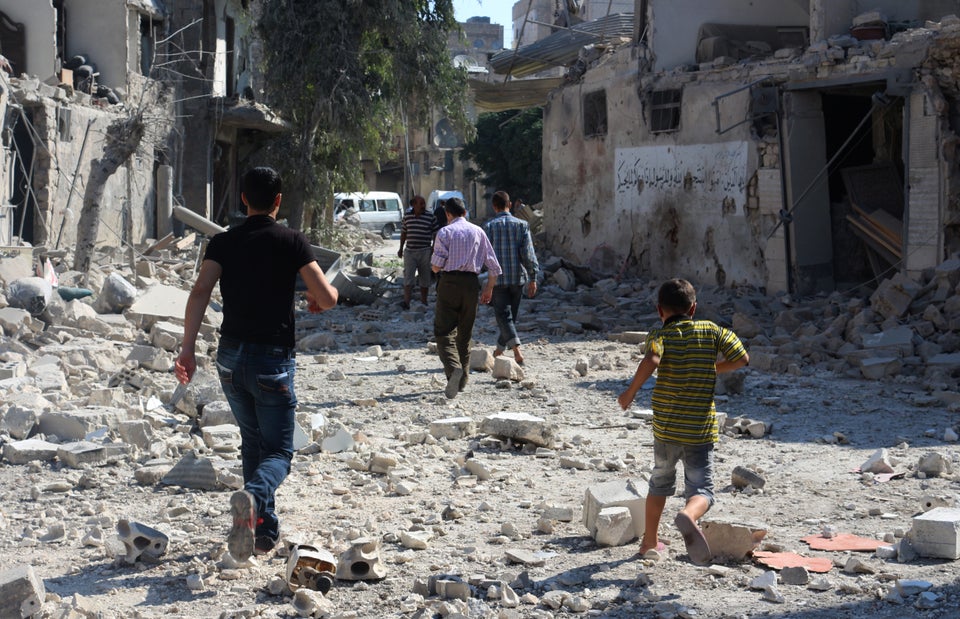 Syria War In August
Popular in the Community