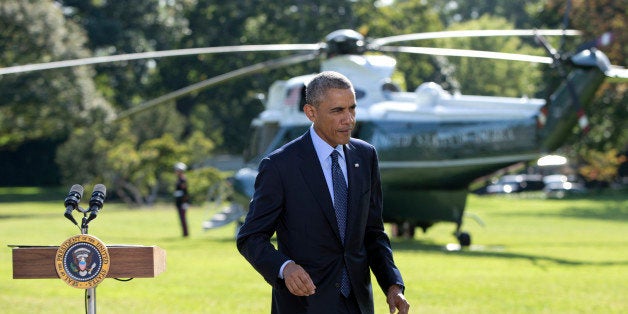 Americans, who largely support airstrikes against the Islamic State, don't think that the military campaign will have much of an impact on their lives, according to a HuffPost/YouGov poll released Monday.
Just 24 percent of respondents predicted that they will be affected a great deal or a fair amount by the airstrikes in Iraq and Syria, while 60 percent said the strikes will have not much or no effect on their lives.
It may not be surprising that Americans feel unconnected to a remote conflict that has, thus far, been fought only from the air. But this phenomenon is not limited to the current air campaign: In 2011, a Gallup/USA Today poll found that only 36 percent of respondents believed their lives had been affected by the 10 years of war in Iraq and Afghanistan, while 62 percent reported little or no impact. (By contrast, in 1993, Gallup found that 56 percent of Americans said they had been personally affected by the Vietnam War, while 44 percent had not.)
People were widely split on the question of whether the campaign against the Islamic State, also known as ISIS or ISIL, will require ordinary Americans to make sacrifices. Thirty-one percent said they believe sacrifices will be needed, 33 percent disagreed and the remainder were unsure.
Older Americans -- perhaps drawing on the memory of earlier conflicts -- were more likely to anticipate having to make sacrifices. Among those 65 and older, 44 percent said that sacrifices will be necessary, compared to just 21 percent of those between the ages of 18 and 29.
Forty-three percent of Americans said the U.S. should take military action against the Islamic State even if it does require sacrifice, while 28 percent disagreed. Although pluralities of Democrats, Republicans and independents all said that the U.S. should press on regardless of sacrifices, Republicans felt the most strongly, with 58 percent supporting that position.
Overall support for President Barack Obama's authorization of airstrikes rose after the first strikes were conducted in August and is now holding steady. Sixty-eight percent of Americans approved of the president's course of action in the most recent poll, a figure nearly identical to the 66 percent who said they supported the strikes in a survey earlier this month.
Republicans remain the most supportive, with 81 percent backing the president, compared to 71 percent of Democrats and 62 percent of independents.
But even though Americans largely back the strikes, they're also skeptical as to whether the air campaign will make a difference, with a 40 percent plurality saying it won't be enough to combat the Islamic State. Despite President Obama's pledge to avoid another ground war in the Middle East, and the fact that such a conflict would be deeply unpopular, many believe U.S. involvement will ultimately stretch beyond airstrikes.
A CNN poll, also released Monday, found that 75 percent of respondents thought that the eventual use of ground troops against Islamic State militants was at least somewhat likely. Similarly, in an NBC/Wall Street Journal poll released over the weekend, 72 percent of Americans predicted that the U.S. would eventually use combat troops.
The HuffPost/YouGov poll was conducted Sept. 23-25 among 1,000 U.S. adults using a sample selected from YouGov's opt-in online panel to match the demographics and other characteristics of the adult U.S. population. Factors considered include age, race, gender, education, employment, income, marital status, number of children, voter registration, time and location of Internet access, interest in politics, religion and church attendance.
The Huffington Post has teamed up with YouGov to conduct daily opinion polls. You can learn more about this project and take part in YouGov's nationally representative opinion polling. Data from all HuffPost/YouGov polls can be found here.
REAL LIFE. REAL NEWS. REAL VOICES.
Help us tell more of the stories that matter from voices that too often remain unheard.
BEFORE YOU GO
PHOTO GALLERY
Syrian Woman Wears Hidden Camera to Reveal Life Under ISIS Rule