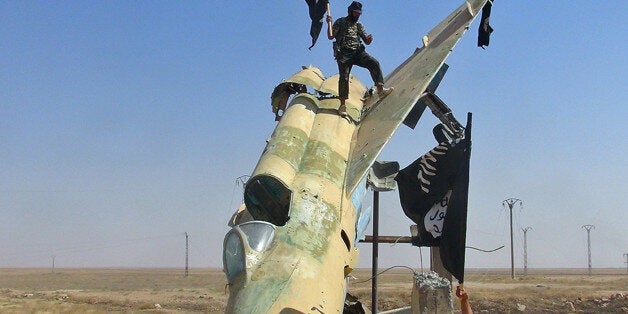 BAGHDAD, Sept 22 (Reuters) - Islamic State urged its followers on Monday to attack citizens of the United States, France and other countries which have joined a coalition to destroy the militant group.
Islamic State spokesman Abu Muhammad al-Adnani also taunted U.S. President Barack Obama and other Western "crusaders" in a statement carried by the SITE monitoring website, saying their forces faced inevitable defeat at the militants' hands.
The United States is building an international coalition to combat the radical Sunni Muslim group, which has seized swathes of territory in Iraq and Syria and proclaimed a caliphate in the heart of the Middle East.
Adnani said the intervention by the U.S.-led coalition would be the "final campaign of the crusaders," according to SITE's English-language transcript of an audio recording in Arabic.
"It will be broken and defeated, just as all your previous campaigns were broken and defeated," Adnani said in the statement, which urged followers to attack U.S., French, Canadian, Australian and other nationals.
U.S. and French warplanes have struck Islamic State targets in Iraq and on Sunday the United States said other countries had indicated a willingness to join it if it goes ahead with air strikes against the group in Syria too.
Washington has also committed $500 million to arm and train Syrian rebels and has sent 1,600 U.S. troops back into Iraq to fight the group..
In his statement, Adnani mocked Western leaders over their deepening military engagement in the region and said Obama was repeating the mistakes of his predecessor, George W. Bush.
"If you fight it (Islamic State), it becomes stronger and tougher. If you leave it alone, it grows and expands. If Obama has promised you with defeating the Islamic State, then Bush has also lied before him," Adnani said, according to the transcript.

Addressing Obama directly, Adnani added: "O mule of the Jews, you claimed today that America would not be drawn into a war on the ground. No, it will be drawn and dragged ... to its death, grave and destruction."
Obama, who has spent much of his tenure extracting the United States from Iraq after its costly 2003 invasion and occupation, is sensitive to charges that he is being drawn into another long campaign that risks U.S. soldiers' lives.
While Obama has ruled out a combat mission, military officials say the reality of a protracted campaign in Iraq and possibly Syria may ultimately require greater use of U.S. troops, including tactical air strike spotters or front-line advisers embedded with Iraqi forces.
In his statement, Adnani criticized Kurdish fighters who are battling the Islamic State militants in both Syria and Iraq.
"We do not fight Kurds because they are Kurds. Rather we fight the disbelievers amongst them, the allies of the crusaders and Jews in their war against the Muslims," Adnani said, adding that there were many Muslim Kurds within the ranks of the Islamic State army.
On Monday, Syrian Kurdish fighters halted an advance by Islamic State to the east of a predominantly Kurdish town near the border with Turkey, a spokesman for the main Kurdish group said.
Adnani also condemned Saudi Arabia, whose senior Muslim clergy have denounced Islamic State and whose ruling royal family has joined other Arab states in a pledge to tackle militant ideology as part of a strategy to counter the group.
Adnani slammed Western inaction over the conflict in Syria, where President Bashar al-Assad's forces have been embroiled in a three-year-old civil war with mainly Sunni Muslim fighters. He said the West had "looked the other way" when barrel bombs were dropped and chemical weapons were used against Muslim civilians.
"So know that - by Allah - we fear not the swarms of planes, nor ballistic missiles, nor drones, nor satellites, nor battleships, nor weapons of mass destruction," he said.
(Additional reporting by Ali Abdelaty in Cairo; Writing by Yara Bayoumy; Editing by Gareth Jones)

Before You Go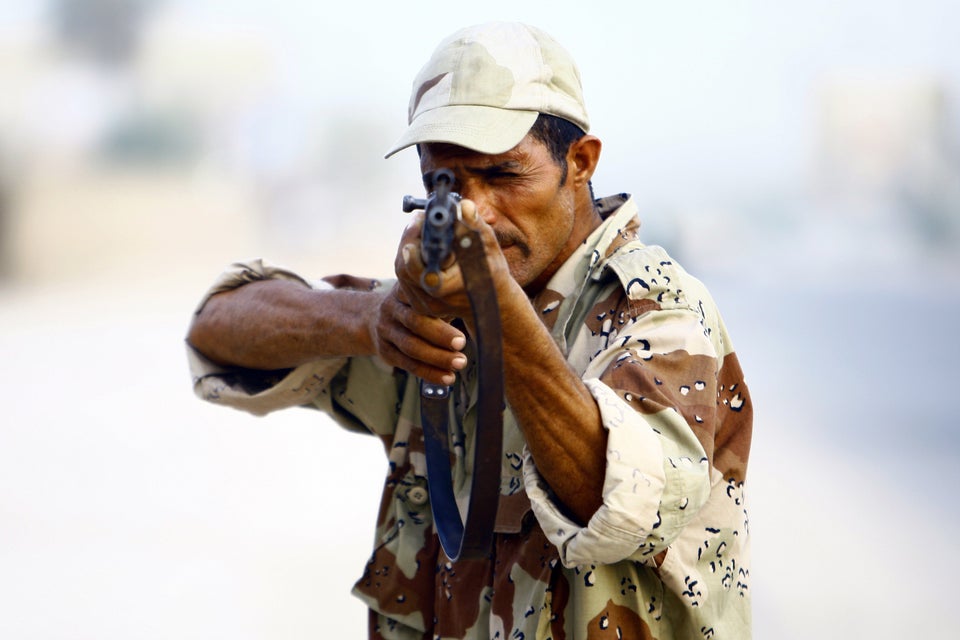 Fighting in Iraq
Popular in the Community