WASHINGTON -- A divided House of Representatives voted on Wednesday to back President Barack Obama's request to arm and train Syrian rebels to combat the Islamic State.
Upending the normal partisan divides, numerous Democrats and Republicans came down on opposite sides of the vote, with most high-ranking lawmakers backing the White House plan to spend $500 million to vet some 5,000 members of the Free Syrian Army and then supply them with weapons.
The final vote was 273-156, with a total of 159 Republicans and 114 Democrats voting in favor of the measure. House Speaker John Boehner (R-Ohio), who rarely votes, also voted for the measure in a show of support for the president's request.
Even Iraq War veterans in the House were divided: Reps. Tulsi Gabbard (D-Hawaii), Duncan Hunter (R-Calif.) and Tammy Duckworth (D-Ill.) voted no on arming Syrian rebels, while Reps. Adam Kinzinger (R-Ill.), Mike Coffman (R-Colo.) and Tim Griffin (R-Ark.) voted yes.
But even many members who backed the measure -- which was attached to a short-term bill meant to fund the federal government -- expressed deep dissatisfaction, especially Republicans who didn't think the effort was enough to combat the Islamic State, often referred to as ISIS or ISIL.
"The president spoke last week and he presented nothing that could be remotely considered a strategy," said Rep. Mike Pompeo (R-Kan.) in the House floor debate. "Yet the American people understand the destruction of radical Islamic terrorism is mandatory."
Many other lawmakers who backed the bill said it would have been better for Congress to vote on a new declaration of war to make the president's authority clear.
"We can't have a half-pregnant war," said Rep. Jack Kingston (R-Ga.). "We have got to fight to win and wipe out this terrorist surge."
Overall, the House decided that between the brutality of ISIS and the possibility that the group could someday threaten the homeland, it was better to let the White House proceed with its plans. Nevertheless, many legislators said they should be debating whether or not to give the White House explicit new war authority, rather than enabling its current military actions by providing funding without an actual vote on the use of military force.
"This vote, without a vote on a wider use of military force, will be taken by the public, the media and perhaps even the courts as a de facto authorization of military force in Syria," said Rep. Jerry Nadler (D-N.Y.), whose district includes the World Trade Center site destroyed on Sept. 11.
While the Obama administration has said it welcomes a new authorization to use military force, it has not asked for one, and has asserted that the Authorizations on the Use of Military Force -- one passed after the Sept. 11 attacks and one before the 2003 Iraq invasion -- are sufficient, even though neither AUMF involved Syria, and the Islamic State did not exist when they were passed.
Congress is set to go on vacation at the end of this week so members may campaign for re-election, and it likely will not be back to consider a war declaration until mid-November, if ever.
Nadler and others said the situation would leave Congress without a voice on its constitutional responsibility to declare war. It would also leave numerous questions unanswered.
"This would undermine our ability to seriously debate the real questions before us," Nadler said, laying some of them out. "How deadly is the threat we're facing? And what will happen when American fliers are shot down over Syria and perhaps beheaded on television by ISIL? Will the demand for revenge be overwhelming? Just how steep is the slippery slope we are embarking upon? How long will the conflict last? Is there an exit strategy? What does victory look like? How much will it cost? How many U.S. lives will be lost? Whom will we be arming in Syria? Do they share our long-term interests? What are the odds those arms will be turned against us or our allies?"
Nevertheless, the Senate was expected to take up and pass the measure as soon as Thursday, leaving the constitutional questions standing until after the election. The funding for Syrian rebels was attached to a so-called "continuing resolution" that will keep the U.S. government funded until Dec. 11.
CORRECTION: An earlier version of this story incorrectly stated that 172 Democrats had voted in favor of the measure. In fact, 114 Democrats voted in favor of it.
Before You Go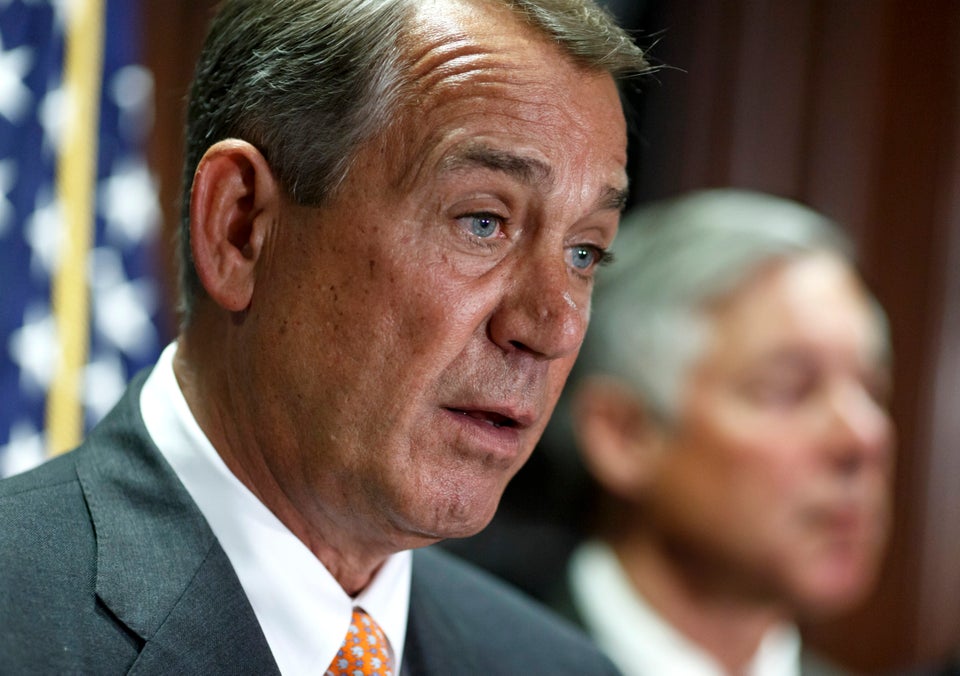 Politicians On Obama's ISIS Speech
Popular in the Community