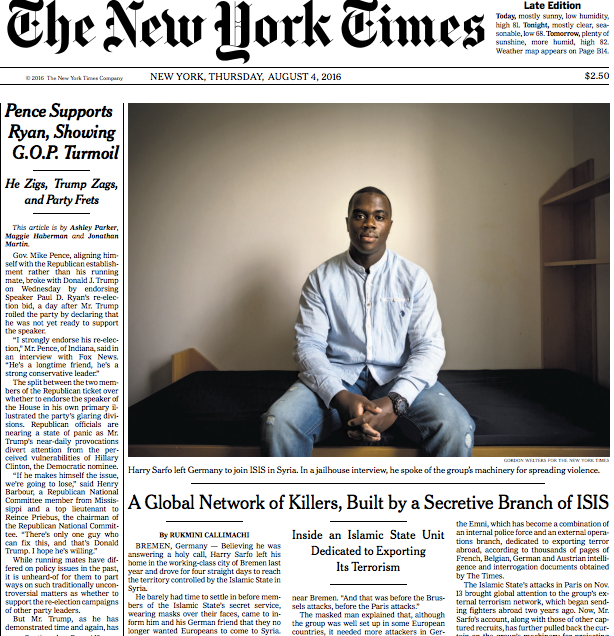 NEW YORK ― Since escaping from Islamic State-controlled Syria, former militant Harry Sarfo has described his harrowing experience in the terrorist group to German authorities and several news outlets, including The New York Times.
Sarfo's public role is rare given that Western news organizations are largely forced to report on the extremist group by communicating remotely with militants and activists on the inside. His story drew attention first in the European press and later in the United States, after the Times featured him prominently on the paper's website and front page on Aug. 4. President Barack Obama even referenced the Times article at a press conference that afternoon.
But Sarfo's credibility took a hit Tuesday when The Washington Post ― working with German broadcaster ZDF ― reported that the ISIS defector played a more active role in the group's violent actions than he had claimed. The Post obtained video from a source inside the Islamic State "eager to discredit" Sarfo for denouncing the group while he serves a three-year sentence in his native Germany.
In the video, Sarfo can be seen helping move Syrian hostages prior to their execution "and then apparently firing his own weapon at one of the fallen men." He also raises "his fist in celebration at the burst of machine-gun fire," the Post reported.
Post reporters Souad Mekhennet and Greg Miller wrote that in "depicting himself as a disillusioned fighter who refused to commit violence," as he's done in speaking out to the media and authorities, "Sarfo left out some potentially incriminating scenes."
In an interview with The Huffington Post, New York Times editors maintained that reporter Rukmini Callimachi's August article was primarily about ISIS's internal operations and its intelligence unit, known as the Emni, and not the defector's personal journey. And Sarfo's comments about the extremist organization's structure, they said, are corroborated by additional sources and extensive documentation.
The editors acknowledged that Sarfo misled when describing how he personally rejected violence. Sarfo may have downplayed that role when speaking to journalists and authorities in hopes of a receiving a lighter jail sentence.
Earlier this year, Sarfo told ZDF that he refused to execute prisoners. "I don't know this person, he didn't do me any harm," he said. "I won't kill him."
In August, Sarfo told the Times that he carried the black ISIS flag in a propaganda video filmed in the ancient city of Palmyra. He portrayed himself as being averse to killing and described how other German recruits volunteered for the task.
"Everybody was raising their hands," Sarfo said in a video interview accompanying the Times article. "I didn't raise my hand."
"It seems to me that many times along the way you said no," Callimachi, the Times reporter, said in the video. "You said no when they asked you to go back as a suicide bomber. You said no a second time when they asked you a second time. You didn't take the gun. They weren't getting suspicious of you?"
"When I said, 'I don't want to take part in the execution,' they were all looking at me and they were asking, 'well, why are you here, then?'"
Since the Post's report contradicted Sarfo's portrayal of himself, several prominent journalists, including The Times' C.J. Chivers and Ben Hubbard, questioned his credibility on Twitter.
Times international editor Michael Slackman told HuffPost that Sarfo "was one source in the story" and "where we quoted him on the internal operations of ISIS, that information was corroborated by multiple sources."
While Sarfo may have been one of several sources, the former militant was still the most prominent figure in the article and accompanying photos and video. Indeed, Sarfo's personal story provided a compelling device to draw readers into the larger story of how ISIS operates and plots against western targets.
Slackman added that the Times approached the ISIS defector with "a healthy dose of skepticism when he was talking about his own role."
In the August article, Callimachi wrote that while "some details of Mr. Sarfo's account cannot be verified, his statements track with what other recruits related in their interrogations." She also noted that she obtained "thousands of pages of French, Belgian, German and Austrian intelligence and interrogation documents." (In The Times' Wednesday follow-up to the Post's story, Callimachi again mentioned having relied on these other documents).
Though the Post's report never specifically said Sarfo misled the Times, Callimachi pushed back aggressively on social media over questions about her report given the new revelations about its most prominently featured source.
On Wednesday night, she questioned whether the media publishing this new ISIS video was "complicit" with the terrorist group in trying to discredit Sarfo.
ZDF deputy editor-in-chief Elmar Thevessen asked in response if journalists "should sway facts under [the] carpet, if they come from extremists."
Thevessen told HuffPost that ZDF revisited Sarfo's initial account after the Post obtained the video. "I think that's what good journalists would do," he said. "If we get a video like this, we should get to the bottom of it and report the story, and that's what we did."
Thevessen said it's "way out of line" to suggest doing such reporting is akin to complicity. "I was very surprised that that kind of allegation came through Twitter and I have to reject it on the part of ZDF and I know on the part of colleagues at the Washington Post, too," he said.
A Washington Post spokeswoman told HuffPost, "The story speaks for itself."
Other journalists on Twitter took issue with Callimachi's suggestion, including The Intercept's Glenn Greenwald, who called it an "extraordinary and supremely ugly accusation from a NYT reporter against the Washington Post." And Wall Street Journal columnist Yaroslav Trofimov asked, "How does using a source with a motive make WaPo an accomplice of terrorists?"
The question about complicity was especially surprising coming from Callimachi, who has received wide praise for her reporting on ISIS's infrastructure, achieved through communicating with the group's members.
Callimachi later tweeted that she "got a bit carried away earlier" and didn't mean to suggest the Post's piece "wasn't a legitimate one to do."