This post originally appeared on artnet News by Brian Boucher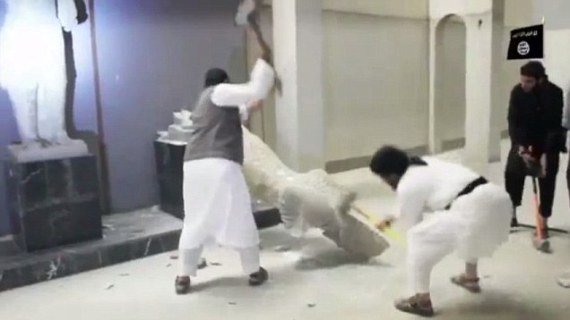 ISIS militants smash artworks in Mosul in their latest propaganda video.
While no one should take ISIS to be any less of a threat than it is, we might take some small consolation from the possibility that some of the sculptures the militants smashed on video this week at the Nineveh Museum in Mosul, Iraq, were replicas. While an Assyrian stone lion smashed in the videos is indisputably a terrible loss, the destruction of replicas in this particular case may soften the blow.
"According to archaeologists, most if not all the statues in the Mosul museum are replicas not originals," reports Channel 4 News, London. "The reason they crumble so easily is that they're made of plaster. 'You can see iron bars inside," pointed out Mark Altaweel of the Institute of Archaeology at University College, London, as we watched the video together. 'The originals don't have iron bars.'"
"According to the British Institute," adds Channel 4, "the originals were taken to Baghdad for safekeeping. ISIS probably wouldn't care about the distinction. One false idol is the same as another."
Why are the militants so bent on destruction of the region's cultural heritage? Amr al-Azm, a Syrian anthropologist and historian, told the New York Times that the destruction of artworks, and the slaughter and capture of Assyrians and others in the area that it accompanied, are strategic. While the militants claim that they are smashing the sculptures because they are idols forbidden by Islam, he posits that "It's all a provocation" aimed to lure U.S. and Iraqi forces to try to retake Mosul. "They want a fight with the West because that's how they gain credibility and recruits," Azm said.
ISIS has "repeatedly threatened to destroy [the museum's] collection," according to the Times, since they took the city in June.
Follow artnet News on Facebook. Follow @briankboucher on Twitter.
--------------------------------------------------------------------------------------------------- artnet News is the world's first global, 24-hour art newswire, dedicated to informing, engaging, and connecting the most avid members of the art community with daily news and expert commentary.
Calling all HuffPost superfans!
Sign up for membership to become a founding member and help shape HuffPost's next chapter
BEFORE YOU GO
PHOTO GALLERY
Fighting in Iraq