Someone hacked into several U.S. and European websites over the weekend, claiming to be affiliated with ISIS.
The FBI is investigating the attacks, which changed websites' homepages to show a black ISIS flag with the words, "Hacked by ISIS, we are everywhere." At press time, the banner was up on The Dublin Rape Crisis Centre, along with a link to a Facebook address that doesn't seem to exist and a Flash audio plug-in that plays a song which is reportedly in Arabic.
Law enforcement officials are looking into the breaches, but initially suspected that the hacker or hackers had no actual ties to the so-called Islamic State, NBC News reports. In several previous cases, local investigators found that such purported affiliations with ISIS are a means for ordinary hackers to get more attention, rather than an actual ISIS attack.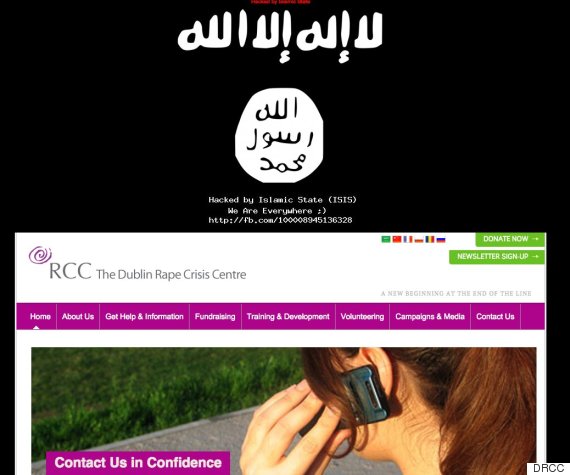 Whoever is behind the hacks are certainly getting the victims' attention. The Eldora Speedway website in New Weston, Ohio, was compromised at 2 p.m. on Saturday, according to WLWT.
"All of a sudden, our website was taken over by a hacker that took over a header stating that website was now under the control of the Islamic State," said Eldora Speedway General Manager Roger Slack. "We removed the plug-in on our website that was thought to be the security hole that existed."
The Darke County Sheriff's Office told the station that the speedway likely wasn't a target, but that the message may have come from a plug-in file that was picked up by their system accidentally.
Similar hacks were reported over the weekend at businesses in Cincinnati, Cleveland, St. Louis, Long Island, New York and others.
Two companies in St. Louis: MERS Goodwill and the digital agency Elasticity. MERS Goodwill Executive Vice President Mark Arens told NBC station KSDK: "I had a lot of disbelief. Kind of turned to my wife to say we've been attacked by ISIS. She had a number of questions."
Moerlein Lager House and Montgomery Inn in Cincinnati, in addition to Eldora Speedway.
The historic Montauk Manor, a condominium complex on New York's Long Island. "It's been a fun day," Kathy Surrey, the complex's night manager, told the newspaper Newsday. "I don't mind the advertising, but this isn't good advertising."
Backbar, a ritzy cocktail bar in Somerville, Massachusetts. "Our website is now fully down... but the bar is fully open!" the bar's managers wrote on Facebook. "It's Saturday night! Come have a cocktail, don't let ISIS win!"
Authorities don't believe that any information has been stolen.
Related
Popular in the Community