Two French journalists held for 10 months by the Islamic State militant group have published a children's book that they wrote in secret during captivity.
Nicolas Henin and Pierre Torres' tale of a father hedgehog separated from his family, Papa Hérisson rentrera-t-il à la maison? (Will Daddy Hedgehog Ever Come Home?), was released Wednesday by French publisher Flammarion.
The book came out of extraordinary circumstances. Henin and Torres were abducted in the Syrian city of Raqqa in June 2013 and held with other Western captives in grueling conditions before their release last April. The French government has denied reports that it paid a ransom for its citizens.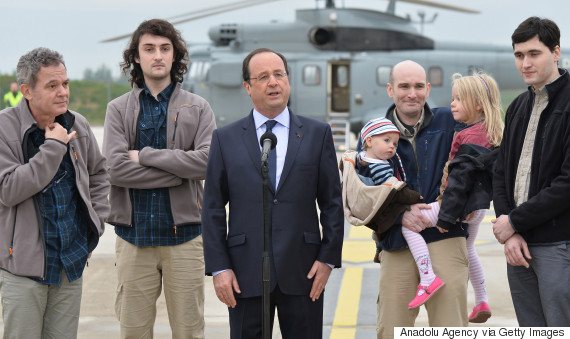 Journalists Didier Francois (L), Edouard Elias (2ndL), French President Francois Hollande (C), Nicolas Henin (3rdR) and Pierre Torres (R) at the Villacoublay military airbase in Paris, France on April 20, 2014. (Mustafa Yalcin/Anadolu Agency/Getty Images)
While in captivity, fellow captive David Haines, a British aid worker later killed by the militant group, devised a game to pass the time. Each hostage had to pick the animal he most resembled, Henin recounted to the BBC. Henin chose a hedgehog, because of the animal's self-protection methods. Henin told the BBC that like the animal, he would curl into a ball in a vain attempt to protect himself from his captors.
Torres told Henin about the remarkable ability of lost hedgehogs to find their way home, and the secret book project was born. Unbeknownst to their captors, they penned the story in tiny letters on a discarded cheese carton, Henin told Le Figaro newspaper. Torres later drew the illustrations.
"Mommy Hedgehog and the children anxiously await the return of Daddy Hedgehog. Will he come home?"
The book tells the story of a hedgehog who is accidentally whisked away by a human family in their picnic basket while he's foraging for food. A little boy holds the hedgehog captive in a box before the animal escapes and journeys home.
"The idea was to create poetry from the obscene," Henin told British newspaper The Telegraph. He wrote the story for his 5-year-old daughter, and used it to help explain his 10-month absence.
"Oh! Daddy Hedgehog is imprisoned... Who captured him? Will they hurt him? Will he never see his loved ones again?"
Haines' youngest daughter is close in age to Henin's. "We had dreamed together about our life after the ordeal and the meeting of our two daughters," Henin told The Telegraph.
After another captive, Japanese journalist Kenji Goto, was slain by the militants in January, Torres drew another illustration in his memory. "Kenji Goto had two little girls," a Twitter post with the drawing reads. "Daddy Hedgehog is thinking of the father who will not return to his home."
Before You Go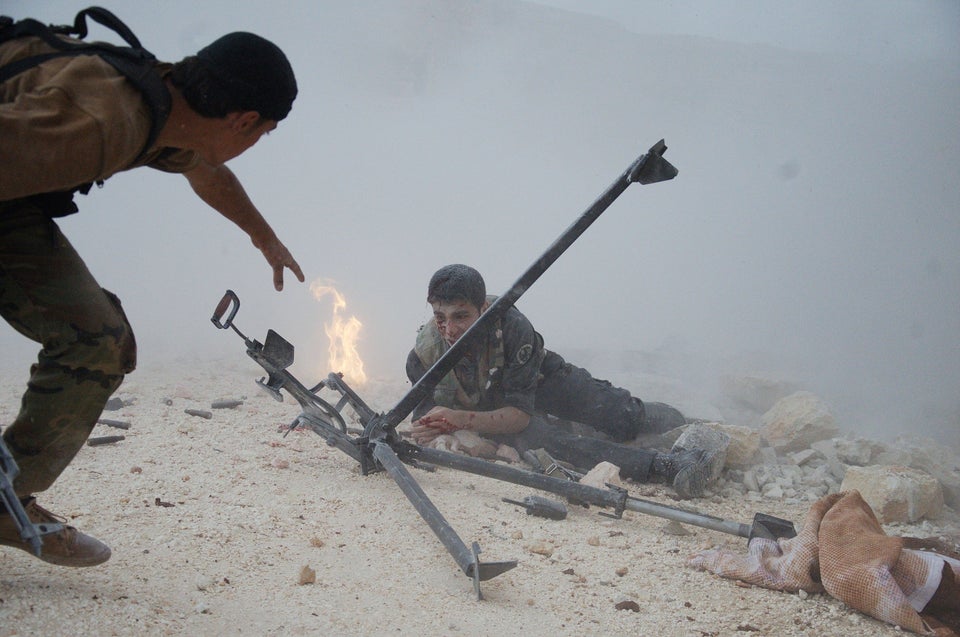 War In Syria
Popular in the Community