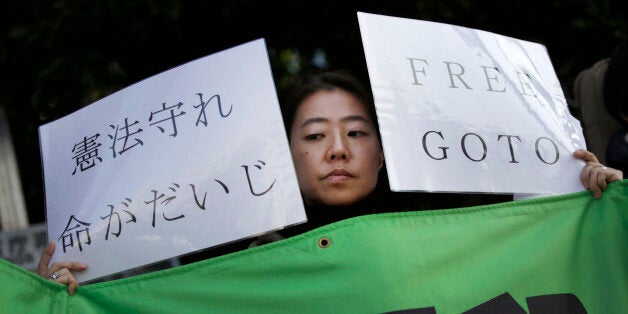 TOKYO, Jan 27 (Reuters) - Tokyo knew for months that Islamic State militants were holding two Japanese men captive, but appeared ill-prepared when the group set a ransom deadline and purportedly killed one of them, according to officials involved in the crisis in the past week.
The biggest foreign policy test of Prime Minister's Shinzo Abe's two years in office may have blindsided an administration that has pushed for Japan to take a stronger line on global security, according to the accounts of officials speaking to Reuters on condition they not be named.
As Abe prepared for a five-day trip to the Middle East where he would announce $200 million in humanitarian aid to counter Islamic State, he convened a meeting of his national security advisers, said a person with knowledge of the proceedings.
But the issue of the Japanese captives was not raised at the meeting of Abe's National Security Council, the person added.
Officials involved in preparations for Abe's agenda understood that by naming Islamic State as a threat during a visit to Egypt, Abe was taking a risk.
His speech before a Cairo business group was intended to drive home the message that Japan was a reliable partner for the region and allies like the United States.
In response, Islamic State released a video a few days showing the two Japanese men, Kenji Goto and Haruna Yukawa, beside a masked militant who demanded a $200 million ransom, citing the amount Abe had pledged in aid.
It is unclear whether Islamic State would have acted differently without Abe's comments. But experts said the speech was likely to have brought the crisis forward.
"Abe's comments obviously provoked them," said Masato Iizuka, an Islamic Studies professor at the Tokyo University of Foreign Studies.
"Going out of your way to call a group of people terrorists and challenging them is bound to have consequences, and I think the risks, the impact it could potentially have on Japanese nationals overseas were underestimated."

"TAKING ACCOUNT OF ALL FACTORS"
The government's response to the crisis is bound to figure in a coming debate over military policy that could in future allow Japan to offer logistical support for campaigns like the U.S.-led bombings in Syria.
Yoshihide Suga, the government's chief spokesman and a close Abe aide, said it was wrong to conclude Abe's trip had provoked Islamic State.
"We made a decision on the prime minister's trip after taking (into) account all factors, including ISIL (IS) activities and local security," he told reporters on Tuesday.
"It is not at all appropriate to link this atrocious and contemptible act of terrorism with the prime minister's visit."
A small anti-terrorism task force in the foreign ministry had been quietly working on the Yukawa case since August.
After the video threat, the foreign ministry expanded that to a full-blown crisis center and brought in reinforcements on Thursday as embassies around the world sent out requests for help and leads.
Other officials worked from the Japanese embassy in Jordan, which has become the regional hub for Japan's response.
By Friday morning, with just hours remaining before the ransom deadline, officials had not established contact with Islamic State captors and did not know where the Japanese were being held, a senior official said.
It was not clear whether that has changed since Saturday when a second video emerged claiming Yukawa had been killed.
Nils Bildt, president of security consultancy CTSS Japan, which has worked for the Japanese government, said Tokyo could have tried to establish contact with militants earlier.
"Japan has so far done very little to establish effective and clear channels of communication on the ground," he said. "While surely someone is attempting to access these back channels now, it would seem they could have been more effectively used over the past few months."
The government has declined to comment on the specifics of its actions on the hostages, saying only that it was using every diplomatic channel available to secure Goto's release.
Separately, Abe's office asked key ministries to clarify the legal framework for its response.
The briefing paper reviewed by Reuters said Japan would not have the legal authority to strike IS even after changes being sought by Abe to free Japan's military from some of the restrictions of the pacifist constitution.
With Goto in captivity, some Abe critics have held back.
Saori Ikeuchi, a Japanese Communist Party lawmaker, on Sunday said via Twitter that Abe's administration had "taken lives at home and abroad lightly."
Ikeuchi deleted the comment and apologized in a subsequent tweet on Monday. "The tweet I made was inappropriate in times like these," Ikeuchi said. "I offer my apology."
A survey by the Sankei newspaper on Tuesday found 59 percent of Japanese said Abe's response the crisis was adequate.
(Additional reporting by Linda Sieg, Antoni Slodkowski, Kiyoshi Takenaka, Teppei Kasai, Ritsuko Ando and Mari Saito in Tokyo; Writing by Kevin Krolicki; Editing by Mike Collett-White)

Support HuffPost
The Stakes Have Never Been Higher
Related
Popular in the Community