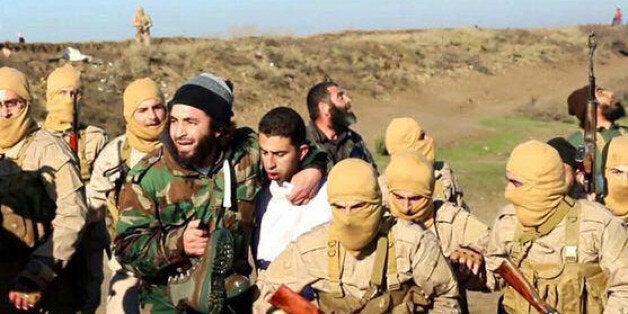 AMMAN, Dec 30 (Reuters) - The hardline Islamic State group has released what it said was an interview with a Jordanian pilot captured last week after his plane crashed during U.S.-led coalition bombing in eastern Syria.
It was not possible to independently verify the interview published in the group's English-language online magazine Dabiq in which First Lieutenant Muath al Kasaesbeh was quoted as saying his F-16 fighter was "struck by a heat seeking missile."
"I heard and felt its hit. The other Jordanian pilot in the mission contacted me from a participating jet and told me that I was struck and that fire was coming out of the rear nozzle of my engine," Kasaesbeh said.
He made brief comments about life at his base, sharing meals with hundreds of U.S. personnel.
"The Americans sometimes have dinner with us and eat mansaf (a traditional Arab dish) which they like alot. Their talk does not include details about operations because of matters of secrecy and security."
Jordan declined comment on the interview, the first since IS published photographs purporting to show his capture.
Kasaesbeh, who comes from a prominent Jordanian family, is the first pilot from the coalition known to have been captured by Islamic State.
Kasaesbeh's jet crashed last week in a rural area in Syria's Raqqa province, the group's stronghold. Jordan's government at first said the crash could have been the result of a missile attack but later it said there was no proof.
Jordan is one of several Arab countries taking part in a U.S.-led coalition to strike the hardline group which announced an Islamic caliphate in large parts of Syria and Iraq where it has imposed its radical interpretation of Islam.
Kasaesbeh's capture shocked the country. Several politicians and lawmakers called on the government to pull out of the coalition. The authorities said his capture would not weaken its resolve to fight militant Islamist groups. (Reporting by Suleiman Al-Khalidi; Editing by Mariam Karouny and Ralph Boulton)