The incident was ISIS' first major attack in Iran, a nation that the group has targeted for years and repeatedly railed against. The seemingly coordinated, high-profile assault also comes amid heightened tension and instability across the region.
Wednesday's attacks have the potential to escalate ongoing diplomatic crises, offer ISIS a potent propaganda victory and draw Iran further into the already tangled conflicts in Iraq and Syria. 
"It's the first time that ISIS has been able to strike Iran within its border, so without any doubt it's going to have significant consequences for the country both domestically and regionally," Ali Vaez, senior Iran analyst for the independent nonprofit International Crisis Group, told HuffPost.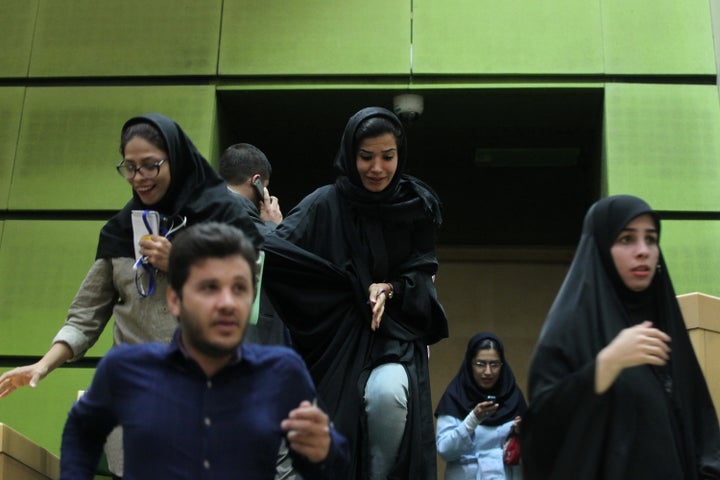 What The Attack Could Mean For Iran
Iran is less than a month past the landslide re-election of President Hassan Rouhani, which gave a major boost to the country's reformists.
Although it's possible Wednesday's attacks might provide an opportunity for hard-liners critical of Rouhani's leadership, there are several reasons why a spike in political infighting is unlikely.
"Rouhani is fresh from an election in which he received a very strong mandate, and the system is generally in a position that it wants internal stability, because it understands it is coming under external pressure ― both from Washington and its regional allies, and now from jihadist groups," Vaez said.
Rouhani was once a top official in the nation's defense establishment, bringing with him decades of background in national security and the legitimacy that comes with such experience. In general, researchers have also found increased support among voters for current leaders after a country suffers an attack, especially if such attacks aren't a regular occurrence.
More probable is the potential for a government crackdown on Iran's Sunni minority, analysts say, especially if the perpetrators turn out to have links to that branch of Islam.
Iran may also decide to undergo a build-up of the borders and increased emphasis on the country's already prominent defense and intelligence services. The head of Iran's National Security Council claimed Wednesday that the country had prevented dozens of terrorist plots in recent years, and the attacks this week will likely only embolden ISIS and create the desire for more counterterrorism measures.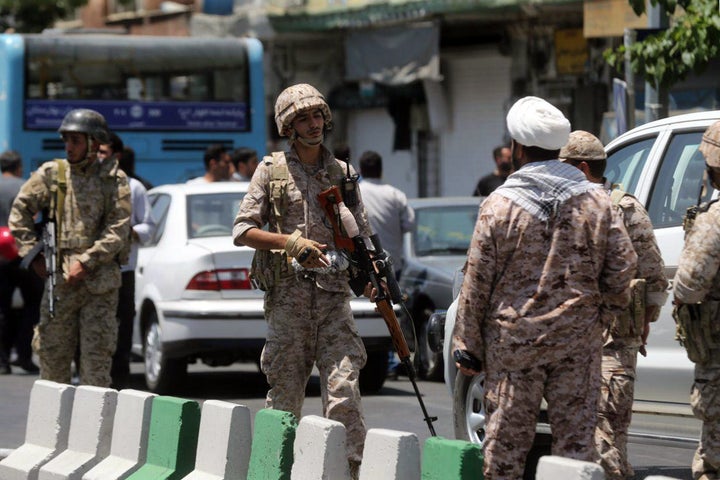 What The Attack Could Mean For The Region 
Iran's Revolutionary Guard blamed regional rival Saudi Arabia for the Wednesday attacks, while Foreign Minister Javad Zarif lashed out on Twitter at "terror-sponsoring despots," in a reference to the Saudi rulers. 
The Iranian government has a long history of making allegations against the Sunni-ruled Saudi state, claiming that its leadership is fomenting terrorism in the region and promoting extremist ideology. The two countries have competing regional interests and have been in an escalating war of words in recent years as the feud provides fuel for conflicts throughout the Middle East.
The attacks already seem primed to exacerbate the tensions between Iran and Saudi Arabia, which in turn could lead the U.S. to take an even more hostile line toward Tehran as it defends its ally in the Persian Gulf. In a statement on the attacks that was a mix of condolence and condemnation, President Donald Trump said that "states that sponsor terrorism risk falling victim to the evil they promote."
A potentially greater issue for the U.S. than more fiery rhetoric between Tehran and Riyadh, however, is if Iran decides to pursue a greater role intervening in Iraq and Syria in response to the attacks. Iranian-backed militias are already a major complicating factor in the Western-backed campaign to retake territory from ISIS, and Iran's support for Syrian President Bashar Assad's regime has helped prolong the nation's civil war.
Iran may find that Wednesday's attacks provide it with ample rationale and domestic backing to step up its involvement in neighboring states. 
"One of the consequences of this attack is going to be an increased rally-around-the-flag effect for Iran's regional policy," Vaez said.
"The narrative that it's better to fight the terrorists there than to fight them here is more attractive probably for Iranian citizens than the narrative that Iran has played an unconstructive and destabilizing role in the region."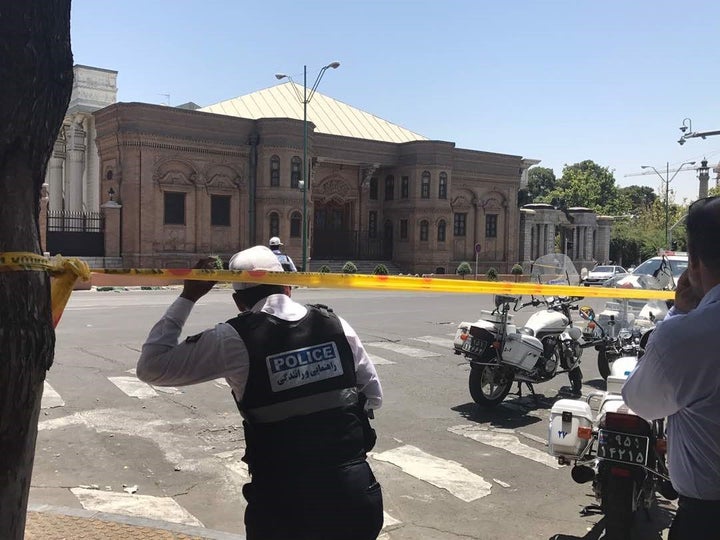 What The Attack Means For ISIS
ISIS has launched several major attacks in recent months, but the attacks in Tehran break new ground. Iran has never been the site of a major ISIS attack before, despite the group labeling it as a primary target for years. 
In recent months, the group has also stepped up its messaging surrounding Iran. ISIS released its first Persian-language video in March, which threatened attacks and urged the country's Sunni minority to join the extremist group. 
At a time when ISIS is desperately trying to hold on to its last bits of territory in Iraq and Syria ― including its largest occupied city, Iraq's Mosul, and its de facto capital in Raqqa, Syria ― the group has been in dire need of propaganda victories. The well-coordinated duo of attacks on the symbolic targets of Ayatollah Ruhollah Khomeini's mausoleum and the Iranian parliament will give the group just that.
The Tehran attacks, along with those in Britain and Australia this week, allow ISIS to keep up its narrative that it is still relevant and capable of this scale of operation. This is despite the fact that the group is suffering huge territorial losses and will likely be without any major urban centers in the not-too-distant future.
But ISIS has a strong track record of being able to warp reality to fit the group's propaganda, and this latest attack will extensively be used as a recruitment tool and morale booster for its supporters.
REAL LIFE. REAL NEWS. REAL VOICES.
Help us tell more of the stories that matter from voices that too often remain unheard.