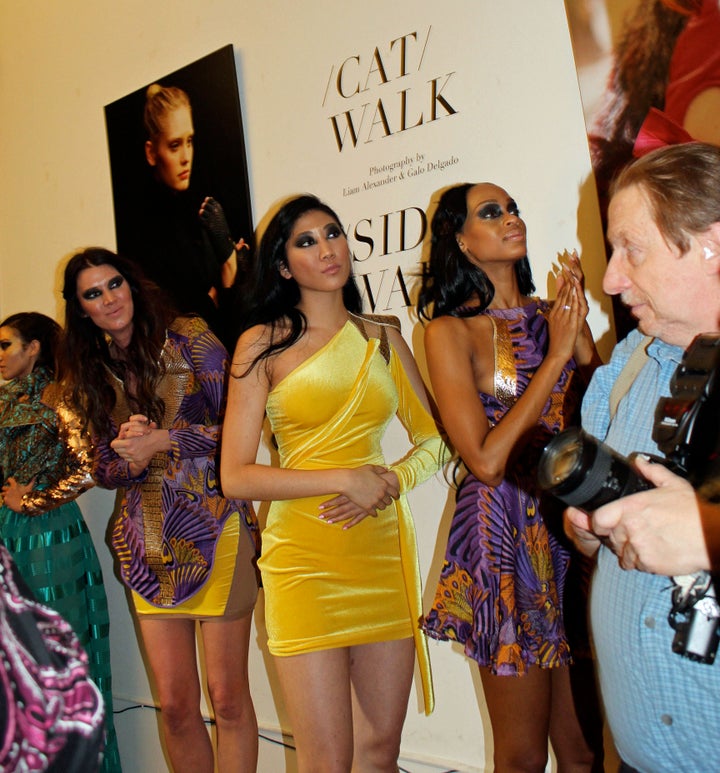 "America's Next Top Model" star Isis King took New York Fashion Week by storm this week, presenting her "Goldest Winter Ever" collection at the city's Wix Lounge.
"Top Model" contestants strutted the runway Monday night in the bright designs by the transgender model and designer. Although the reality series is a competition, there was a noticeable long-lasting camaraderie among the women.
"Naima [Mora] and I worked together a few times and she is a great and positive person," King told HuffPost Gay Voices. "Sheena [Sakai], Camille [McDonald] and Brittany [Brower] are my 'All Stars' sisters so they walked to support. One of my girls pulled out at the last minute, and Brittany said, 'Well, Keenyah [Hill] is in town and would love to walk if you need her.' So that worked perfectly."
With their faces adorned in MAC and Yves Saint Laurent makeup, the models walked the runway in an array of purple, gold, turquoise and bronze garments. Their smoky eyes and nude lips (courtesy of Lady Gaga's MAC line) accentuated the vivid dresses and jumpsuits.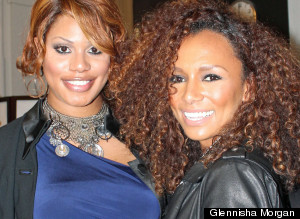 Transgender rights activists Laverne Cox and Janet Mock supporting Isis King at Wix Lounge.
Makeup artist Jolie Valerio used pigment colors such as "Cocoa Beach," "Melon" and "Old Gold" to give the models what she called a "statuesque" look. Although time was of the essence, Valerio said she enjoyed working with the models. "It was a really fun show," she said.
Laverne Cox, an actress and transgender activist, said after the show that she is anxious to see King's designs in stores.
"I am so proud of Isis and her gorgeous collection," Cox gushed. "The clothes were well constructed and whimsical."
After leaving the show, "Love and Hip Hop" cast member Erica Mena tweeted her congratulations to King and the models.
King said she was in awe of the support of so many of her peers, friends, family members and fans. "I am still in shock and overwhelmed," she said. "Great turnout, great press, everything looked amazing on the girls. My stylist Hayden pulled amazing pumps for the girls to wear. Their faces were gold like I wanted. The world gets to see my imagination come to life."
Popular in the Community