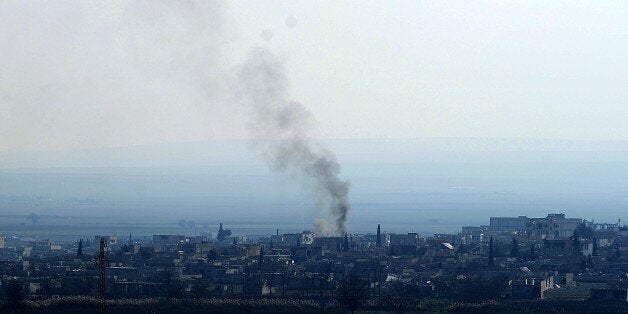 (Adds details from Kobani, Turkish police prevent people reentering)
BEIRUT, Jan 27 (Reuters) - Kurdish forces battled Islamic State fighters outside Kobani on Tuesday, a monitoring group said, a day after Kurds said they had taken full control of the northern Syrian town following a four-month battle.
Known as Ayn al-Arab in Arabic, the mainly Kurdish town close to the Turkish border has become a focal point in the international fight against Islamic State, an al Qaeda offshoot that has spread across Syria and Iraq.
There were clashes to the southeast and southwest of Kobani, the Britain-based Syrian Observatory for Human Rights said, although it added the Kurdish People's Protection Units (YPG) had managed to recapture a village outside the town.
The YPG said on Monday Kobani had been "completely liberated" from Islamic State, which it referred to using the pejorative Arabic acronym "Daesh."
"The defeat of Daesh in Kobani will be the beginning of the end for the group," a statement on its website said.
Islamic State still has fighters in hundreds of nearby villages. The Observatory reported airstrikes around Kobani on Tuesday, and on Monday the Pentagon said the fight for the town was not yet over. Islamic State supporters denied the group had been pushed out.
Television footage aired on Tuesday from Kobani showed entire blocks leveled by bombardment, tangled steel and chunks of cement sprawled along muddy streets. Roads were littered with unexploded ordnance and mortar casings.
The militant group launched an assault on Kobani last year using heavy weapons seized in Iraq and forcing tens of thousands of locals over the border into Turkey. U.S.-led air strikes and Iraqi Kurdish peshmerga fighters have backed up the YPG, which called for international help during the siege.
Turkey is hosting around 1.5 million refugees from across Syria.
Turkish President Tayyip Erdogan called for more international attention to the besieged city of Aleppo.
"When it is about Kobani, the whole world stands up and cooperates. Those who flee Kobani come to us, 200,000 people.
"We tell them about Aleppo, nobody listens. 1.2 million people live there, there is economy, history and culture, why aren't you interested?" he said.
Ankara is wary of support for Syrian Kurds because of their links to the separatist PKK in Turkey, currently holding a ceasefire in a conflict that began in 1984.
Turkish police fired tear gas on Tuesday to stop people trying to cross back into Kobani to celebrate its retaking, a Kurdish politician and a journalist said. (Additional reporting by Oliver Holmes in Beirut, Tulay Karadeniz in Ankara and Ayla Jean Yackley, Dasha Afanasieva and Humeyra Pamuk in Istanbul; Editing by Dominic Evans)

Related
Popular in the Community