By Jonny Hogg and Tom Perry
MURSITPINAR, Turkey/BEIRUT, Sept 24 (Reuters) - Islamic State has reinforced fighters who are battling Kurdish forces for control of a Syrian town at the border with Turkey, a redeployment triggered by U.S.-led air strikes on the group elsewhere, a Kurdish military official said.
Ocalan Iso, deputy leader of the Kurdish forces defending the town of Kobani at the Turkish border, said more Islamic State fighters and tanks had arrived since the U.S.-led coalition began air strikes on the group on Tuesday.
"The number of their fighters has increased, the number of their tanks has increased since the bombardment of Raqqa," Iso told Reuters by telephone. He repeated calls for the U.S.-led coalition to expand its air strikes to Islamic State positions near Kobani, which is also known as Ayn al-Arab.
"Kobani is in danger," he said.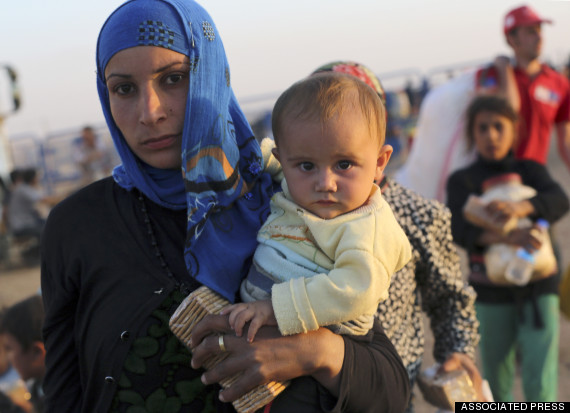 Thousands of Syrian refugees enter Turkey at Yumurtalik crossing gate near Suruc, Tuesday, Sept. 23, 2014.(AP Photo/Burhan Ozbilici)
The U.S.-led air strikes on Islamic State in Syria have so far targeted the provinces of Raqqa, Deir al-Zor and Hasakah. Islamic State launched a major offensive against Kobani last week, forcing nearly 140,000 Syrian Kurds to flee across the border into Turkey within days - the largest and fastest exodus of civilians since the Syrian conflict began in 2011.
Iso said Islamic State fighters had advanced to within 8 km (5 miles) from the southern periphery of Kobani - closer than they have been at any stage in the latest offensive.
"We call on American forces to hit their positions. They are 8 km from Kobani. They were 25 km away before," he said.
The Syrian Observatory for Human Rights, which tracks violence in the Syrian conflict, earlier reported air strikes on Islamic State positions to the west of Kobani by warplanes that appeared to cross from Turkey.
But Kurdish officials in Kobani could not confirm the report, and Turkey said neither its air space nor a U.S. air base in the southern Turkish town of Incirlik had been used in the air strikes.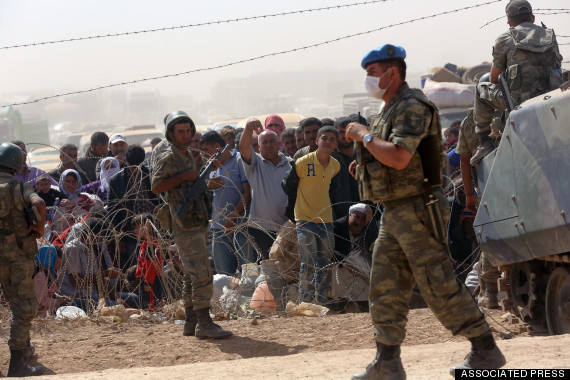 Turkish soldiers stand as Syrian refugees wait for permission to enter Turkey at the Yumurtalik crossing gate near Suruc, Turkey, Wednesday, Sept. 24, 2014. (AP Photo/Burhan Ozbilici)
A group of several dozen Syrian Kurds who had fled the fighting watched from a hillside on the Turkish side of the border as Kurdish fighters battled Islamic State militants in a cluster of villages called Siftek. The sound of sporadic artillery and gunfire echoed around the hills.
The Kurds appeared to be firing mortars from the back of a truck into a village where Islamic State had taken up positions.
"Because of the bombing in Raqqa, Islamic State has taken all of their weapons and brought them here. There are more and more Islamic State fighters in the last two days, they have brought all their forces here," said Ahmed Hassan, 60, a Syrian Kurd who fled to Turkey with his family.
"They have heavy weapons. We are running away from them. YPG haven't got heavy weapons. That's why we need help," he said, referring to the main Kurdish armed group.
Idris Nassan, deputy minister for foreign affairs in a Kurdish administration controlling the Kobani area, said Islamic State remained around 15 km from the town in the east and west but had advanced in the south to within 10 km after heavy clashes with Kurdish forces.
"Now I hear the noise of mortars in the south," he told Reuters by telephone. "Islamic State gathered heavy forces there. So did the YPG but Islamic State pushed them back."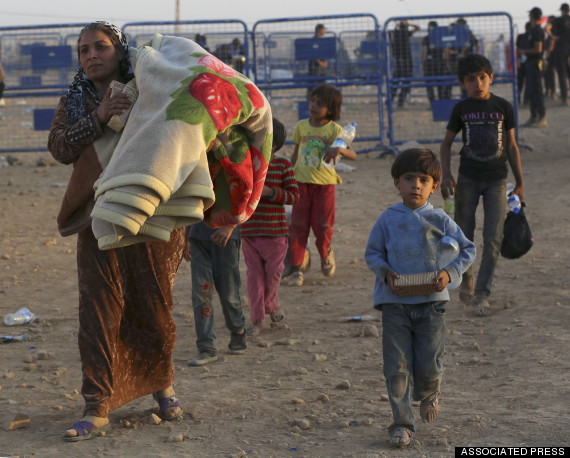 Thousands of Syrian refugees enter Turkey at Yumurtalik crossing gate near Suruc, Tuesday, Sept. 23, 2014. (AP Photo/Burhan Ozbilici)
(Additional reporting by Seyhmus Cakan in Diyarbakir and Sylvia Westall in Beirut; Writing by Tom Perry; Editing by Peter Graff)
Support HuffPost
The Stakes Have Never Been Higher
Related
Before You Go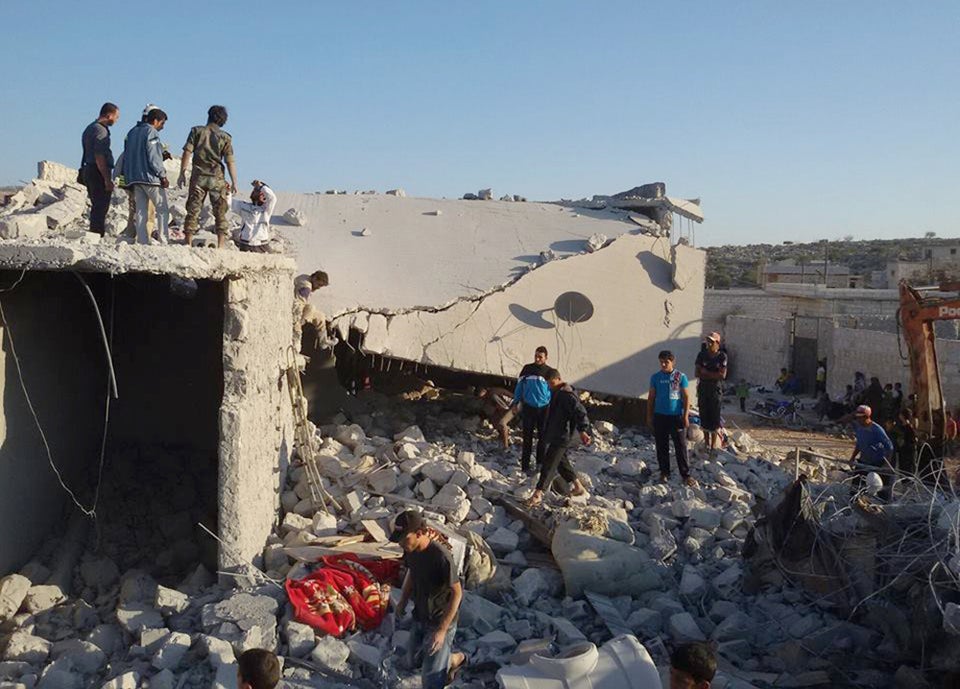 Syria War In September
Popular in the Community