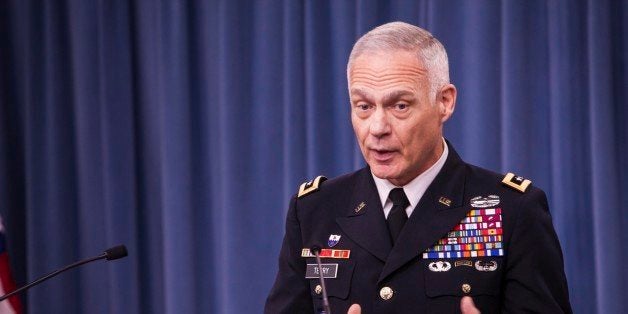 WASHINGTON -- The U.S. has seriously weakened the Islamic State's command and control since mid-November by killing mid-level and senior-level leaders, U.S. defense officials said Thursday in remarks that provided perhaps the best news yet for President Barack Obama's campaign against the group.
Gen. Martin Dempsey, chairman of the Joint Chiefs of Staff, told The Wall Street Journal that three important figures in the group had been killed in recent U.S. strikes in Iraq -- two of them between Dec. 3 and Dec. 9.
"These are high-value targets, senior leadership," Dempsey told the Journal, adding that their loss would impair planning by the group.
The Islamic State, also known as ISIS or Daesh, is led by a self-appointed caliph, Abu Bakr al-Baghdadi. Reports in early November suggested that al-Baghdadi may have been killed in the ongoing airstrike campaign by the U.S. and its allies in Iraq, but officials made clear that he is not among the ISIS leaders they know to be dead.
The senior leaders killed in early December were Baghdadi's deputy, Haji Mutazz, and Islamic State's military commander in Iraq, Abd al-Basit, U.S. officials said. A mid-level leader, Radwin Talib, was killed in late November, they added.
Talib had been the governor of Mosul, the key Iraqi city that Islamic State captured in June in its biggest victory to date. Mosul residents had suggested to Reuters in November that Talib had been killed, but this is the first U.S. confirmation.
Gary Boucher, a spokesman for the Pentagon joint task force that runs daily U.S. military operations against ISIS, told The Huffington Post in an email that the killing of the militant leaders helped protect U.S. partners on the ground.
"The loss of these key leaders degrades [the group's] ability to command and control current operations against Iraqi Security Forces (ISF), including Kurdish and other local forces in Iraq," Boucher wrote. He added that how to inflict the most damage on ISIS leadership is "always part of our targeting calculus."
Max Abrahms, a professor at Northeastern University who has done research on so-called decapitation strikes targeting the leadership of terrorist groups, said the U.S. success in killing Islamic State leaders may have important consequences for how the group is run.
It may empower lower-level militants who are less strategic in their thinking, Abrahms said, and therefore cause even more indiscriminate violence. He added that such strikes tend to boost tensions within militant groups, as fighters begin to suspect one another of having provided intelligence to the enemy and engage in struggles to fill high-ranking vacancies.
The news may also signal progress at a more subtle level.
"It suggests that the U.S. has developed intelligence that allows it to identify and target central figures in the organization," said Barak Mendelsohn, a researcher on Islamist groups who teaches at Haverford College, in an email to HuffPost. Intelligence analysts have previously warned that they have a worryingly limited capacity to monitor developments in the ISIS fight because U.S. personnel are not on the battlefields where the group is being targeted.
The revelations about the deaths of ISIS leaders came amid other good news from the region. The military chief of the U.S. campaign said Thursday that airstrikes by the coalition against the Islamic State had provided Kurdish forces the support they needed to recapture significant ground from the militants.
But the commander, Lt. Gen. James Terry, warned that Iraqi forces would need at least three more years of U.S. training to be a credible fighting force. Secretary of Defense Chuck Hagel on Wednesday signed orders sending hundreds more U.S. military advisers into Iraq, following Obama's announcement that he would boost the maximum number of U.S. troops that may be stationed there to 3,100.
Before You Go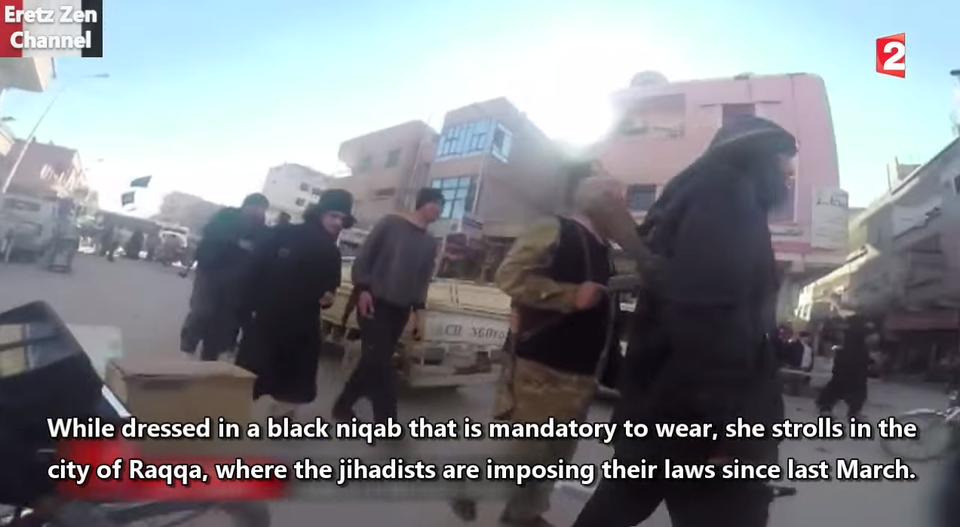 Syrian Woman Wears Hidden Camera to Reveal Life Under ISIS Rule
Popular in the Community