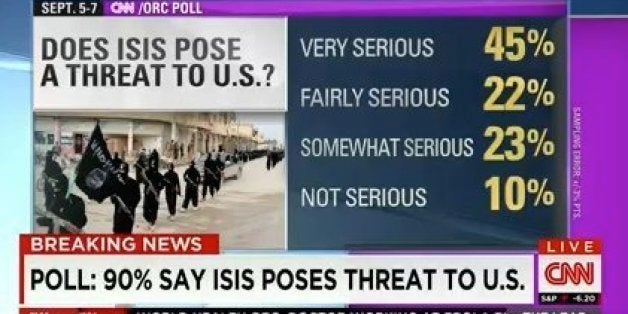 WASHINGTON -- When President Barack Obama calls Wednesday night to expand the fight abroad against Islamic State militants, he'll be addressing an increasingly supportive public, recent polls suggest.
Ninety-one percent of Americans see the Islamic State as a "threat to the vital interests of the United States," according to a Washington Post/ABC News poll published Tuesday. A CNN poll released Monday found that 90 percent of Americans view the group as a "very," "fairly" or "somewhat" serious threat.
Such findings shouldn't come as a surprise to anyone who's watched TV news lately, as numerous political leaders and cable pundits have urged Obama to expand the campaign against the Islamic State beyond the air strikes already being carried out in Iraq. Given the sheer volume of coverage -- the group has been mentioned over 3,800 times on CNN in the past two weeks, according to monitoring service TVEyes -- it's understandable that Americans would widely perceive the extremist group to be a threat to the country.
But most of the press coverage has failed to draw a clear distinction between an imminent threat to the U.S., marked by serious planning and capability, and a potential one, such as a "lone wolf" terrorist who gets inspired by online propaganda. That lack of clarity may be why "seven in 10 Americans believe ISIS has the resources to launch an attack against the United States," according to the CNN poll.
Politicians, increasingly, are blurring those lines too. Senate Minority Leader Mitch McConnell (R-Ky.) said Tuesday that the Islamic State is "obviously a threat to us," without elaborating on what he sees as America's vulnerabilities.
The Obama administration has proceeded with more caution. White House press secretary Josh Earnest acknowledged during a Tuesday briefing that "the United States is not aware of any active plotting that is underway to attack the homeland" -- a statement that echoes those made by several agencies in recent weeks. But Earnest also said that it was "understandable" that Americans fear the Islamic State.
"We have seen ISIL perpetrate terrible acts of violence against American citizens. I'm sure that is part of what is contributing to the information that you're seeing in the polls," Earnest said. "The other thing that is undoubtedly true is that there are American interests in the region that are under a pretty direct threat from ISIL."
Earnest said that had the U.S. military not intervened, the American consulate in Erbil, Iraq, could have been overrun by Islamic State fighters. "It does threaten American national security interests for ISIL to be operating in a virtual safe haven along the vanishing border between Iraq and Syria," he said.
The distinction between a threat to the homeland and a threat to U.S. national security interests in the Middle East has been borne out by statements from the intelligence community. Secretary of Defense Chuck Hagel has said that the Islamic State poses an imminent threat to U.S. interests abroad. But the FBI and the Department of Homeland Security recently stated that the group poses "no specific or credible terror threats to the U.S. homeland."
Similarly, Pentagon press secretary Rear Adm. John Kirby said last month that the Islamic State does not have "the capability right now to conduct a major attack on the U.S. homeland." National Counterterrorism Center Director Matthew Olsen said Wednesday that "we have no credible information that ISIL is planning to attack the United States."
The Islamic State certainly warrants media coverage, given its territorial gains in Iraq and Syria and its brutal tactics, such as the gruesome beheadings of two American journalists in recent weeks. Moreover, supporters of increased intervention argue that failing to address the threat in Iraq and Syria could create a safe haven where militants could plot a future attack against the U.S., a similar rationale to the one used to justify the war in Afghanistan. They also argue that members of the Islamic State who hold American or European passports could reach U.S. soil and perpetrate an attack, or that someone in the U.S. who is inspired by the group could build a crude bomb or stage a small-scale attack.
But it's incumbent upon journalists to press administration officials and lawmakers to explain what immediate, credible threats justify further military action against the Islamic State -- especially after the 13 years of war that followed the Sept. 11 attacks.
Several journalists have noted that calls for military intervention run the risk of misleading the public. The Intercept's Glenn Greenwald pointed out Tuesday that months after the Iraq invasion, 70 percent of Americans still wrongly believed that Saddam Hussein had played a role in the Sept. 11 attacks.
James Risen, a New York Times reporter who revealed the NSA's warrantless wiretapping program during the Bush administration and is currently fighting to stay out of jail for refusing to reveal his sources, tweeted several days ago that "the fact that U.S. intelligence assesses that ISIS poses no current threat to the US is repeatedly ignored by politicians and the media."
"War fever in America always seems to develop in pretty much the same way," Risen tweeted later. "Over and over again."
"But I have yet to see or be shown any solid intelligence that suggests that these fanatics are aiming at the US," Sullivan wrote. "We may well have a problem of home-grown Jihadists returning and wreaking havoc -– but that is a manageable threat. And direct military intervention by the West could easily increase these losers' incentives to strike us here at home. So, in that narrow sense, this return to fighting other people's civil wars in the Middle East may actually increase the risks to us. That's what I mean by 'taking the bait.'"
Sullivan said he awaits Obama's "proof of ISIS' threat to America and the West," as opposed to "the kind of intelligence that gave us the Iraq War."
Related
Popular in the Community