Unlike Osama bin Laden, who often appeared in videos to lecture and incite attacks against the West, ISIS' leader Abu Bakr al-Baghdadi has kept a low profile, and was reportedly seen on camera only once since the militant group declared its caliphate a year ago in June. This makes the $10 million bounty on his whereabouts all the more elusive.
--> More on ISIS from Vocativ: "Angel of Death," an axe-wielding university lecturer in Iraq had become a cult hero in the war against ISIS
The U.S. State Department in May put up major rewards to the tune of $20 million for the capture of ISIS' top brass. Secretary of State John Kerry authorized a reward of $7 million for information on Abd al-Rahman Mustafa al-Qaduli, $5 million each for leads on Abu Mohammed al-Adnani and Tarkhan Tayumurazovich Batirashvili and $3 million for Tariq Bin-al-Tahar Bin al Falih al-'Awni al-Harzi.
The biggest reward of $10 million is reserved for the person with information on al-Baghdadi, who has been on the State Department's most-wanted list since 2011, years before ISIS became a household name.
Since its inception, the State Department's Rewards for Justice program has forked over $125 million to over 80 people who have provided intel that helped put the wanted behind bars, according to its website. The program's biggest reward to date is $25 million for leads to bin Laden, but no one ever collected on that money.
The 43-year-old al-Baghdadi, also goes by the name Abu Du'a. Overseing all ISIS operations, he is currently based in Syria.
According to the U.S. government, Baghdadi has taken personal credit for a series of deadly attacks in Iraq since 2011, including the June 2013 Abu Ghraib prison break and the March 2013 suicide bombing on the Ministry of Justice in which at least 20 people were killed.
Abd al-Rahman Mustafa al-Qaduli is a senior ISIS official who rejoined the group in Syria after his release from Iraqi prison in early 2012. Al-Qaduli joined al-Qaida in 2004 under the command of now deceased al-Qaida in Iraq (AQI) leader Abu Musab al-Zarqawi and served as al-Zarqawi's deputy and the AQI amir (leader) of Mosul in northern Iraq.
Abu Mohammed al-Adnani, born Taha Sobhi Falaha in Syria, is the official spokesman for and a senior leader of ISIS. Al-Adnani is the main conduit for the dissemination of official messages, including ISIS' declaration that it had established an Islamic caliphate.
Over the past several years, Syria-based Georgian national Tarkhan Tayumurazovich Batirashvili, also known as Omar the Chechen, has held a number of top military positions within ISIS.
As of mid-2014, Batirashvili has been a senior ISIS commander and Shura Council member based in al-Raqqah, Syria. He was identified as the ISIS military commander in a public video distributed by the group in late June 2014. Batirashvili oversaw an ISIS prison facility in al-Tabqa, close to al-Raqqah, where the group possibly held foreign hostages. As of mid-2014, Batirashvili also coordinated closely with the group's financial section and had a base of operations for the terrorist organization in the Minbij, Syria area.
As of mid-2014, Tariq Bin-al-Tahar Bin al Falih al-'Awni al-Harzi has been an ISIS official operating in Syria. He works to raise funds, recruit, equip and facilitate the travel of fighters for the terrorist organization. He also commands the group's suicide bombers. He works to provide material support to ISIS by procuring and shipping weapons with his brother from Libya and Syria, including raising funds from Gulf-based donors.
Before You Go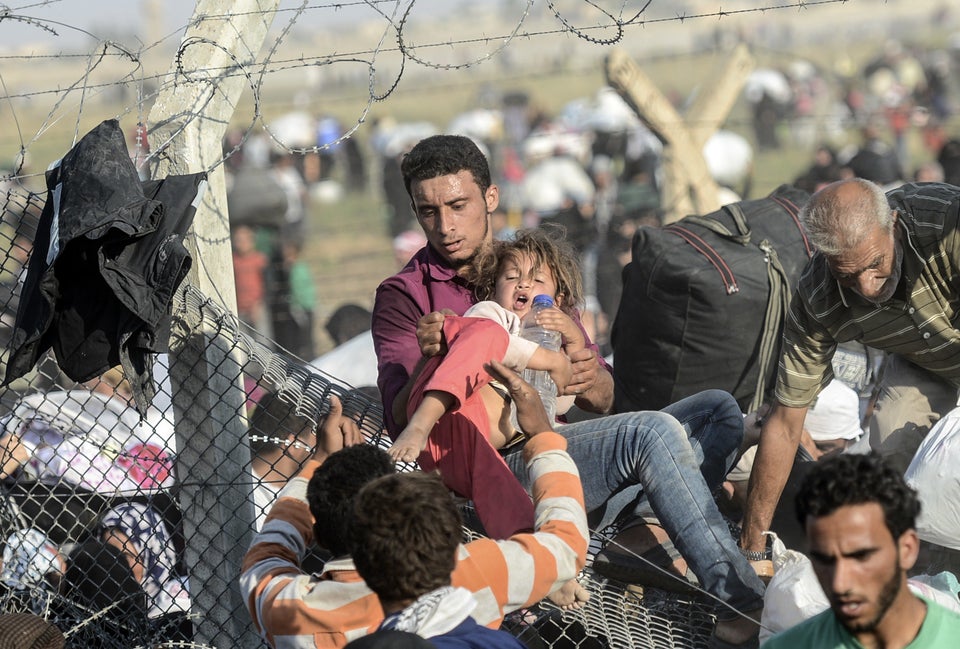 Turkey's Border Crisis
Popular in the Community