ISIS described the attack in its weekly Al-Naba newsletter as "one of the most prominent attacks targeting Crusaders in America," and said it was a response to its appeal to target "citizens of the Crusader countries involved in the alliance against the Islamic State." The publication called the driver of the rented pickup truck who mowed down people on a popular recreational path a "soldier" of the group, and claimed the attack caused the U.S. to tighten immigration policies. .
President Donald Trump on Friday called the killer a "degenerate animal" and said the U.S. military had struck ISIS targets "much harder" in retaliation.
Trump later told reporters before departing for Hawaii that the military was hitting ISIS "10 times harder." He failed to elaborate.
"So when we have an animal do an attack like he did the other day on the West Side of Manhattan, we are hitting them 10 times harder," Trump said. "They claim him as a soldier ― good luck. Every time they hit us, we know it is ISIS, we hit them like you folks won't believe."
A Defense Department spokesman did little to clarify Trump's comments.
"We have, and we will continue to strike ISIS hard and often, along with Al-Qaeda and other affiliated or like-minded violent extremist organizations wherever they are globally," Marine Maj. Adrian J.T. Rankine-Galloway told HuffPost in a statement. "We are fighting and killing ISIS in operations in Iraq, Syria, Yemen, Afghanistan, Philippines, Niger, Nigeria, Somalia, the Sinai in Egypt and wherever these groups emerge."
Police said Wednesday that the suspect, Sayfullo Habibullaevic Saipov, acted in the name of ISIS and had been planning the attack for several weeks. Notes found at the crash scene point to Saipov's belief that the militant group would "endure forever."
While recovering from a police gunshot wound at a hospital in New York, Saipov asked investigators if he could display ISIS flags in his room, according to a complaint released by the U.S. Attorney Southern District of New York. In court papers, prosecutors noted Saipov said "he felt good about what he had done."
The suspect had planned to put ISIS flags on his vehicle but later thought better of it, afraid it would draw attention to him, the complaint said. Saipov's cellphones contained about 90 videos and 3,800 photos, many related to ISIS, The Associated Press reported. The images included ISIS prisoners being beheaded, shot or run over by a tank.
The ISIS claim of responsibility follows a pattern seen before, although the militant group waited longer than it typically does to take credit. ISIS also tends to release the news via its Amaq news agency after a flurry of activity among pro-ISIS online accounts.
The group's involvement in each terror attack differs. It's unclear to what extent, if any, ISIS was involved in planning or inspiring the attack in New York. It's also rare for ISIS to claim responsibility for an attack if the perpetrator is in custody, New York Times ISIS correspondent Rukmini Callimachi noted.
Following ISIS's claim of responsibility for the deadly mass shooting in Las Vegas on Oct. 1, which lacked evidence, there has been increased scrutiny over the credibility of the group's statements.
This article has been updated to include comments from Trump and a Defense Department spokesman.
Before You Go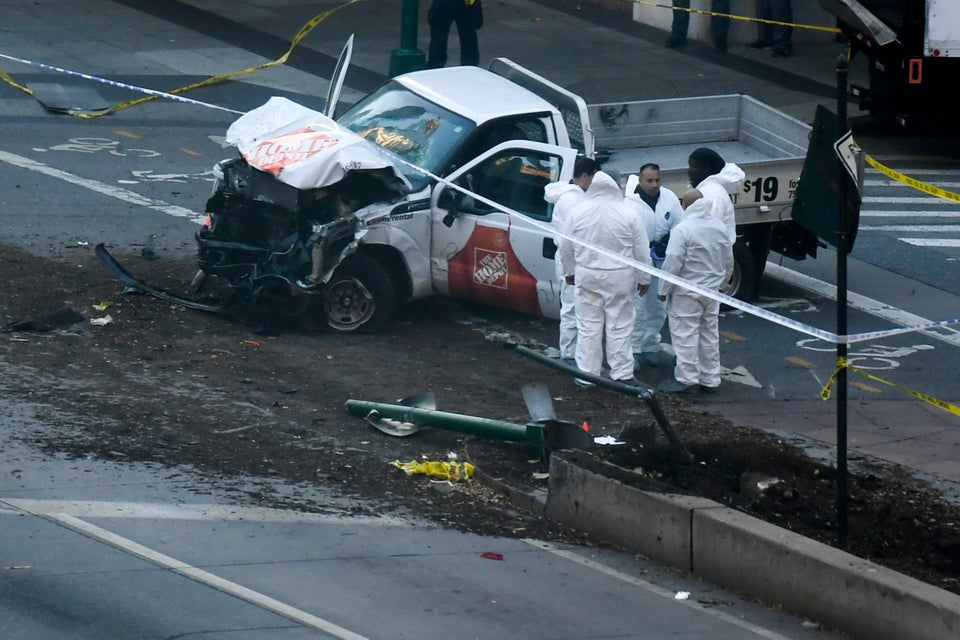 Multiple People Killed After Truck Plows Through New York City Bike Path
Popular in the Community