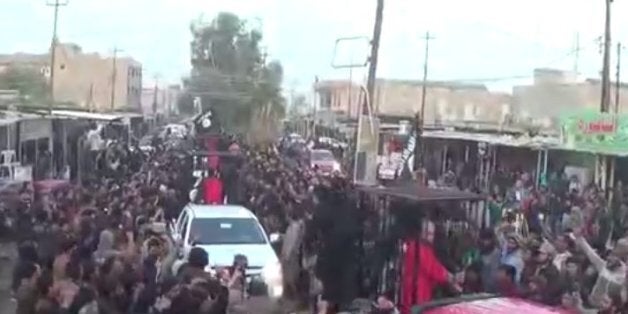 In a disturbing propaganda video released online Saturday, footage purports to show Islamic State militants holding 21 peshmerga fighters prisoner in metal cages.
In the slow-motion opening shots of the video, armed militants lead the captives towards the camera through an empty concrete lot and around what appears to be a Chevrolet Suburban SUV. The prisoners are then forced into cages similar to the one in which Jordanian fighter pilot Muath al-Kaseasbeh was murdered, as depicted in a previous video released by the extremist group. A split-second cut uses footage from al-Kaseasbeh's killing, showing him engulfed in flames.
A presenter then addresses the camera before the video cuts to interviews with some of the captives, who, in keeping with other IS propaganda, are clad in orange jumpsuits. In the interviews, prisoners warn peshmerga forces to give up the fight against IS, reports CNN. The footage then shows the prisoners standing in the same cages, which have now been placed onto the backs of pickup trucks. A convoy of these trucks parades the caged prisoners through a street as chanting crowds line the way.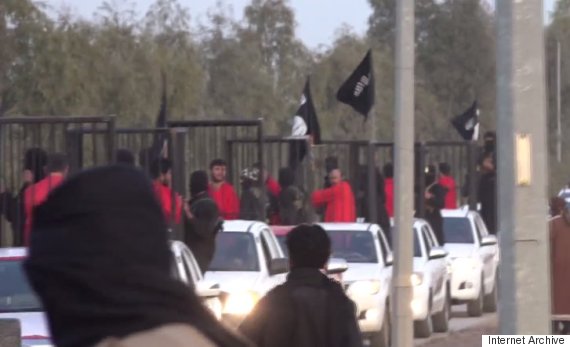 It is unclear when this video was filmed, and the images depicting street scenes were allegedly seen online earlier this month, Mashable reports.
A final scene of the video shows the captives kneeling in a row, and the camera pauses on the faces of each before focusing in on one man's eyes and cutting to black. Much of the style of the music, editing and imagery is similar to that of other propaganda footage released by IS militants. The footage could not be independently verified by The WorldPost.
This particular video was allegedly released by the Kirkuk provincial division of IS, according to jihadist monitoring service Site Intel Group. The Kirkuk province in northern Iraq has seen numerous battles between Kurdish peshmerga forces and Islamic State militants in recent months.
REAL LIFE. REAL NEWS. REAL VOICES.
Help us tell more of the stories that matter from voices that too often remain unheard.
BEFORE YOU GO
PHOTO GALLERY
Syria War In February