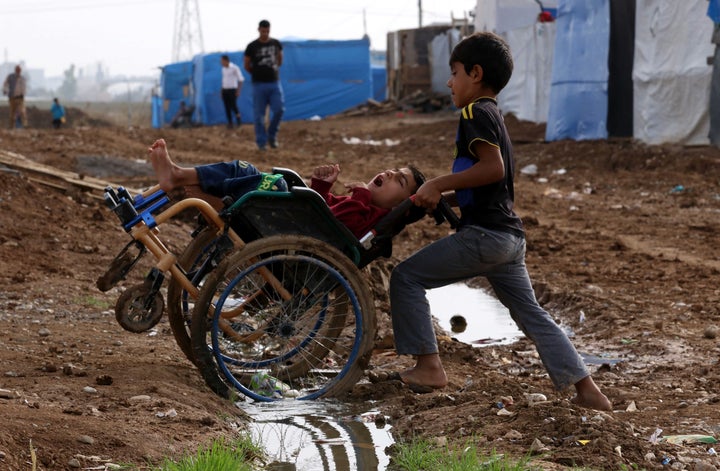 Syrians and Iraqis living in Islamic State-controlled areas face fewer and fewer alternatives to working with the militant group. Activists and analysts with strong connections to areas now under Islamic State control say they are increasingly hearing stories about how economic hardship has pushed families to make a dire choice: poverty, escape or joining the militant group.
It is difficult to establish the exact scale of recruitment to the Islamic State, or the economic situation in the territories they control. The extremist group rarely allows independent reporting inside its territory, and keeps tight control of the flow of information in and out of the area -- home to as many as 10 million people.
But reports indicate that people who are ordinarily opposed to the group, coerced by fear and poverty, are signing up to join as fighters on the frontlines, or to take up administrative roles in the Islamic State bureaucracy.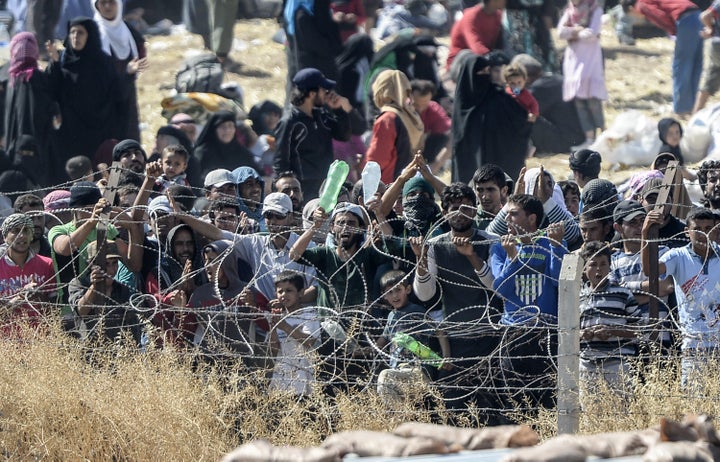 "Although they realize the dangers -- that the Islamic State will send them to the front lines and use them as cannon fodder -- they do its because it is the alternative to starving," Hassan Hassan, an associate fellow at the U.K.-based think tank Chatham House and co-author of ISIS: Inside the Army of Terror, told The WorldPost last month. "Their choice is joining the refugee army or the ISIS army. They need something to survive on," he said.
Several factors have contributed to rising poverty levels in Islamic State-controlled areas, analysts say.
"Their choice is joining the refugee army or the ISIS army."
Hassan says the U.S.-led coalition airstrikes in Iraq are increasingly disrupting what's left of the economy in Syrian territories under Islamic State control. The coalition is trying to cut off the Islamic State's revenue sources by bombing oil fields that the group controls, yet the availability of oil is what underpins Syria's war economy -- sustaining everything from farming to food production and electricity. The airstrikes have "affected the population more than the Islamic State," Hassan said.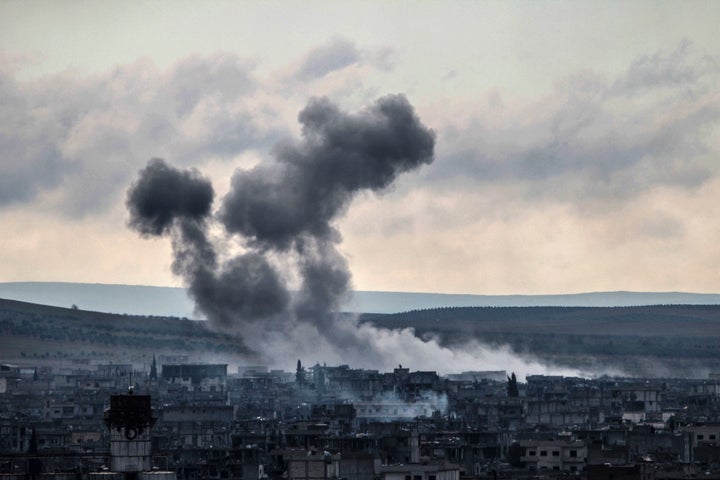 In Iraq, the government cut off state salaries and pensions to people living in Islamic State-controlled areas in July, fearing that Islamic State "taxation" meant government funds were filling the militant group's coffers. (In Syria, many state workers can still collect their salaries if they travel to government-controlled areas.)
Iraqis warned that the move, which affects an estimated 400,000 people, could force more people to join the Islamic State. "I think Daesh [Islamic State] will benefit from this decision because it will draw more volunteers [who] resort to it for a salary to sustain their families," a retired border policeman from Mosul told Reuters at the time.
Some activists argue that the Islamic State deliberately exacerbates poverty to ensure a dependent population. Raqqa Is Being Slaughtered Silently, a network of activists from the Islamic State-controlled Syrian province of Raqqa, says the militant group has blocked aid from entering the territory and shut down independent charities in order to recruit poverty-stricken residents via its own "charitable" organizations. "They are forcing the population to be poor," Abu Ibrahim al Raqqawi, one of the founders of Raqqa Is Being Slaughtered Silently, told The WorldPost last month.
The Islamic State brings recruits into a variety of roles. Those without formal education may be sent to the front lines, often to do dangerous jobs such as digging trenches. They receive much lower salaries than the foreign fighters, according to al Raqqawi.
The militant group has tried to recruit people with professional backgrounds -- from garbage collectors to oil accountants to doctors -- to join its administrative machine. Al Raqqawi says the Islamic State offers generous salaries to attract skilled workers. The group restricts certain professions: Lawyers cannot practice secular law, teachers must agree to teach the ISIS-approved curriculum and women are barred from many fields of work.
While recruitment is ostensibly voluntary, the Islamic State uses various tools to pressure people to join, analysts say. All new recruits undergo training in the tenets of Islamic State ideology, which activists describe as a process of indoctrination. Others join the group after they've been arrested for violating Islamic State rules. "They break people down. Sometimes it takes a few months to persuade people to join," Hassan told The WorldPost.
Some residents fear that joining the Islamic State will become mandatory. In recent months, the militant group ordered men over the age of 14 in Raqqa and surrounding areas to register, fueling concerns that forced conscription could be next.
"This decision has put a lot of pressure on youth -- it gave them a choice between fighting with the Islamic State or leaving the country," Ahmed, a resident of Raqqa who asked not to be identified by his full name, told HuffPost Arabi last month.
"I cannot accept fighting with the Islamic State, or with anyone else," he said. "If I was forced to, I will leave, even without knowing where I'm heading."
Sara Elkamel contributed to this report.